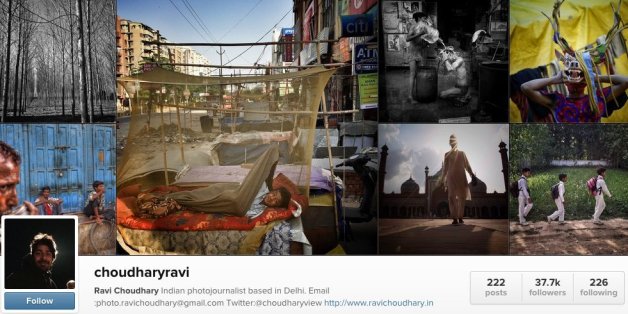 India ranks 5th in the list of countries that visit Instagram the most, according to Alexa.com, a company that provides commercial web traffic data.
Their research also shows that 4.2 percent of the visitors coming to the website are from India (although it does not state if these are only Indians).
And it's no surprise either: Once you cut through the Instagram crowd's giant selfie obsession, there's a lot of great posts from Indians out there that can help you plan your vacation or inspire a DIY fashion makeover or even help you plan a weekend dinner in any city. Here are 15 amazing Indian instagram accounts you need to follow immediately.
If you're in Mumbai, and a giant foodie, MunchyMumbai's your man Friday:
Delhi-based photographer Ravi Choudhary, who is working with a national daily, features some amazing portrait work.
Foodie Amrita Kaur first does cooking workshops and then clicks pictures. One couldn't ask for a yummier job...
Photographer Prashanth Vishwanathan always attempts to paint a picture of reality.
Travel photographer Abhinav Singhai.
Vivita Relan and Avneet Mann who are the brains behind Delhi-based store The Wishing Chair feature a bunch of whimsical, artsy photographs and creatively-styled illustrations.
Travel photographer Jitendra Singh who lives between Shimla and New Delhi. His
instagram feed
is a mix of landscapes and portraits.
Mumbai-based artist and product designer Krsna Mehta's instagram feed is a must stop for design and pattern lovers:
Twenty-two year-old Shreya Katuri devotes her time to finding eclectic matchboxes as part of her plan to bring Indian pop art to the front:
There's plenty out there for fashionistas too:
Aayushi Bangur
:
Sonam Kapoor's sister, and stylist Rhea Kapoor provides a fashionable sneak peak into the actress's life every now and then:
Meanwhile Bombay Bhukkad provides some great culinary insights:
Asif Khan's black and white mood shots feel like an outsider's view into a strangers life:
Siddhartha Joshi believes in telling the real stories of people:
Calling all HuffPost superfans!
Sign up for membership to become a founding member and help shape HuffPost's next chapter