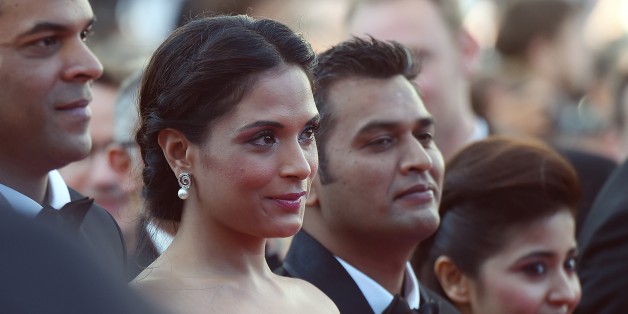 Richa Chadha does not mince words, even when she's at her happiest.
After winning two awards at the recently concluded 68th Cannes International Film Festival, the team behind 'Masaan' — Neeraj Ghaywan's directorial debut, releasing in India on July 24 — flooded Twitter with ecstatic pictures as congratulations poured in from all quarters. In this barrage, one particularly candid picture tweeted by her stood out:
To all those who said I shouldn't work in 'low budget arty films',PFA my revert. (PARDON MY FRENCH)#MasaanAtCannes pic.twitter.com/g4F8WKc8LH

— RichaChadha (@RichaChadha_) May 23, 2015
That's how Chadha is: outspoken, unapologetic, and honest to a fault. The middle finger was towards a pervasive mentality in the Hindi film industry — that a quest for quality is self-indulgent and ultimately futile. Neither the 'artsiness' nor the low budget of 'Masaan' has hindered it from becoming a film that many movie-buffs across the country are now eager to watch.
"People think all these roles I'm doing are some sort of a lead-up to a big commercial role," she tells me. We're at a tiny café in Mumbai's Andheri (West) area and Chadha has just returned from a look test and a haircut for a new film. "But, in reality, I'm open to any role that I enjoy doing as well as watching myself in. Sure, sometimes you do things because it's 'work' and it's paying you money, but other times, you do it for love."
A week before she met me, she was walking down the famed Cannes International Film Festival red carpet, at the 68th edition of the prestigious event. Moments before, renowned actors Michael Caine and Rachel Weisz had walked past the exact spot she happened to be in when she heard her name being announced. She was with her 'Masaan' team, which included co-actors Vicky Kaushal and Shweta Tripathi, director Neeraj Ghaywan, and one of the producers, Vikramaditya Motwane.
Walked the red carpet with team #MASAAN. For the screening of Sorretino's YOUTH! pic.twitter.com/OiwIbg3aEV

— Neeraj Ghaywan (@ghaywan) May 20, 2015
Read: Here Is What Critics Had To Say About 'Masaan', Which Won Two Prestigious Awards At Cannes
She did the film for love. She is also full of love for her team, particularly Ghaywan and the film's writer, Varun Grover, and refers to them as key members of a mythical "Gangs Of Aram Nagar" — a reference to an area in a western Mumbai suburb that houses the office of one of the co-producers, Phantom Films, as well as many others. "Neeraj is like an encyclopaedia and Varun has so much knowledge, especially when it comes to Hindi literature," she says, digging into a salad. "They're so talented. They make you want to work with them, no matter what."
She is, at this point, just eight films old — with only one, 'Goliyon Ki Raasleela – Ram-Leela' (2013), that was a big-budget, mainstream release — and there has been no escape from typecasting. "I keep getting the 'gori, loudmouth Punjabi woman' kind of role," she says, "someone who has no qualms with [using] abusive language." It hasn't helped that perhaps her best-known role is that of the coarse and long-suffering Nagma Khatoom from both parts of Anurag Kashyap's 'Gangs Of Wasseypur' (2012), which won her a Filmfare Critics Award for Best Actress the following year.
But Chadha wants nothing more than to be as versatile an actress as she can be. While working on her debut, 'Oye Lucky! Lucky Oye!' (2008), director Dibakar Banerjee introduced her to the range of one Meryl Streep, whom she considers her foremost idol. At the time, she says, she was a "young, naïve Delhi girl" who was overawed by the prospect of sharing screen-time with Abhay Deol, and this helped the St Stephen's alumnus understand the direction her career should take.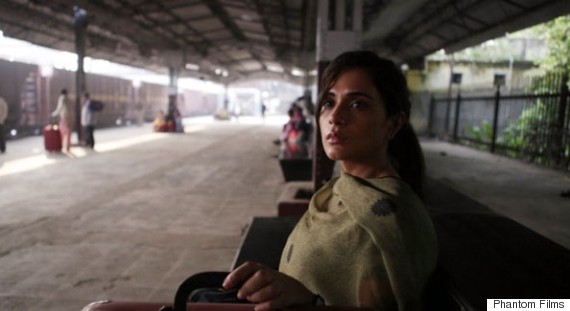 Richa Chadha in a still from 'Masaan'
Her role in 'Masaan', she says, is "internal" and "subdued", quite the opposite of much of her other work since 'Oye Lucky!...'. One of the main threads of the film is the journey taken by her character: a 24-year-old Benares girl who checks into a lodge to have sex with a lover and gets caught — and subsequently, harangued — by the city's corrupt police.
Chadha identified with the character, who she says doesn't feel bad about what has happened but rather how its aftermath plays out. "She has nothing to be ashamed of," she says. "She's just doing what everyone her age wants to do and is doing. I wouldn't be afraid to take on this horrible, misogynistic system either."
'Masaan' seems to be a reaffirmation of her belief in this kind of cinema, the opposite of the kind she's supposedly "leading up" to. The time is ripe, she feels, with films like 'Dum Laga Ke Haisha', 'Piku', and 'Margarita With A Straw' being accepted by the audience this year. Her upcoming films — 'Aur Devdas', with director Sudhir Mishra; 'Jia Aur Jia'; and 'Main Aur Charles' — are no compromises either.
"People ask me what kind of cinema I 'represent'," she says. "I don't know the answer to that. All I know is that I want to be a part of change in Indian cinema. Just a tiny dent." Being part of a film that has won two awards at Cannes doesn't seem like a bad way to get there at all.
Read: Meet The Directors Of 'Chauthi Koot' And 'Masaan'
Like Us On Facebook |

Follow Us On Twitter |

Contact HuffPost India
Calling all HuffPost superfans!
Sign up for membership to become a founding member and help shape HuffPost's next chapter