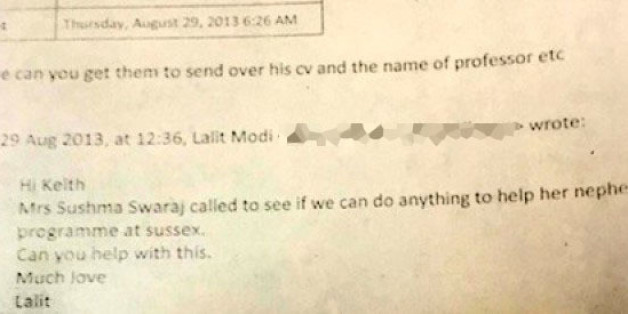 NEW DELHI -- On Sunday, External Affairs Minister Sushma Swaraj denied any wrongdoing after a Times Now investigation exposed emails which showed that she had helped Lalit Modi, the controversial former chairman of Indian Premier League, being pursued in multiple cases by various Indian agencies, procure travel documents from the United Kingdom.
HuffPost India has seen these emails, which shed light on conversations between Modi, Swaraj Kaushal, the foreign minister's husband, and Keith Vaz, a British lawmaker of Indian-origin. Kaushal and the minister's daughter Bansuri Kaushal, who had worked as a legal counsel for Modi, are copied on some of these emails.
While Swaraj said that she helped Modi on "humanitarian grounds" to attend to his wife while she was undergoing surgery for cancer in Lisbon on August 4, 2014 the travel document was issued till 2016, and Instagram photos show Modi partying with celebrities like Naomi Campbell and Paris Hilton in foreign locations.
Speaking from Venice on Sunday, Modi told Times Now, "At this point of time, I cannot speak."
READ:Lalit Modi Has Been Partying With Naomi Campbell-Paris Hilton
READ: Sushma Swaraj Helped Lalit Modi Procure UK Travel Docs
Email Exchange In 2013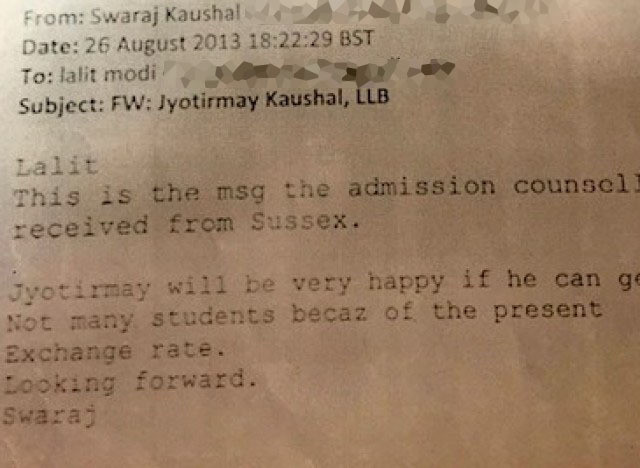 In 2013, Swaraj asked Modi if he could in his nephew's admission to Sussex University. "Jyotirmay will be very happy if he can get Sussex. Not many students becaz of the present Exchange rate," he wrote on August 26.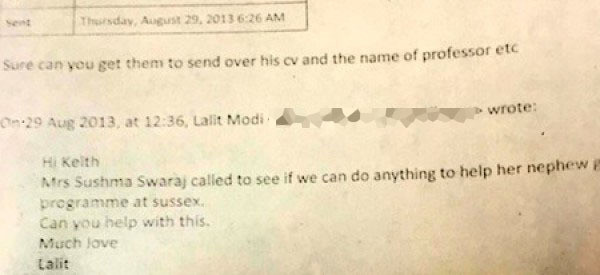 Three days later, Modi wrote to Keith Vaz, a British lawmaker of Indian-origin, who is embroiled in the scandal, said, "Mrs Sushma Swaraj called to see if we can do anything to help her nephew get into the law program at Sussex. Can you help with this.
Vaz replied to Modi, said, "Sure, can you get him to send over his CV and name of Professor etc."
Email Exchange in 2014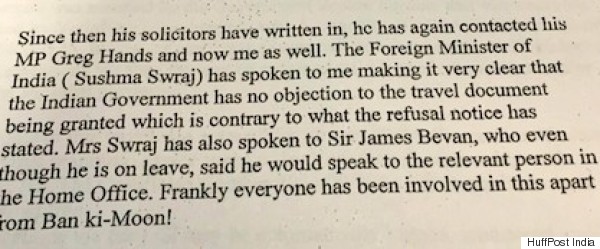 On July 31, 2014, Vaz sent an email to Sarah Rapson, an official at the UK Home Office, which said, "Foreign Minister of India has spoken to me making it very clear that the Indian Government has no objection to the travel document being granted which is contrary to what the refusal notice has stated. Mrs Swraj has also spoken to Sir James Bevan, who even though is on leave, said he will speak to the relevant person in the Home Office. Frankly everyone has been involved in this apart from Ban-ki-Moon."
On Aug 1, 2014, Rapson replied, "I understand from my colleagues in Travel Documents that this issue has been resolved and that the solicitors have been contacted with the good news (and indeed the document."
Prior to Swaraj's intervention, the UPA government had told UK to not grant Modi travel documents. If UK did that, it would affect bilateral ties, the UPA government had said.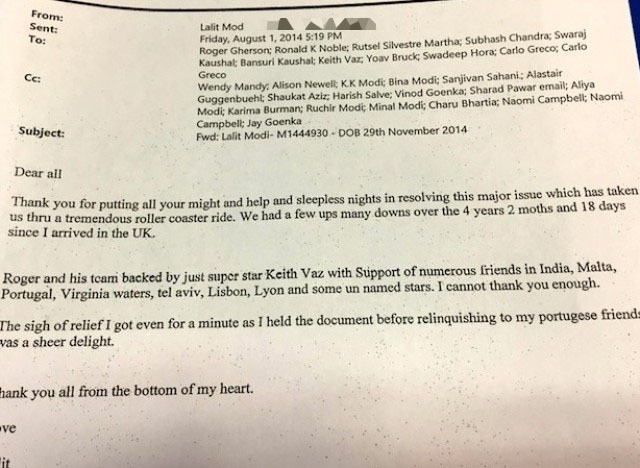 On the same day, Modi sent an email to multiple recipients including Swaraj Kaushal and Naomi Campbell, which said, "Thank you for putting all your might and help and sleepless nights in resolving this major issue which has taken us thru tremendous roller coaster ride."
"Roger and his team backed by just super star Keith Vaz with the support of numerous friends in India, Malta, Portugal, Virginia Waters, Tel Aviv, Lisbon, Lyon and some unnamed stars I cannot thank you enough. The sigh of relief I got even for a minute as I held the document before relinquishing to my Portuguese friends was sheer delight. Thank you all from the bottom of my heart"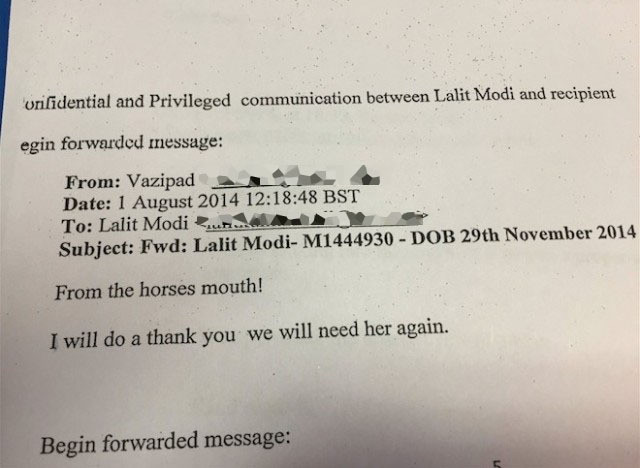 Vaz replied, "From the horses mouth! I will do a thank you we will need her again."
Like Us On Facebook |

Follow Us On Twitter |

Contact HuffPost India
Calling all HuffPost superfans!
Sign up for membership to become a founding member and help shape HuffPost's next chapter