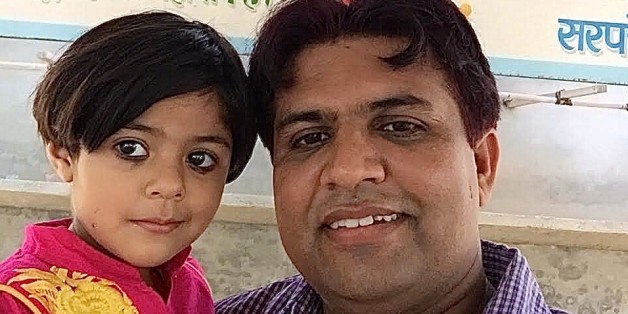 Midway through listening to a routine radio broadcast on Sunday, Sunil Jaglan got the surprise of his life. That is when Prime Minister Narendra Modi asked listeners of his periodic Mann Ki Baat (matters of the heart) broadcast to take up Jaglan's idea of posting a selfie with their daughters on social media. In a few hours, #SelfiesWithDaughters had become a trending topic with thousands of people from around the world flooding social media with pictures with their daughters.
Modi adopted the idea and made it part of his 'Beti Bachao Beti Padhao' campaign (Save Your Daughter, Teach Your Daughter), aimed at preventing female foeticide.
Modi expressed grave concern about the skewed sex ratio in the country, and he promised to retweet the messages with the best tagline.
READ: Modi Announces Father-Daughter Selfie Campaign On Twitter
Modi said that his campaign was inspired by a sarpanch from Haryana's Jind district who had organised a 'Selfie With Daughter' contest on WhatsApp last month.
"My 'mann ki baat' became the prime minister's 'mann ki baat," Jaglan told HuffPost India on Monday. "The prime minister appreciates your work and tells the whole country about it. Your idea spreads from a village to the country. How can one not be happy?"
Since becoming the sarpanch of Bibipur village in 2010, Jaglan, 33, has become a crusader for women's empowerment in a state which suffers from one of the worst sex ratios in the country. It was big news when the first women-driven khap mahapanchayat was organised in Bibipur village in July 2012.
READ: #SelfieWithDaughter Campaign Receives An Overwhelming Response
Jaglan, a postgraduate in mathematics and a dedicated social worker, has two daughters: Three-year-old Nandini and one-year-old Yachika. The 'Selfie With Daughter' struck the sarpanch while he was pondering over how to celebrate his birthday, June 19, in a meaningful way.
"I've noticed that many homes don't have photos of daughters. I want people to see daughters in their homes and in their offices. When you see them you think of them and realise how important they are," he said. "These selfies bring out the love that parents have in their hearts for their daughters in their faces."
Jaglan said that he received around 800 entries since news of the selfie competition spread far beyond Bibipur village. The young sarpanch gave out three prizes for Rs2,100, which he sponsored, to entries from Delhi, Kurukshetra and his district of Jind.
Jaglan said he was impressed with the PM's policies for women empowerment. He contested as an independent to become the village sarpanch and is not affiliated with any political party. "Modi keeps the conversation about women's empowerment alive, rather than only talk about it on special occasions. That is a good thing," he said.
Responding to concerns about the utility of a selfie exercise, Jaglan said that it was small ideas which made an impact. "The goal is to strike the mind. That is what public awareness is all about," he said. "By asking people to take photos you are making them part of the conversation on female foeticide. That message is very important."
On Sunday, Jaglan tweeted, "What kind of selfie is it which does not have a daughter."
वो सेल्फी ही क्या , जिसमें बेटी ना हो ़़़़़़़

— Sunil Jaglan (@Sunilbibipur) June 29, 2015
Keeping his promise, Modi has been retweeting messages from India and abroad since Sunday.
Dear @narendramodi Thanks for the #SelfieWithDaughter idea. Here's from Africa.. with lots of love pic.twitter.com/pMUF6nQThP

— Nnenna (@nnenna) June 28, 2015
#SelfieWithDaughter @narendramodi ji, here is my daughter Vipanchi Simha pic.twitter.com/Hf4MLSKQBj

— Pratap Simha (@mepratap) June 28, 2015
Supporting from Sweden. #SelfieWithDaughter My everything in life. pic.twitter.com/u9y1knYV4M

— SwedishRacing (@Swedish_Racing) June 28, 2015
My Office colleague posted this selfie with his daughter. God bless Our beloved PM @narendramodi #SelfieWithDaughter pic.twitter.com/nfBxw3loFv

— Auditor Dinesh (@dkgdelhi) June 28, 2015
Like Us On Facebook |

Follow Us On Twitter |

Contact HuffPost India
Calling all HuffPost superfans!
Sign up for membership to become a founding member and help shape HuffPost's next chapter