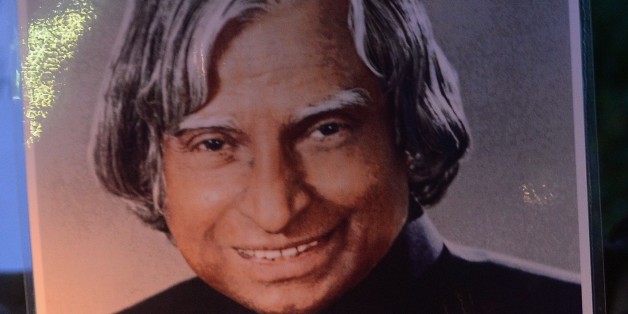 NEW DELHI— In the social media deluge of tweets, poems and art work, to honour late President Dr APJ Abdul Kalam, a piece of art by Delhi-based artist, Sameer Hazari, has managed to provoke.
Hazari shows Kalam on a 1000-rupee note instead of Mahatma Gandhi that --notwithstanding the 200,000-plus 'likes on Hazari's post--seems to have drawn the ire of a sizeable netizenry, who see the depiction as insulting to Gandhi.
"First of all I want to say to bull-sit (sic) man who is posted this bullsit post. I am sure that person is belongs to "MUSLIM" religion," is an example of a particularly vitriolic comment on Hazari's Facebook page.

At his end, Hazari, who specializes in interactive fine art, portraits and psychedelic art told HuffPost India, "This was my way of paying tribute to Dr Kalam. I don't see anything wrong in it."
Hazari, who said he wasn't Muslim, said that the design of the rupee note has long been due for an overhaul and few Indians were as qualified as Kalam to match Gandhi.
As is usual with social-media posts that trigger an avalanche of discussion, the acerbic comments quickly digressed into a debate on whether Gandhi --after 68 years of Independence-- even merited a place on the Indian currency.
While some of the comments said Hazari's art denoted propaganda against Mahatma Gandhi, some said the picture of Gandhi must be replaced in the currency.
"Debating and saying Dr. Kalam is better than Gandhiji..." "Koi bhi gandhi ji nhi bn skta (no one can be Gandhi)," "no one is greater than our father of nation Mahathma Gandhi ..he struggled more than any one for our country's freedom ..he is not replacable by any one," one commentator noted.
Hazari said the social-media storm has surprised him. "It wasn't about replacing Gandhi, it was about bringing in a change," he said.
One of the Facebook commenters also sent him a private message with veiled suggestions of "legal issues".
Hazari shared some of the screenshots of his messages with us: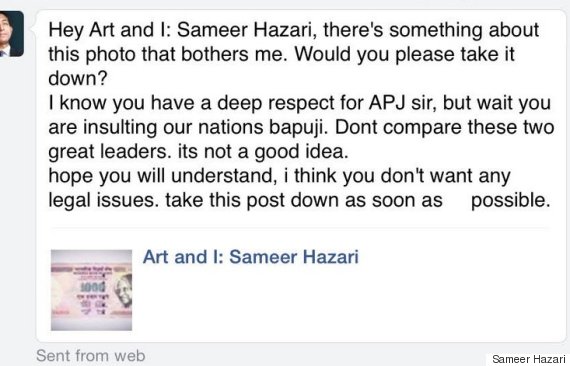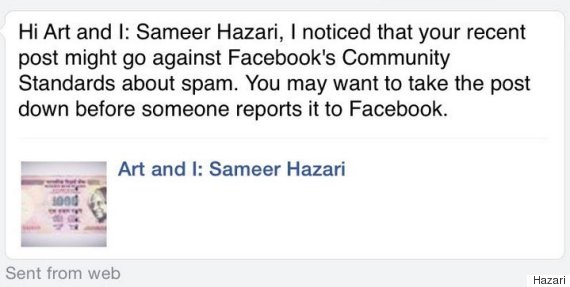 India has a long history of artists being threatened for their work ranging from late painter M F Hussain to political cartoonist Aseem Trivedi.
Like Us On Facebook |

Follow Us On Twitter |

Contact HuffPost India
Calling all HuffPost superfans!
Sign up for membership to become a founding member and help shape HuffPost's next chapter