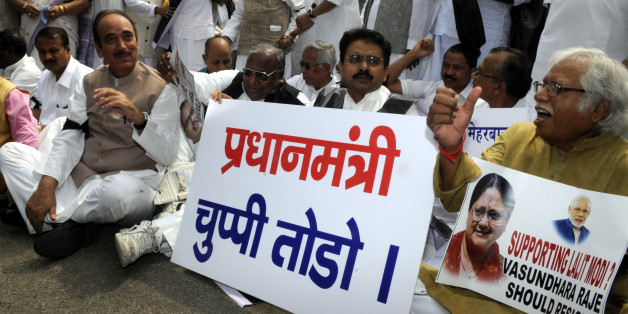 The Goods and Services Tax (GST) bill has been delayed by eight months since it was introduced by Prime Minister Narendra Modi's government in Parliament in December.
The Bill was earlier introduced by the previous Congress-led UPA government but could not pass parliament because of stringent opposition from states, who were apprehensive about losing tax revenue. Modi wanted this bill to go through because it was essential to fulfilling his promise of making India an easier place to do business. Currently India ranks an an embarrassingly low 142, behind Pakistan, Sri Lanka and Sierra Leone.
The bill, India's biggest tax reform since independence, will rationalise state and central indirect taxes into a single, harmonious structure. Corporations welcome it because it will do away with the present system of multiple taxes imposed by states and the central government. That in turn raises the cost of their products, making them less competitive compared with cheaper imports from China and other, similar low-cost locations. Filing myriad tax forms is a hassle and deters entrepreneurs and foreign companies from investing in India despite its huge market.
READ: 7 Things You Need To Know About GST Bill
Finance Minister Arun Jaitley had reached out to states soon after the Bharatiya Janata Party captured power in a landslide election victory in May last year to drum up support for the Bill. For instance, Maharashtra, earns more than Rs13,000 crore annually from octroi and Haryana earns more than 2,000 crore from purchase tax. Such states will lose revenue from existing levies upon GST's implementation and had demanded compensation from the central government.
In general, most states have come around to accept GST. They are largely in agreement with the proposed compensation structure, under which the central government will pay them for five years of losses after the GST is implemented. This replaces the earlier proposal to pay states Rs.11,000 crore this fiscal.
Passage of this law will require a constitutional amendment and therefore needs to be approved by a two-thirds majority in parliament and then ratified by half the number of states. It was easy for the Modi government to get it passed in the Lok Sabha, where it has a clear majority. It's another story in the Rajya Sabha, where the government is in a minority and a united opposition has created a seemingly unsurmountable hurdle in the path of GST.
The obstacle has more to do with the opposition Congress party's determination to stop parliament from conducting any business until the government asks external affairs minister Sushma Swaraj, Rajasthan chief minister Vasundhara Raje and Madhya Pradesh chief minister Shivraj Chauhan to resign.
Swaraj and Raje are accused of helping fugitive Lalit Modi-- former commissioner of the Indian Premier League-- get travel documents in the United Kingdom. The documents allowed him to stay there and travel around the world. Lalit Modi and Swaraj have claimed it was to help his wife get treated for cancer in Portugal but pictures of him partying with celebrities like Paris Hilton and Naomi Campbell have dented that argument.
Chauhan is accused of not doing enough to investigate the perpetrators of the 'Vyapam' scam, named after the state educational authority, through which politicians and bureaucrats allegedly accepted bribes worth hundreds of millions in return for government jobs and seats in state colleges. Over 40 people involved in the case, either as perpetrators or witnesses, have died under mysterious circumstances in the last six months.
Throughout the raging controversies, covered breathlessly by TV channels, Prime Minister Modi has maintained a stoic silence, and has ruled out any resignations. Home Minister Rajnath Singh even went to the extent of saying that in this government no one is required to resign.
The Congress has seized on these issues to completely paralyse the current monsoon session, with both houses getting adjourned every day without transacting any business and without any debate on crucial legislation.
That has put a spanner in the works for Modi, who had promised quick reforms to attract foreign companies, raise India's manufacturing ability, create millions of jobs and kickstart growth. His tall promises of ringing in 'achche din' or a new era of prosperity and development, show no signs of being fulfilled.
There is just one more day left for the current session to end, and chances are high that crucial reform bills will remain stalled for months longer until the next session begins. Indian corporations, that had supported Modi's pitches about growth during his election campaign, are also feeling disappointed over the slow progress of reforms and policy-making. Further delays will make foreign companies jittery about investing in India, which needs massive investments to improve its ramshackle infrastructure.
Like Us On Facebook |

Follow Us On Twitter |

Contact HuffPost India
Calling all HuffPost superfans!
Sign up for membership to become a founding member and help shape HuffPost's next chapter
BEFORE YOU GO
PHOTO GALLERY
Frustrated Politicians