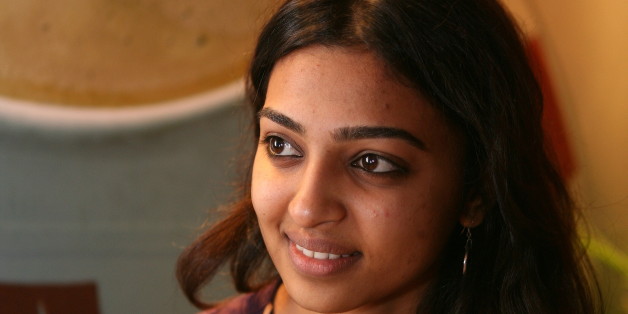 Of all the many different things that Radhika Apte did not expect would happen to her this year, being part of a 12-city-tour to promote her new film Manjhi – The Mountain Man is the one that seems to have knocked the wind out of her sails the most.
"We've been on the road since the 4th [of August]," she says in a phone conversation with HuffPost India, audibly exhausted. "I'm beginning to realise that promoting a film is probably the most difficult aspect of filmmaking."
Four days before the film's release, she is in Patna, Bihar, with director Ketan Mehta and co-actor Nawazuddin Siddiqui. This is a crucial leg of the promotional tour. After all, the film, which tells the inspirational true story of Dashrath Manjhi (who famously and single-handedly broke down a mountain in the village of Gehlaur over 22 years), is set and was shot in the very same village, only 113 km away from the state capital.
Apte plays Phaguniya Devi, Manjhi's wife, who, in the '50s, lost her life due to delayed medical care owing to the nearest hospital being too far away. Although she doesn't have much screen-time, her role is significant as it drives Manjhi (played by Siddiqui) towards his seemingly foolhardy goal.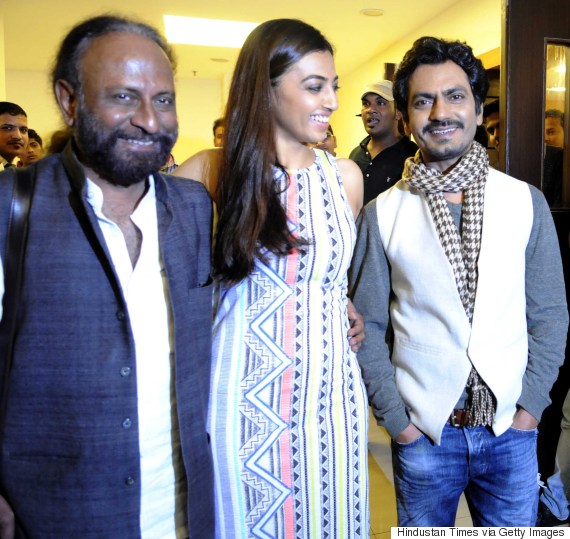 (From left) Director Ketan Mehta, Radhika Apte, and Nawazuddin Siddiqui promote 'Manjhi - The Mountain Man' at Indore. The film releases on August 21.
Apte, who turns 30 next month, is older than many young actresses currently working in the industry, but this doesn't seem to be hindering her growing popularity. In 2015, she's been in the news regularly. Manjhi – The Mountain Man will be Apte's third Hindi release this year after Badlapur and Hunterrr, both films in which her performances were widely appreciated. Aside from that, she has appeared in an episode of Anurag Basu's TV series Stories By Rabindranath Tagore called 'Chokher Bali' and Sujoy Ghosh's short film Ahalya.
Meanwhile, she still has Nila Madhab Panda's Kaun Kitney Paani Mein coming up (releasing on August 28) as well as, possibly, the experimental indie X: Past Is Present. Next month, she will be travelling to Canada for the world premiere of Leena Yadav's Parched, in which she's the lead, at the 40th Toronto International Film Festival.
And as if all this weren't enough, she is also slated to play the female lead opposite superstar Rajinikanth in hot-shot Tamil director Pa. Ranjith's next, Kabali. Meanwhile, we haven't even really got to how she has acted in more languages than most of her contemporaries (aside from her native Marathi, she has also appeared in Tamil, Bengali, Telugu, and Malayalam cinema) and the fact that she was also in the highest-grossing Marathi film of all time, Lai Bhaari (2014), as well as the Telugu blockbuster Legend (2014).
READ: Rajinikanth's Next, With A Young Director, Will Finally Have Him Play His Own Age
Apte seems to be a combination of unfazed, overwhelmed, and confused by the sudden attention, given that she has been acting in feature films since 2009. "When the year began, aside from Badlapur and Hunterrr, I wasn't even sure if the others would get released or noticed," she says. "And I definitely didn't think Ahalya would receive the kind of response it did."
Aside from being naturally excited at the prospect of working with Rajinikanth, she is also looking forward to working with the director Ranjith, whose last two films Attakathi (2012) and Madras (2014) received near-unanimous critical acclaim. "I was sitting at home one afternoon when I got the call [for Kabali]," she recounts, "and I didn't believe it was actually happening. I then got in touch with my management, and did some googling. Only then I realise that this was actually happening."
One could say that Apte's growing appeal as an actress, transcending language and genre barriers, is a bit of an anomaly. In her early 20s, she cut her acting teeth in the world of Marathi theatre, with the Pune-based group Aasakta, which she continues to be part of (she's doing a new play with them at the end of this year). She's dusky, doe-eyed, and possesses a rather unique girl-next-door persona; with her light-but-noticeable Puneri accent, she comes across as someone you could've known in your coaching classes or college days.
This quality is a terrible fit for the cookie-cutter mould that seems to have produced so many of today's aspiring young starlets who seem to be chasing stardom over meaty roles. Moreover, we aren't likely to see her shimmying in a mindless item number anytime soon, especially given her open criticism of the Telugu film industry for its male-dominated and patriarchal bent.
At the same time, it's not as though she hasn't had her tryst with controversy, the engine that keeps Bollywood careers chugging along. In April, a leaked scene from an upcoming short film in which she appeared nude spread across the Internet like wildfire. Most actresses would probably deal with an unfortunate incident like this by keeping mum or denying it was them in the clip ("It was morphed" is what the standard refrain has been since the mid-noughties, when camera phones first arrived on the market).
Not so for Apte. She speaks about the incident as a breach of trust, sounding more annoyed about it than perturbed. Earlier this year, she'd written a blog for HuffPost India in which she spoke about how doing nude scenes "liberated her". "In my observation, a lot of actors in India would agree to do a nude scene if they felt the scene was necessary for the film, but often they don't end up doing so," she had written. "They are deterred by the fear and cultural pressure of maintaining their image, by the feelings of their families and relatives, the reactions of the majority of the audience and maybe now also right-wing fundamentalists who might threaten to cause damage to property, if not bodily harm."
READ: (Blog) Doing Nude Scenes Liberated Me | Radhika Apte
Outspoken, open-minded, on the wrong side of 25, and happily married (to musician Benedict Taylor) — Apte has, mysteriously, flouted several 'industry rules' to become perhaps the most promising new actress as well as the most unlikely 'it girl' in recent memory, one whose appeal is growing slowly but surely. Can true, pan-India stardom be all that far away?
"I'm not sure if I want to be or even can be a star," she says, weighing her words carefully. "It involves a whole bunch of things like doing a lot of PR, public appearances, endorsements and so on. That whole life is, right now, beyond comprehension for me. I would want to experience all these things, sure, but I honestly don't know how far I'd be able to do it."
What she really seems to want is a combination of great roles and healthy criticism. "This attention and overexposure is going to come and go," she says. "People forget things they read yesterday. I want to be able to get to a position where I can pick and choose the kind of films and roles I want to do, and only get better."
At this point, she pauses and tells me that she needs to get off the phone because they need to order dinner. Groaning at the prospect of a few more days on the road, she says, "All this while, I've just had to prepare for a role and shoot, after which I could go ahead and detach myself."
"I guess that is something I really need to stop doing now," she says, with the least amount of enthusiasm since our conversation began.
Like Us On Facebook |

Follow Us On Twitter |

Contact HuffPost India
Calling all HuffPost superfans!
Sign up for membership to become a founding member and help shape HuffPost's next chapter
BEFORE YOU GO