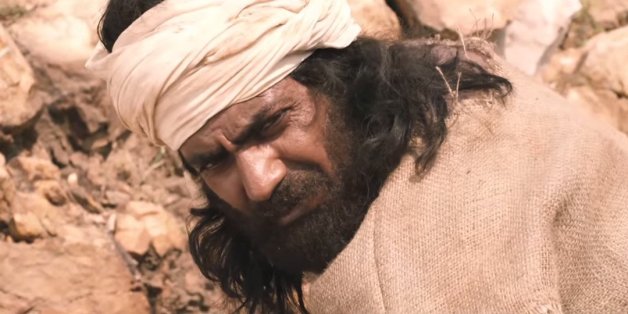 Dashrath 'Mountain Man' Manjhi, who passed away in 2007, had a life that deserved its own movie. Fittingly, the actor portraying him in this week's release Manjhi – The Mountain Man, Nawazuddin Siddiqui, has had his own long-winded, tenacious struggle to be recognised for his talents -- from that guy who appeared in bit parts for years to a bona-fide lead actor -- carrying the weight of films such as these.
However, this Ketan Mehta film proves to be an uneasy vehicle for both Siddiqui as well as Manjhi's legacy. Manjhi – The Mountain Man is well-meaning and sincere, but mired in mediocrity as it routinely tries to pretend that it's a drama rather than a biopic. Not that the two cannot intersect, of course, but in the sense that Mehta definitely seems to be more interested in needlessly trying to justify his story's cinematic value rather than truly exploring Manjhi's character.
As a result, we're told a good deal about the man, but it's all mostly information (with plenty of liberties taken). We're told he grew up in the village of Gehlore, Bihar, the only son of a lower-caste family that gets regularly bullied by the zamindar (Tigmanshu Dhulia) and his cruel son (Pankaj Tripathi). To escape their cruelty, the movie suggests that he ran away to Dhanbad and worked his way up, only to return to his remote village assuming, for some reason, that all has been forgotten and forgiven.
Having been married to Phaguniya (Radhika Apte) as a child, Manjhi is taken in by her transformation into a beautiful young woman (the two don't recognise each other, for some reason, which is weird; do people really change that much over seven years?). He opposes her remarriage, which her father insists upon since his current son-in-law is quite unemployed and struggling to make ends meet, which sure didn't seem like the case when he first returned, looking like a Jack-And-Jones-meets-Ray-Ban advertisement.
There is some caste- and dowry-related drama as we see the love between the two blossoming. This leads to some of the more watchable parts of the film, even if they only seem to work in isolation. One scene, in which Manjhi apologises to Phaguniya for picking a fight with the zamindar's son, is funny and engaging. Its repercussions are far-reaching, introducing a new dimension to the story that is never even referred to at other times. There is, however, a hilarious Indira Gandhi appearance (a cameo by Deepa Sahi) that enlivens proceedings.
It's creditable that Mehta attempts to build Manjhi's world but the screenplay — switching back and forth in time, pivoting around a crucial moment — lacks polish. Dialogue and scenes come across as scripted; characters are mostly paper-thin. Occasionally, this yields hilarious results, such as the various appearances by Manjhi's father, who seems to exist in the movie only for the purposes of exposition.
A shattering event gives the directionless Manjhi's life a purpose: breaking down the towering mountain that isolates his tiny hamlet from the world and modern facilities. Siddiqui, at this point carrying the entire film on his shoulders, chooses to perform Manjhi over playing him. While he is shown ageing quite credibly over a period of 22 years, the fiery actor, watchable even on his worst day, gives a performance that is largely — and disappointingly — by-the-numbers.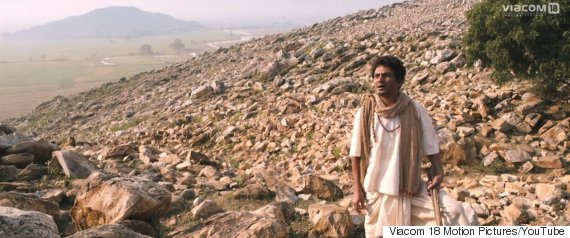 "Baap ka, biwi ka, bachchon ka…. sabka badla lega re tera Dashrath!"
Apte, who doesn't have as much to do, does well, barring a few obvious accent slip-ups here and there. Gaurav Dwivedi, playing a journalist named Alok Jha who supports Manjhi's cause, has a sincere presence. Tripathi is a one-note archetype, coming across as a pale shadow of every Yashpal Sharma performance ever.
The acting is comparatively an upside. It is in its other departments that Manjhi – The Mountain Man is truly let down. Take for instance, Rajiv Jain's lacklustre cinematography, which resorts to random Dutch angles on a whim. Or Sandesh Shandilya's misguidedly dramatic background score, which not only uses instrumentation that clashes with the period setting (the film's story takes place between the '50s and the '80s) but also sounds generic and forced, like a bad Alexandre Desplat imitation.
Ultimately, it is Mehta's loose direction that unravels this biopic, which gets hard to take seriously beyond a point. Manjhi did it all for his love Phaguniya, we're told repeatedly, and it's all clear enough without having to be subjected to a fantasy sequence with Chandrakanta-level visual effects. Yeah, this is that kind of a movie.
Like Us On Facebook |

Follow Us On Twitter |

Contact HuffPost India
Calling all HuffPost superfans!
Sign up for membership to become a founding member and help shape HuffPost's next chapter