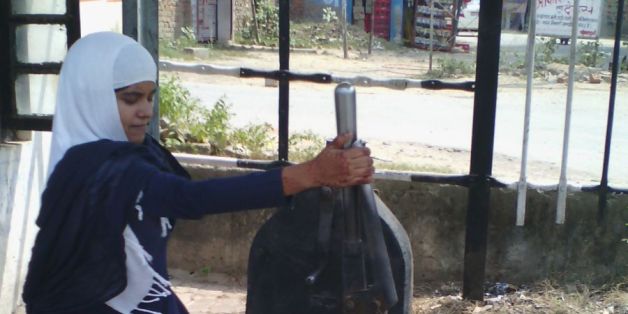 Mirza Salma Beg's job description isn't very gender neutral. The 22-year-old humanities graduate from Lucknow is the only woman 'gateman' that India has.
The Chief Public Information Officer of Northern Railways told HuffPost India that they have no record any other woman working as a 'gateman' in India as of now.
A 'gateman' is a person who operates level crossings in Indian Railways. Their job includes closing the gates and shutting road traffic before a train passes a point where people frequently cross the tracks in other vehicles or by foot. The gate is usually opened and closed with the help of a winch, which has to be operated manually. A winch comprises a spool with a wire or rope around it and a hand crank, which has to be moved to adjust the tension in the rope or chain.
At the Malhaur station in Lucknow, Salma's team comprises eleven male gatemen apart from herself.
In fact, the several documents put out by the Indian Railways website refer to a 'gateman' is 'he', from the simple assumption that no woman will ever take up this laborious and physically exhausting job. For example, this document posted on the Indian Railways website lists the pre-requisites of being a 'gateman'. The opening sentence says, "No person shall be appointed to be a Gateman unless he has a knowledge of signals." Consequently, the 'gateman' is continuously identified as a male in the document.
Neeraj Sharma, Chief Public Information Officer of Northern Railways said that it's a job open to both men and women. One has to write a test and if he or she clears it, the person is trained in a local agency and employed. "However, not many women apply. And before Beg, no woman has been recruited for the position before."
Beg, however, didn't have the luxury of choice when the opportunity to take up the job came knocking. Her mother was paralysed, her father unable to do the work of a gateman anymore as he had partially lost his ability to hear. He had to retire and with him out of job, the Beg family would have had no source of income except the father's measly pension. Salma was about to graduate and her sister still in school.
"There was a provision that a family member replaces my father in his job. Changing the job profile in such a situation takes a very long time and often doesn't materialise. We couldn't risk that," Beg said.
After dealing with the unfamiliarity of the idea of a daughter working as a gateman, Beg's parents came around. "It was my parents who told me that no job is too difficult for a woman to do. They warned me it will be difficult and awkward initially, but I will be fine," says Beg.
However, her extended family and her friends couldn't believe that Beg was about to take up the job of a 'gateman'. "Yeh koi ladkiyon ka kaam hai (Is this a woman's job)?" she remembers most of her acquaintances shrieking with shock. "In fact, everyone I met, except my parents were convinced we were making a mistake. Yeh ladki kaise kar payegi ye kaam (How will a girl do this job)?" they would gasp in surprise.
Partly from conviction and partly from compulsion, Beg took up the job up in January 2013. The first few days weren't easy. When she went to train with the local agency which coaches gatemen, everyone from the instructor to the students were taken aback. Some of them found the idea ridiculous. "They had never pictured a woman in a hijab manning any gate even in their imagination," Beg adds with a laugh.
Ajit Sinha, senior DCM, Divisional Railway Manager's Office, Northern Railways, Lucknow says the site of Beg's work - the Malhaur station - has four gates and she works for 12 hours everyday, during which she is not even allowed to take long calls on her mobile phone. "The nature of the job is such that the person doing it has to be extremely attentive and alert," says Sinha.
"Officials at the Indian Railways told Huffington Post that Beg has never demanded special facilities for being a woman and has worked at par with his male counterparts across India.
Beg is not anymore perturbed by what a Indian Railways statement calls the 'manly nature of her job'. Initially, however, she was slightly uncomfortable. That probably had to do with the fact that she worked in a team with 11 men who had a 'what is a girl doing here' expression written large on their faces.
"Yeh ladki kya kar legi (What can this girl do anyway)? That's what a lot of the men discussed. The first day I went, my father came along to calm my nerves. When I saw the gates and the kind of physical strength needed to work them, I was slightly nervous," she recollects.
But then that was two years back. "Faltu mein bhej diya hai is ladki ko (This girl will be of no use at work)... some of my colleagues and acquaintances used to say. Both to me and behind my back. I hope they have realised their mistake now. Anyway, people who have to crib will crib anyway isn't it?" she laughs, adding 12 hours at work doesn't leave her with much time to consider pursuing any other interest.
Did she ever want to be anything else? "I was just another 20-year-old back then. I had no plan, just wanted to study further like everyone else."
Does she agree with the idea of being a 'gateman' the rest of her life? "I don't mind it now. My sister has to graduate first...," Beg's voice trailed off.
"Oh, it's getting late," she says with a start, realising it's past 10 pm as we speak. "I need to sleep, there's a lot of traffic these days, very tiring," she added. We say our goodbyes, as Beg prepared to deal with being a woman in a man's world yet another day.
In Entertainment: 7 Gifs That Prove Kareena Kapoor Is The Goddess Of Sexy

The Kangana Ranaut-Deepika Padukone Cold War May Have Reached Peak Bitterness
Like Us On Facebook |

Follow Us On Twitter |

Contact HuffPost India
Calling all HuffPost superfans!
Sign up for membership to become a founding member and help shape HuffPost's next chapter
BEFORE YOU GO
PHOTO GALLERY
Travel with a view: Top 10 scenic train rides around the world