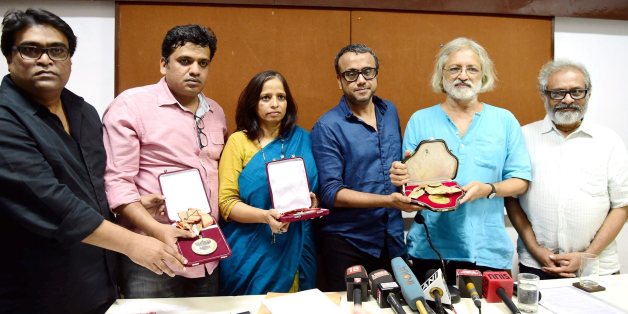 Ten filmmakers including Dibakar Banerjee and Anand Patwardhan returned their national awards on Wednesday, to join protests against alleged censorship and "general intolerance" under the present government.
"This is not the government which gave us the award. They would probably never give us an award," said Anand Patwardhan during a press conference in Mumbai today. "If they do not believe in our struggle, we don't want their award."
Those who have returned their awards on Wednesday include screenwriter Paresh Kamdar, director Lipika Singh Darai, Nishtha Jain of "Gulabi Gang" fame, "Hunterrr" producer Kirti Nakhwa and its director Harshvardhan Kulkarni, documentary filmmaker Rakesh Sharma, and cinematographers Indraneel Lahiri and Hari Nair.
The filmmakers said they were returning their awards to stand with the dozens of Indian writers who have recently returned their awards, as well as students of the Pune-based Film and Television Institute of India (FTII). The FTII students ended their 139-days' strike to protest against what they term as "political appointments" to the college board. They had publicly asked for support from filmmakers and others today in a bid to "scale up" their protest.
"I am not here out of anger, outrage. Those emotions have long been exhausted. I am here to draw attention," said Banerjee. "The students at FTII are asking for the right gurus, not quotas or equipment. How are they criminals? I know we will be ridiculed but I want our classrooms to become true source or learning, nor mediocrity." Banerjee returned the National Award he had received for his first film 'Khosla Ka Ghosla'.
We could not think of any better idea than return our national awards because thats all we have :Dibakar Banerjee pic.twitter.com/43VdRM78FW

— ANI (@ANI_news) October 28, 2015
Patwardhan said the government has encouraged "extreme right wings".
"I haven't seen so many incidents happen at the same time. This is a sign of what is beginning to happen and I think that is why people are responding all over the country in different ways," he said, referring to the instances of writers returning their Sahitya Akademi awards.
"We are focusing on the FTII. This is a struggle that we are supporting from the beginning."
The FTII students today ended their 139-day-old strike to return to the classes against the appointment of Gajendra Chauhan, but said they will continue to seek his removal.
ALSO READ: FTII Students Call Off Strike, Will Continue Protests Against 'Political Appointments'
Banerjee said the decision of the students to resume classes is pragmatic as they are merely being responsible towards their colleagues and juniors.
"What do you expect the students to do? The student bodies who are protesting have got two responsibilities - one is to protest for their rights and the other is to see that their colleagues, co-students and their juniors must not suffer."
The director said that he was "against the trivialisation" of the students protests by diverting attention from the core issues.
"What other proof do you need of their sincerity and the validity of the attitude of the students of FTII than this. Not a single bus has been burnt, not a single stone has been thrown, they have only gone for debates and discussion."
Meanwhile Nistha Jain told journalists on Wednesday that 200 filmmakers had written a letter to the President after the FTII protests broke out, but it was never acknowledged by the President's office.
They have issued a letter to President Pranab Mukherjee and Prime Minister Narendra Modi.
"We feel compelled to return the honour the state has bestowed on us. Condoling deaths without interrogating the forces that scripted those murder revealed a tacit acceptance of the ugly force distorting our country," the letter reads.
"As filmmakers we stand with the students of FTII and are determined to not let them shoulder the entire burden of the protest."
(with PTI inputs)
Like Us On Facebook |

Follow Us On Twitter |

Contact HuffPost India
Also see on HuffPost:
PHOTO GALLERY
Prime Minister Narendra Modi's Selfies
Calling all HuffPost superfans!
Sign up for membership to become a founding member and help shape HuffPost's next chapter
BEFORE YOU GO