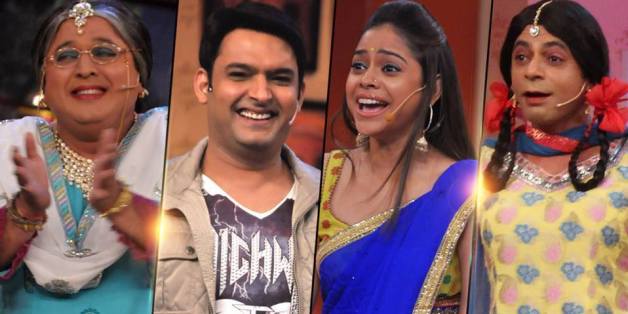 Sex is to Indian television, what nuclear warheads are to life on earth. And then it so happened that Grey's Anatomy dared to showcase an episode on Star World in June this year, which involved a sexual act.
"The complaint was filed over a scene in which one of the characters in the series asks her male colleague to teach her how to satisfy her partner sexually by demonstrating it," a report on DNA states. The particular scene involved a 'homosexual encounter'. Not just sex, but gay sex at that! Since, such sins won't be washed away even if you took a dip in gau mutra cradling your television, the Broadcasting Content Complaints Council (BCCC) decided to reprimand Star World on your behalf. They have now sent the channel a notice accusing the show of 'denigrating women'. How dare they say women want sex? No sirs, Indian women are most happy to orgasm when they find the perfect washing powder to whiten their husband's shirts.
Considering that the videshi TV show makers are clueless about what women in India don't find humiliating, we have listed a few things that have not been found to be 'denigrating' to women in India. These have been painstakingly culled from the various TRP-guzzling Hindi TV soaps across channels. Last time we checked, none of the shows had been pulled up for 'denigrating' women or being an affront to intelligence. American show makers, hope you are taking notes.
Polygamy
Right now, there are at least four prime-time Hindi television shows which have polygamous men playing central characters in them. Saath Nibhana Saathiya (Star Plus), Sarojini (Zee TV), Diya Aur Bati (Star Plus), Piya Rangrezz (Life OK).
Saath Nibhana... has two sisters married to the same man, vying for their rights under the same roof. Diya Aur Bati has two women 'married' to the same man, again, fighting to be Bahu No 1 - one is the husband's favourite, one the mother-in-law's. Piya Rangrezz has a man get his wife number 1 to officiate his wedding to wife number 2, in a kind of revenge-wedding plot. Sarojini has two women vying for the same husband.
Here's a fact: polygamy is illegal under Indian law. It can land a man in jail. But hey, what kind of a good Indian wife-elect wants her man in jail? So, these women - with a little help from seven layers of eye make up and lipstick each - carry out their wifely duties, hoping that the husband will dump the other. While you may think it's atrocious to even suggest that a man in free India can have two wives and strut around in shiny sherwanis instead of jail clothes, all's actually good in Indian television land. Otherwise, how will hundreds of Indian women get to know that it's perfectly healthy to have no self respect at all?
Black Magic
However, let's not also stereotype Indian women as doormats. There are some who aren't your typical bahus - the kind who will cuddle the aarti-ki-thaali to sleep. They are fierce and aggressive. They also happen to perform black magic. A show called Sasural Simar Ka on Colors had at least two of these strong variety of women. How do we know they are strong? They sat around fires, with their long hair open, not even slightly inconvenienced by the heat. And oh, they also held serious conversations with fire, skulls, voodoo dolls, limes and most such things we wouldn't ever seek audience with. Also, the soap's narrative didn't rubbish witchcraft, it admitted to its alleged powers. Never mind till this day women are tortured and lynched over suspicion that they are witches and a prime time television show would be better off without endorsing such misleading ideas. In fact, practicing black magic is a favourite of TV serial trope to differentiate the villainous woman from the heroine of the show.
And there's a new serial call Kala Teeka, as on ode to the great Indian love for superstition. Believe it or not, it actually kicked off showing that a baby was saved because another baby was used as a 'bad luck shield' for her. And the person plotting all this murderous black magic against the babies is also a woman.
So what activists like Dabholkar have laid down their lives to help India fight superstition, Indian television isn't going to be trapped in any rationalism hogwash.
Caricatures
Indian women are also perfectly okay with being reduced to loud caricatures. It so happens that arguably India's favourite show - Comedy Nights With Kapil - thrives on depicting women as brainless twits. The said women's stupidity, are meant to act as a foil to the star host Kapil's 'jokes'. And these women are 'played' by men in drag mostly making Jim Carrey faces and jumping around like they have a cockroach climbing up their pants.
Ever heard the BCCC or any other concerned regulatory cracking down upon it? Obviously, no.
Like Us On Facebook |

Follow Us On Twitter |

Contact HuffPost India
Also see on HuffPost:
PHOTO GALLERY
8 Depictions of Mental Illness in Film and Television
Calling all HuffPost superfans!
Sign up for membership to become a founding member and help shape HuffPost's next chapter
BEFORE YOU GO