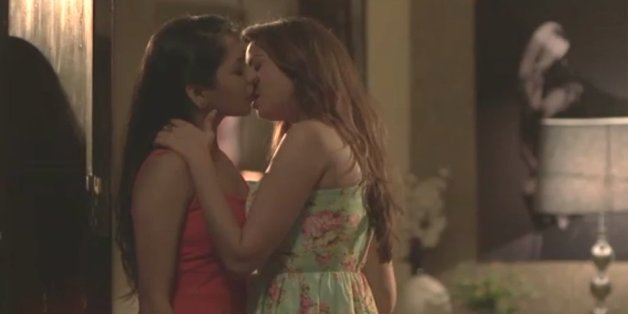 Sharmistha could be your average girl-next-door. The kind who will throw a withering look at aunts pestering her to get married and storm out of the room. One who will warily dismiss the mother's 'chosen' boys as just 'okay'. Then one day, her one great love will waltz into her life as an embarrassingly cheesy ballad starts playing in the background and an unaccounted for gust of wind blows her hair into a messy circle.
Have you come across a Sharmistha on an Indian television channel?
Well, of course. They are there by the dozens, modelling dupattas and great shampoos, and propagating the great benefits of overnight eye shadow, karva chauth, the north Indian male and virginity.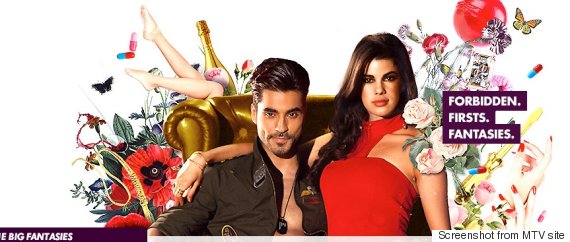 Now what if we told you, this great love of Sharmistha's life is a woman?
You can hear half the TV-watching country go, "What? Why can't these Americans ever show a proper Indian? You know, not a nerd who can't get laid, a suspected terrorist or now, a lesbian?"
If the morality of Indian television is anything to go by, the hero or the heroine can only have a same sex partner if the serial's budget can no more afford the five-centuries-old dadiji and the writers have to make her die of a conceivable tragedy.
Also Read: How To Not Get Pulled Up Like 'Grey's Anatomy' For 'Denigrating' Women On Indian TV
But hey, no one died, no ears were damaged in ear-splitting wailing and we got to watch a 45-minute show which had two women struggle with their attaction for each other, concluding with them ending up together. And that strange thing happened - when you watched an Indian serial and didn't want to put most of its protagonists on a plane to Bermuda in order to protect sanity and good taste in the human world.
The series in question, though, is unfortunately titled, The Big F.
The promos of MTV's The Big F had 'don't watch' written all over them. When the the unneccessary full stops in its tagline 'Forbidden. First. Fantasies' weren't putting you off, the giant red dismembered lips doing a merry-go-round circling a chest hairless Gautam Gulati, were. With a stone-faced model on his lap and golden whips, champagne bottles, naked legs, flowers and a giant red lollipop forming his very own 'come idhar' halo of sorts, Gulati, is out to test how much his shirtless being in Bigg Boss is now worth in TRPs.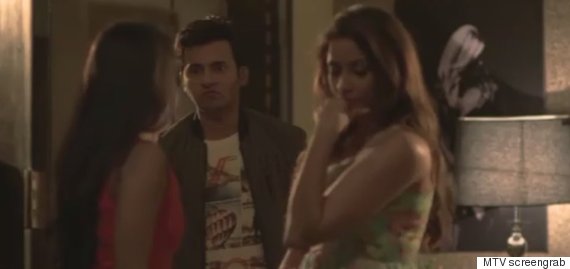 A still from 'I Kissed A Girl'
The Big F, which has aired 6 episodes on MTV till now, is about 'forbidden fantasies'. Not the hardcore stuff of course, like
chomping a beef burger in public in Mumbai, or going for a run in Shivaji Park wearing a 'I Love Fawad Khan' tee-shirt. More high school stuff like the hot neighbour, the teacher who unfailingly wears backless blouses with sheer sarees to class everyday, the fat girl and the fit tennis player, the hot tuition teacher. Nothing extraordinary, nothing sexy either.
However, its sixth episode, called 'I Kissed A Girl' is a cut or two above the rest.
It is about a young fashion designing student called Sharmistha, who is struggling with the fact that she isn't attracted to men at all. She has a best friend, the college's stud boy. Enter Madhurima, she who screams 'model' with her perpetually open, streaked hair, pretty short dresses and dramatic tossing of her mane. She is supposed to model Sharmistha's designs. Now sparks fly. Not just between Madhurima and Sharmistha. But also between Madhurima and Sharmistha's bestie, the boy. It takes a while for Madhurima to realise, who she is really into. And it's Sharmistha. The serial ends with Madhurima telling Sharmistha, "I want you."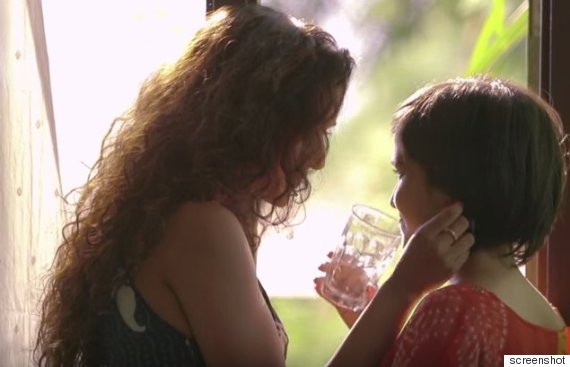 A still from the Anouk ad.
The show does three very important things apart from stepping out of Indian television's cloyingly 'straight' narrative which makes heterosexuality seem like the only acceptable 'normal' in the Indian society. Firstly, it legitimises desire, the kind that doesn't need a sanskaari airbrush of love, faith etc. And secondly, it shows two women fighting and then embracing that desire. It's sexual, unapologetic and obviously a refreshing departure from the usual female voices of Indian TV, relentlessly speaking the language of patriarchy. The curious thing about Indian TV is that, most of its protagonists are women, but the plots are made to establish them as fine puppets of patriarchy, upholding its every dubious principle. Thirdly, the same sex couple at the centre of the story shows no sign of feeling devastated on understanding their sexual orientation, in a way, challenging the popular definition of 'normal'.
'I Kissed A Girl' is not without its flaws. It has overwrought secondary characters. In their urge to establish the women lead pair as feisty, at times, the writers give them over-the-top dialogues. It's definitely too picture-perfect to be real and the show's stand on bisexuality is confusing at its best. Also, would the channel dare show two male protagonists engaging in a liplock like the women in 'I Kissed A Girl' do and risk offending the bristling heterosexual male ego in India? Or was it convenient to woo heterosexual male viewers by hinting a sexual encounter between two women?
That said, if you can ignore the fact that a same-sex relationship was peddled under the banner of 'forbidden' desire, 'I Kissed A Girl' is baby step towards a more inclusive, relatable television in India. In 2011, a Hindi serial 'Maryada: Lekin Kab Tak' had a subplot involving two gay men. While the idea earned the makers and Star Plus accolades galore, the subplot involving the homosexual couple was undercut by the 'sacrifices' of the perenially weeping, adarsh wife of one of the gay characters. And finally, one of the gay men took a villanious turn in course of the soap, thereby feeding every prejudice a majority of India's population has about homosexuality.
Maybe the audience demography of MTV allows it to be be bolder than its peers, but the channel can't control who watches its shows. It is indeed a leap of faith of sorts. After all, even India's much hyped 'first lesbian ad' for a garment brand was only showcased on YouTube, not widely on TV.
One can only hope that the other entertainment channels take hint, breathe in some fresh air instead of the napthalene balls preserving the faux zardosi sarees of their pre-historic women characters.
Like Us On Facebook |

Follow Us On Twitter |

Contact HuffPost India
Also see on HuffPost:
PHOTO GALLERY
150 Years Of Lesbians And Other Lady-Loving-Ladies
Calling all HuffPost superfans!
Sign up for membership to become a founding member and help shape HuffPost's next chapter
BEFORE YOU GO