What all can the combined hotness of Beyonce and Chris Martin make your forgive? Coldplay's new video, 'Hymn For The Weekend' seeks to demonstrate the same.
For example, you may not be miffed by the fact that India is pretty much a five-year-old's rainbow birthday cake in the video. The primary occupation of the people living in this country is playing Holi. There are two kinds of men in this country. First, the multicoloured ones who drift around like suspended particulate matter does through Delhi's air. The second are saffron-clad 'sadhus' who are either levitating at street corners or walking around ruins in slow motion, their turbans longer than the Konkan coast fluttering mid-air.
Of course, there are candy coloured temples to provide perfect backdrops for goodlooking white men in tie and dye jackets to sing ballads to their lady love.
Now the added burden of being a woman in that world is you have to carry a bouquet on your head and sequins worth a dozen Delhi weddings on your body. Beyonce, who has been entrusted with shouldering this responsibility, does so with aplomb. To be a filmstar and stand out in this candy shop, you at least have to be a Christmas tree. So Beyonce, filmstar Rani in the video, dons a fishtail gown with heavy zardosi work and sequins.
She also ups the matha patti game by a few hundred notches and wears what could be a bridal Celtic helmet. If you ever plan a Game of Thrones themed Indian shaadi, you know where to look for jewellery inspiration.
Life's good here. And taxis are not your regular Kaali Peelis. Instead they are ones done up by TaxiFabric that has floral designs all over them. Beyoncé as a Bollywood actress.
The skies are perpetually colonised by colourful firecrackers.
Oh, and it's also got actress Sonam Kapoor in it. Her character plays a supporting role to the gulaal in the video.
We wouldn't have noticed her if we didn't know that she was to make a cameo appearance. The actress appears very briefly in two places. Just in case you haven't spotted--watch carefully at 3.36 to 3.37 and 3.43 to 3.44.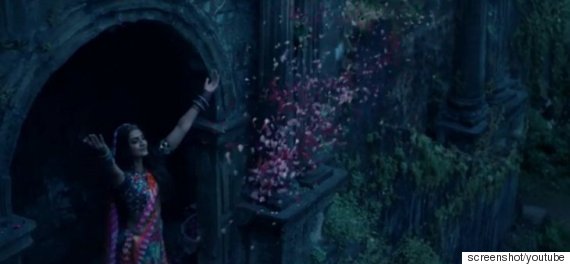 Sonam Kapoor is very excited about the video and wants to tell her grandkids about the story:
A story to tell my grandkids! I was in a @Coldplay video! Woo hoo! #biggestfan https://t.co/gY2r9orAnq

— Sonam Kapoor (@sonamakapoor) January 29, 2016
The song itself offers a fairly plausible explanation for how the video came about, but no one is giving Coldplay props for honesty.
Check this stanza of the song out if you don't believe us:
"So high, so high
I oh, I oh, I oh
Now I'm feeling drunk and high
So high, so high
Woo!"
Many on Twitter are already cracking jokes about the blink-and-miss appearance of Sonam Kapoor.
5 marks for spotting Sonam Kapoor in the latest coldplay video.

— Trendulkar (@Trendulkar) January 29, 2016
Sonam Kapoor's appearance in the new Coldplay song lasted more than my last relationship.

— §μp (@supaarwoman) January 29, 2016
The rock band has been great at keeping secrets. Last year, Chris Martin played a gig in Delhi that the city found out about only the next day. Then the entire band showed up in Mumbai and shot a music video, without any announcement or media reports. And now, a video with Beyoncé and Sonam Kapoor, and no one had a clue.
Many on Twitter said that's not how India really looks:
Coldplay's new video is basically what India looks like to white people

— Kanksha Raina (@SpoiledHobo) January 29, 2016
i dont even know what to say about this coldplay video except can white rock bands please stop filming holi videos in india, thank you.

— ahmed ali akbar (@radbrowndads) January 29, 2016
Meanwhile, Beyoncé seems to have started a debate on cultural appropriations.
It's not ok that Beyoncé and Coldplay are profiting off Indian culture. No, that doesn't change how wrong it is when white ppl do it.

— julia craven (@CurlyCrayy) January 29, 2016
Culture appropriation in new Coldplay's video with Beyoncé?

— Mateusz Kalinowski (@thepolishteen) January 29, 2016
What's the big deal about stereotyping and cultural appropriations in coldplay's video? Is this the first time? Better than Lean On video.

— Hope | less (@Sathvik20) January 29, 2016
I'm onto Coldplay using POC (Rihanna/Beyoncé) to cover for their cultural appropriations (China/India). They're not fooling me.

— Diablo Alejandro (@ali3njandro) January 29, 2016
I'm Indian and Beyoncé did not appropriate Indian culture in the new Coldplay music video. Lazy liberals, go fight for a real cause.

— Sonya Desai (@SonyaDesai) January 29, 2016
Beyoncé cannot: appropriate culture

Beyoncé can: take part in a trash orientalist video which exploits culture

U can: drag Coldplay 1st.

— Tiss The Magnificent (@naturallytiss) January 29, 2016
Watch the video above. It's beautiful. The only problem: That's not how India looks like.
Like Us On Facebook |

Follow Us On Twitter |

Contact HuffPost India
Calling all HuffPost superfans!
Sign up for membership to become a founding member and help shape HuffPost's next chapter