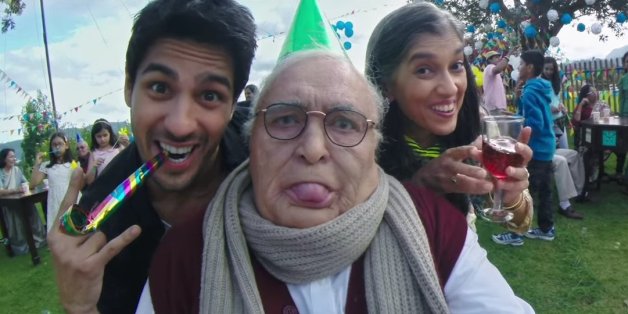 Shakun Batra's Kapoor & Sons (Since 1921) is set in the lovely Nilgiri hill station of Coonoor, Tamil Nadu. It's not quite apparent why, though, since the setting contributes very little to the screenplay aside from visual relief, be it shots of its beautiful tea estates or even a daytime sequence in a graveyard. The language, the culture, and the people are absent from this movie about a dysfunctional Punjabi family who seem to have never interacted with the locals. Seriously, not one person in this film speaks in — or is even shown to be — Tamil.
But perhaps we could ignore this possibly unintentional bit of cultural chauvinism displayed by the makers of this ensemble Hindi drama (although we really shouldn't). After all, this is a Dharma Productions movie, where eye-candy is of a high priority. With a cast of serious lookers that includes Alia Bhatt, Fawad Khan (exuding a boyish charm here that will doubtless prove irresistible to his ever-growing fan-base), and Sidharth Malhotra, along with Coonoor itself, it achieves that rather well.
Khan and Malhotra play brothers Rahul and Arjun, while their parents, Harsh and Sunita, are played by Rajat Kapoor and Ratna Pathak Shah. Rahul is a successful novelist who lives in London; Arjun, on the other hand, is struggling to write a novel of his own while working part-time in a bar in New Jersey, United States. After their 90-year-old grandfather (played by Rishi Kapoor, hidden behind some impressive, Benjamin-Buttonesque prosthetics) suffers a heart attack, the two return to their family home, where their parents are in the midst of a rough patch, emotionally as well as financially.
Oddly enough, despite several chaotically edited sequences that have little breathing space and rely largely on exposition, the film feels bloated.
Writers Ayesha Devitre and Batra interweave several conflict-ridden story threads in this 140-minute drama to mixed effect. The brothers share a complicated relationship, which is somewhat difficult to buy in parts. Perhaps it's because Khan shines in his role, delivering a well-calibrated performance that matches the movie's tonality, while Malhotra lags far behind. His lack of serious acting chops is quite visible in this film, wherein he struggles to find the right pitch. His emotions seem superficial, not internalised. He is especially unconvincing in a scene towards the end, a crucial moment for his character, where he looks as though he might break into his trademark kinda-shy-but-not-really grin in the midst of an emotional outburst.

Bhatt plays, well, a version of herself, and this is, frankly, a bit of a disappointment. As Tia, who hails from Mumbai but happens to be staying there on a picturesque property close to the Kapoors, she serves up the same charming combination of practiced coquettishness and measured quirk that we've seen in her past, I don't know, four on-screen outings. While her performance is not ineffective (she could probably do this in her sleep, at this point), it is crippled somewhat by an underwritten character that seems to exists for only two purposes: to catalyze the weakest conflict point in the film, one involving both brothers; and to give audiences the chance to see Bhatt and Malhotra, a real-life couple, as an on-screen pair they can root for.
As it progresses, Kapoor & Sons ping-pongs between heartwarming family bonding and serious, life-altering conflict. Oddly enough, despite several chaotically edited sequences that have little breathing space and rely largely on exposition, the film feels bloated. Scenes featuring the family bonding over an acoustic guitar session work well despite some incoherence (reminiscent of similarly choppy scenes in last year's Piku), while music-video-esque dance numbers like 'Kar Gayi Chull' disrupt the narrative somewhat. Sameer Uddin's piano-and-strings score works well in some scenes, but sounds like needlessly sentimental elevator music in others.
Meanwhile, certain writing liberties taken interfere with the film's ambitions towards realism. For instance, we are told that Khan has a 20-day deadline to complete his latest novel and that he is looking to purchase property for an artist residency, for which he considers buying the bungalow Tia stays in. By the final act, these threads have been abandoned, and their absence isn't addressed adequately enough.
Quite often, it is up to the senior Kapoor to save the film from itself. Thankfully, he does that with ease, even when his jolly, pervy grandpa character is waxing eloquent about Mandakini's transparent saree in Ram Teri Ganga Maili (1985) — an obvious in-joke to those familiar with Bollywood's numerous family trees. His performance is characteristically effortless. It lends weight to the dramatic moments and elevates light-hearted scenes. This minimum average is maintained by the other Kapoor as well, who plays the complex Harsh quite effectively, while Shah makes the best of a somewhat thankless and often-shrill role.
Batra, who has earlier helmed the likeable rom-com Ek Main Aur Ekk Tu (2010), provides a sensibility that is subtler than the average Dharma film, but still not completely digestible. Kapoor & Sons walks the tightrope between traditional Bollywood melodrama and a more evolved variant of the same, but its balance is all over the place. As a genuine tearjerker, I found it too superficial; as a study of characters, it felt a little incomplete. All I took away was a handful of warm and fuzzy moments. In most of them, a real-life Kapoor was present.
Like Us On Facebook |

Follow Us On Twitter |

Contact HuffPost India
Also see on HuffPost:
Calling all HuffPost superfans!
Sign up for membership to become a founding member and help shape HuffPost's next chapter
BEFORE YOU GO