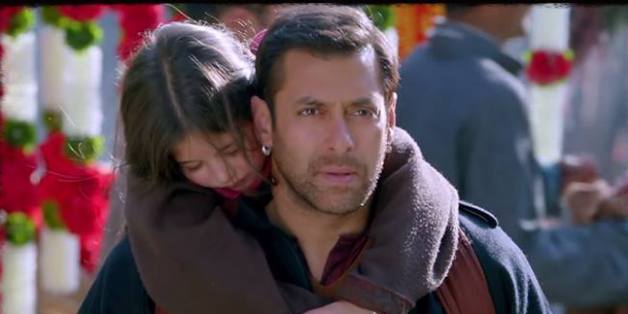 If your Facebook friend-list comprises people who roll their eyes at Salman Khan films that gross a few hundred crores of rupees even before you can utter 'WTF', this Monday, your timeline witnessed a bloodbath. Even before they could digest SS Rajamouli's Baahubali bagging the National Award for best feature film, people spotted a name that they were never hoping to find in the list of National Award winners.
The film is called Bajrangi Bhaijaan - one that features Salman Khan in the lead.
More than the film itself, what it represents seems to have sent film connoisseurs on social media on a complaining spree. When the film released, even critics seemed to not mind it like they do with most other Salman Khan film. Though the National Awards had not always hit the bulls eye with its choice of films, a Salman Khan film on its list of awardees seemed like all kinds of wrong to people who like to steer clear of the Khan blockbusters and what their cinema stands for.
Some even wondered aloud if a 'new' category has been created to award Bajrangi Bhaijaan, because they had surely never heard of a category called 'Best Popular Film Providing Wholesome Entertainment' before yesterday. The fact that popular films like Baahubali, Tanu Weds Manu and Bajirao Mastani, dominated the top awards category made Bajrangi Bhaijaan's win even more unpalatable for some.
But here's the thing: the category Bajrangi Bhaijaan won an award in has existed since 1974. And the films which have been awarded in that category have always been popular blockbusters. Bajrangi Bhaijaan is also not the first Salman Khan film to have bagged this award.
If you were displeased with Kabir Khan's film winning the award, following is a list of films -- which may not figure in your list of compelling cinema -- which have won the award in the past. One can't help but noticing, Bajrangi Bhaijaan may actually be a cut or two above them.
- Ghayal (1990)
- Darr (1993)
- Hum Apke Hai Koun, starring Salman Khan (1994)
- Dil Toh Pagal Hai (1997)
- Kuch Kuch Hota Hai (1998), where Salman Khan had a cameo.
- Devdas (2002)
- Veer Zaara (2004)
- Dabangg, starring Salman Khan (2010)
Actually, if there is something problematic with the list of films which have won this award, it is the sheer dominance of Hindi films. Of the 40 awards given away in the category between 1974 and 2016, 27 have gone to Hindi films. There's just a smattering of Tamil, Malayalam and Bengali films in the list. Unless of course the award committee has never bothered to watch the blockbusters in the regional languages or don't think that anything except Hindi films can provide 'wholesome entertainment', the category seems to have been created to scratch Bollywood's back.
Films like Kuch Kuch Hota Hai (1998), Rang De Basanti (2005), Dilwale Dulhania Le Jayenge (1995), Mary Kom (2014) and Bhaag Milkha Bhaag (2013) have won the award too.
Calling all HuffPost superfans!
Sign up for membership to become a founding member and help shape HuffPost's next chapter