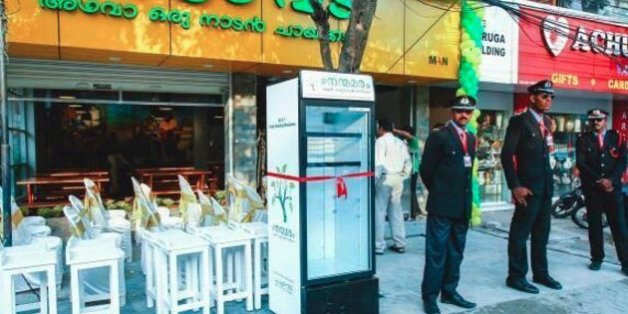 For the last one week, the road outside a restaurant in Kochi has remained very crowded. And, most of the passersby have a smile plastered on their face--thanks to Minu Pauline and her 420 litre fridge.
Minu, the 28-year-old banker turned restaurateur, wanted to feed many more people than just her customers at Pappadavada. So she came up with a plan. She kept a big fridge outside her restaurant, and asked people to leave their extra food there. She calls it the Nanma Maram (the tree of goodness).
"I would see daily wage labourers everyday outside my restaurant. The days they would earn, they would eat. The rest of the days, they would starve. All this while I was throwing away my excess restaurant food on some days due to low sales," Minu tells HuffPost India describing how she came up with the 'Nanma Maram' idea.
The fridge is put under a tree outside Papadavada, a popular tea stall-cum-restaurant, located opposite the exit from the Kaloor bus stand, at the beginning of the Kaloor-Kathrikadavu road.
Since its inauguration, the fridge has never been out of food. Everyday many come and keep food, at the same time several others pick it up.
Minu says she doesn't want the food to get stale, so she has left a marker, so that people, mandatorily, put a date on the pack. However, the marker hasn't been used yet.
"Immediately after they come and leave food, many gather around to pick them up. So, it's never stale," she says.
"It's heartwarming to realise we are feeding so many," she added.
The other day, while people gathered around the fridge to see what was in it, two children-- one 8-year-old and the other 10 stopped by too. Minu thought they have also come to check the 'thing that everyone' talking about'. Minutes later, the girls left their two lollipops, one pomegranate, and two packets of chips in the fridge.
"That was the sweetest thing I have seen. They left everything that they had," the owner said.
Minu hasn't faced the problem of stale food yet. "I wanted people to leave excess food from home, but some of them are just buying food and keeping them there," she said.
Two days ago, Minu recalls, a lady bought 25 packets of idli and five packets of biryani from a very popular restaurant in Kochi and went to Minu. It was her daughter's birthday and no one was at home, not even her husband. So, she decided to feed the poor.
Within minutes of the arrival of those food packets, people gathered around the fridge and took them away. "The lady was about to leave, but she waited there and watched. She was so happy," Minu recalls.
On Wednesday, Malayalam television actor Thesny Alikhan decided to drop by at Minu's restaurant and left five boxes of mineral water, each box had 12 bottles.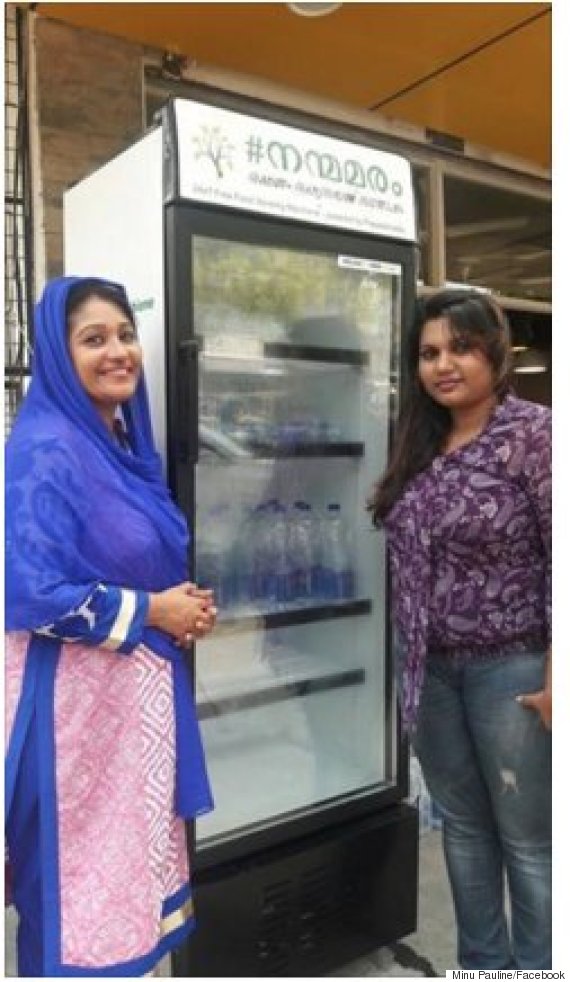 Three years ago Minu quit a fairly cushy bank job to chase her dream of doing something different, which is when she launched 'Pappadavada'.
"There will be something here everyday, and eventually I hope there will be so much that no hungry person will leave here hungry," she said. The fridge will be open to anyone 24/7. Anybody can leave food, or take some out, anytime of the day.
The owner of the restaurant herself leaves about 50-100 packets everyday in the fridge.
Asked how she's going to check, if someone, not necessarily needy, takes the food, Minu says she's not "worried about that at all."
"It's food, people who are hungry will eat. I have no problem with who takes it," she said.
Also See On HuffPost:
PHOTO GALLERY
What to Eat in the World's Top Foodie Cities
Calling all HuffPost superfans!
Sign up for membership to become a founding member and help shape HuffPost's next chapter
BEFORE YOU GO