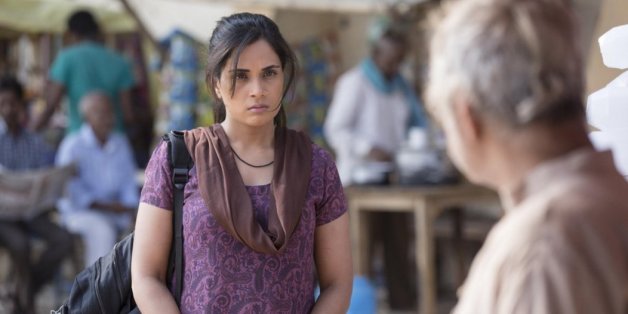 The Internet, in India is generally considered to be the only medium where the sword of censorship doesn't hang over the heads of filmmakers or, for that matter, anyone who'd like to exhibit their work solely online.
However, Star Network's online streaming platform, Hotstar, is playing a heavily watered-down version of Neeraj Ghaywan's multiple-award winning 2015 film, Masaan, in a move that can potentially set a dangerous precedent as far as freedom on the Internet is concerned.
Right from the opening scenes where you see Richa Chadha's character having sex with a male friend in a lodge to the kissing scene between the film's parallel leads Vicky Kaushal and Shweta Tripathi, the Hotstar version has been aggressively sanitised.
HuffPost India found out that the Hotstar edit is roughly 10 minutes shorter than the one that was released in theatres and released on DVD. Currently, there aren't any regulations for censoring content online while almost all TV networks exercise self-censorship before airing a film on their satellite channels.
The makers of the film — director Neeraj Ghaywan, writer-lyricist Varun Grover and producer Anurag Kashyap — took to Twitter to complain about the edit and urged viewers to boycott that version.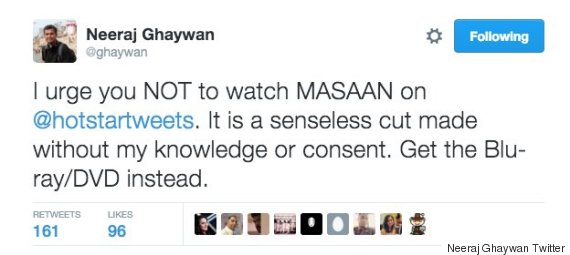 HuffPost spoke to Grover, the film's National Award-winning writer and lyricist, who said, "The CBFC had already inflicted much damage. Just when you thought it couldn't get any worse, I saw the brutally edited version on Hotstar. At first, I couldn't believe what I saw — why would an online platform censor films?"
... Hotstar did not delete scenes from the film themselves. Instead, utilising a more indirect form of censorship, they asked for a U/A version (the theatrical cut in India was rated 'A', as is the film's DVD version)
It is possible that Masaan was toned down to make it TV-friendly, but that shouldn't have prevented Star from putting the uncut version on the Internet unless there are moral guidelines dictating their decisions.
Yes, there is a clause that says all content, if certified by the Central Board of Film Certification, needs to be exhibited in the approved form (even online, as per this Economic Times report published early March).
But in this case, Hotstar is playing a cut of Masaan that goes beyond the version that was screened in Indian theatres and released on DVD. That version, approved by the CBFC, had already deleted a number of expletives from the Varanasi-set film. (Watch team Masaan talk about it here)
Grover further added that even a scene like Sanjay Mishra's character hitting Richa Chadha's character has been snipped. "It's so badly done that I can say whoever has done this is extremely stupid and has no respect or understanding of filmmaking. The worst part is that it is not even a government directive that Star acted on, but some moral guidelines that they have in their heads. These companies are starting a dangerous precedent that could possibly be used as an example for other streaming services to follow suit," he said. "We weren't even kept in the loop. If they had sought our help, we'd have at least done it neatly."
However, Shiladitya Bora, CEO of Drishyam Films, which co-produced the film and clinched this deal with Star, said, "Once we sell the satellite rights, it's Star's call to decide which way they want to present the film to their viewers."
Bora refused to elaborate on the details of the deal, but a source pointed out that a producer wouldn't jeopardise a long-term relationship with a major network over a film that's already run its course.
When HuffPost reached out to Ajit Mohan, President and Head, Hotstar, he said, "Hotstar is a free and open service that is available to all users in the country without the need for any registration. We strongly believe that all such services, that are easy for children to access, should voluntarily exercise restraint in ensuring that adult content is not freely available to under aged children. We urge our peers to follow our lead."
When asked about the dangerous precedent that this decision is effectively setting on the Internet by a streaming platform voluntarily applying a moral code that hasn't been mandated by existing laws, he did not respond.
UPDATE: It has now emerged that Hotstar did not delete scenes from the film themselves. Instead, utilising a more indirect form of censorship, they asked for a U/A version (the theatrical cut in India was rated 'A', as is the film's DVD version). In a statement posted on Facebook, Bora has now claimed that neither Drishyam Films nor Hotstar "executed any cuts voluntarily" — they were made by the CBFC in order to garner the U/A rating. Currently, the makers are locked in a dispute with Bora, demanding to know why they weren't informed about these cuts. Meanwhile, Bora has stated that Drishyam Films denies all "false statements and allegations" and "will take necessary legal proceedings if need be".
Like Us On Facebook |

Follow Us On Twitter |

Contact HuffPost India
Also see on HuffPost India:
PHOTO GALLERY
Most Stunning Photos From Cannes 2015
Calling all HuffPost superfans!
Sign up for membership to become a founding member and help shape HuffPost's next chapter
BEFORE YOU GO