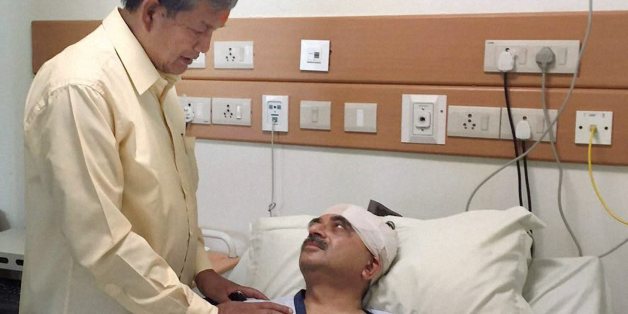 Temple authorities in Dehradun will allegedly conduct a nine-day 'purification' ceremony to cleanse the place after Rajya Sabha MP Tarun Vijay led a group of Dalits inside, according to the Times of India. Vijay was attacked by a local mob, enraged at the entry of Dalits inside the temple on Friday. Vijay suffered minor injuries in the attack.
An official from the temple trust, who was not named, told the paper that the Silgur devta temple in Pokhri village of the Jaunsar Bawar region in Dehradun will conduct a "long purification ritual" because it was supposedly defiled by the entry of Dalits.
Condemn the barbaric attack on @TarunVijay ji. You were fighting for a just cause & I support you on this unequivocally. Get well soon!

— Ahmed Patel (@ahmedpatel) May 22, 2016
Dehradun: Uttarakhand CM Harish Rawat visits injured BJP MP Tarun Vijay at the hospital. pic.twitter.com/cNNdAwdnTT

— ANI (@ANI_news) May 21, 2016
#WATCH Eyewitness from yesterday's incident (when Tarun Vijay was attacked) recounts experience to Uttarakhand CM.https://t.co/h1YRJ6v8aG

— ANI (@ANI_news) May 21, 2016
"The dev doli of Silgur Devta that was brought after a gap of 36 years to our village was defiled. The devta is upset," the official told TOI. The paper also reported that the Dalits in the area have allegedly started fleeing from their homes fearing backlash from members of the upper castes.
Vijay, a Rajya Sabha member, was attacked by the mob and his car vandalized after he came out of a temple with Dalit leaders in Chakrata.
Although caste-based discrimination was outlawed in 1955, but deeply-entrenched prejudices still exist and people from lower castes still face injustices in many sectors. The polarisation is particularly evident in community places of worship.
The police team present at the spot rescued the Uttarakhand MP and the Dalit leaders who sustained minor injuries. Condemning the attack, Uttarakhand Chief Minister Harish Rawat ordered Garhwal Commissioner to look into the incident.
The caste discrimination isn't only restricted to the economically backward. In 2009, priests in Odisha's Akhandalamani Shiva temple performed a 'purification' after the visit of women and child development minister Pramilla Mallick, a Dalit.
Calling all HuffPost superfans!
Sign up for membership to become a founding member and help shape HuffPost's next chapter