For lovers of literature, Margaret Atwood's The Testaments is to 2019 what Arundhati Roy's The Ministry of Utmost Happiness was to 2018: the most anticipated novel of the year.
The sequel to The Handmaid's Tale isn't published until September. While we wait for it, several debuts and door-stoppers, essay and short story collections, thrillers and translations, slated to release in the first half of 2019, are all set to keep us occupied and entertained.
Here are HuffPost India's picks of 35 books to look forward to between January and June of the new year. We recommend that, as a New Year gift to yourself, you press pre-order now.
JANUARY

1. 'An Orchestra of Minorities' by Chigozie Obioma (Little, Brown)
From the 2015 Man Booker Prize shortlisted author of The Fishermen—also adapted for the stage—comes this sophomore novel: one part true story, and another, a contemporary twist on Homer's Odyssey. The author, hailed by the New York Times Book Review as the true heir to Chinua Achebe,"weaves a heart-wrenching epic about the tension between destiny and determination", and the novel is written in the "mythic style of the Igbo literary tradition".
2. 'The Scent of God' by Saikat Majumdar (Simon and Schuster)
Majumdar's third novel is set in an elite all-boys' boarding school in late 20th century India, run by a Hindu monastic order—where things are not how they seem. While Anirvan dreams of becoming a monk, he also finds himself drawn to a fellow student. "What is the meaning of monastic celibacy?" And what will give the boys "a life together in a world that does not recognize their kind of love?" These are some of the questions The Scent of God sparks.
3. 'The Forest of Enchantments' by Chitra Banerjee Divakaruni (HarperCollins)
In her return to fiction, the prolific Indian-American author, poet and professor revisits the Ramayana from the perspective of Sita. A welcome Indian addition to the recent publishing trend where female authors (including Kamila Shamsie and Madeline Miller) have rewritten Greek myths, here, Sita is centred as a character (a wife, daughter, mother) alongside other women who were previously on the peripheries of the epic.
4. 'We Are Displaced' by Malala Yousafzai (Hachette)
The Nobel Peace Prize-winner and bestselling author of I Am Malala, follows up her memoir with another book of "part memoir, part communal storytelling". She reveals the human faces behind the statistics and headlines, documents her experiences visiting refugee camps around the world, and meditates on her own displacement, readjustment, and longing for home. This promises to be a moving, telling account.
5. 'The Lies We Tell' by Himanjali Sankar (Duckbill)
This YA novel, by the writer shortlisted for the Crossword Book Award twice for The Stupendous Timetelling Superdog and Talking of Muskaan, focuses on mental illness and teen relationships. Dark and disturbing, it is an upsetting but necessary and urgent reflection on what happens across schools now.
6. 'A Respectable Woman' by Easterine Kire (Zubaan)
Nagaland's first English-language novelist, and the winner of the 2015 Hindu Literary Prize (for When the River Sleeps), Kire's forthcoming novel is set forty years after the Battle of Kohima—and the death and devastation that followed—and upto the present moment. A story of inheriting (personal and national) memory and history, from mother to daughter, this promises to be a pertinent and poignant read.
FEBRUARY

7. 'Black Leopard, Red Wolf' by Marlon James (Hamish Hamilton)
"An African Game of Thrones", this much-anticipated epic novel from the Man Booker Prize-winning author of A Brief History of Seven Killings is the first in James's Dark Star trilogy—fusing myth, fantasy and history. Neil Gaiman has praised it as "a fantasy world as well-realised as anything Tolkien made" and with "language as powerful as Angela Carter's". With an opening that reads "The child is dead. There is nothing left to know"—need we really say more?
8. 'The Fate of Butterflies' by Nayantara Sahgal (Speaking Tiger)
The new novel by the writer, journalist and activist—who returned her Sahitya Akademi Award in 2015 in protest—speaks to the contemporary moment in India: a telling comment on what may happen when a country's rulers attempt to wipe out sections of its history, and marginalize a community.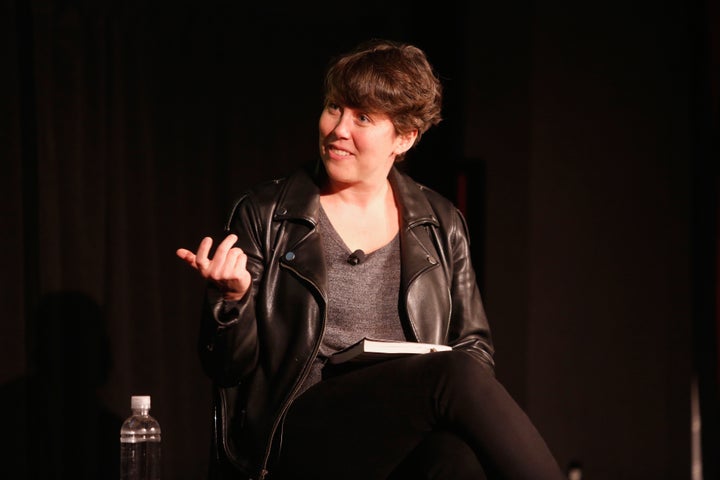 9. 'You Know You Want This' by Kristen Roupenian (Jonathan Cape)
From the author of the Internet-breaking (2.6 million hits and counting!) The New Yorker short story, Cat Person—which The Guardian called "the short story that launched a thousand theories"—comes this debut short story collection. A book about "sex, dating and modern life that will thrill you before it chills you", this is essential reading from a new entrant in American fiction in the age of #MeToo.
10. 'Mouthful of Birds' by Samanta Schweblin, translated from the Spanish by Megan McDowell (OneWorld)
If you were a fan of Fever Dream, Schweblin's Man Booker International Prize shortlisted nightmarish novella, brace yourself for this similarly surreal "unearthly" and "unsettling" collection of short stories. If you're a stranger to her work, take JM Coetzee's word for it: "The Grimm Brothers and Franz Kafka pay a visit to Argentina in Samanta Schweblin's darkly humorous tales of people who have slipped through the cracks or fallen down holes into alternative realities".
11. 'I Have Become The Tide' by Githa Hariharan (Simon and Schuster)
Three narratives thread together past and present to raise an "urgent voice against the cruelties of caste, and the destructive forces that crush dissent" in this prominent fiction and non-fiction writers's new book. Highly political, the book's real beauty and power lies in its championing of the human spirit and its celebration of the "joy of resistance, the redemptive beauty of words, and the courage to be found in friendship and love".
12. 'A Mouth Full of Blood' by Toni Morrison (Penguin Random House)
Spanning four decades, and structured in three parts (introduced by a prayer for the victims of 9/11, a meditation on Martin Luther King, and a eulogy for James Baldwin), these essays, speeches, and meditations speak to the sweep of American history as well as the present political moment. Morrison also revisits three of her novels—The Bluest Eye, Sula and Beloved—alongside her Nobel speech, and relays a gathering of ideas "with controlled anger, elegance and literary excellence".
13. 'A Gujarat Here, A Gujarat There' by Krishna Sobti, translated from the Hindi by Daisy Rockwell (Hamish Hamilton)
A "powerful, majestic feminist novel of the aftermath of the Partition" from the canonical Hindi writer, A Gujarat Here, A Gujarat There opens in 1947 Delhi—a city overflowing with refugees. While young Krishna attempts to make a home for herself in the princely state of Sirohi, the opportunity to become governess to the child Maharaja Tej Singh Bahadur presents itself. "How long will this idyll last?" the story asks.
14. 'Coming out as a Dalit: A memoir' by Yashica Dutt (Aleph)
For fans of Sujatha Gidla's prize-winning debut, Ants Among Elephants, another account of the "exhausting burden of living with the secret of being Dalit and dealing with the crushing guilt of denying her history". Dutt's book charts the history of the Dalit movement, weaves personal stories and experiences, is confrontational about caste injustices—and is a call to action.
15. 'The Heavens' by Sandra Newman (Granta)
From the Bailey's Women's Prize for Fiction-longlisted author of The Country of Ice Cream Star, among other books, comes this new novel pitched as "the year's most mind-expanding love story". In New York in 2000, Kate and Ben meet at a party and fall in love. When Kate falls asleep that night, she wakes in London, 1593—as Emilia. Kamila Shamsie and Kate Atkinson are among the author's fans.
16. 'Adèle' by Leïla Slimani, translated from the French by Sam Taylor (Penguin, Faber and Faber)
Slimani was the first Moroccan woman to win France's most prestigious literary honour, the Prix Goncourt, for Lullaby—a thriller where a nanny kills her charges. The eponymous journalist protagonist of her new novel, who lives in a Parisian apartment and ostensibly "has it all", is bored—and "consumed by an insatiable need for sex, whatever the cost". What follows is a series of lies and affairs in this dark and delicious story of sexuality and of "one woman's quest to feel alive".
17. 'On The Come Up' by Angie Thomas (Walker Books YA)
The New York Times #1 bestselling author of The Hate U Give's second novel, an homage to hip-hop and which speaks to the power of storytelling and free speech, is described as "the story of fighting for your dreams" and "of the desperate realities faced by poor and working-class black families". 16-year-old Bri wants to be one of the greatest rappers—and as the daughter of an underground rap legend, she's got big shoes to fill—but what will she do when homelessness hits?
MARCH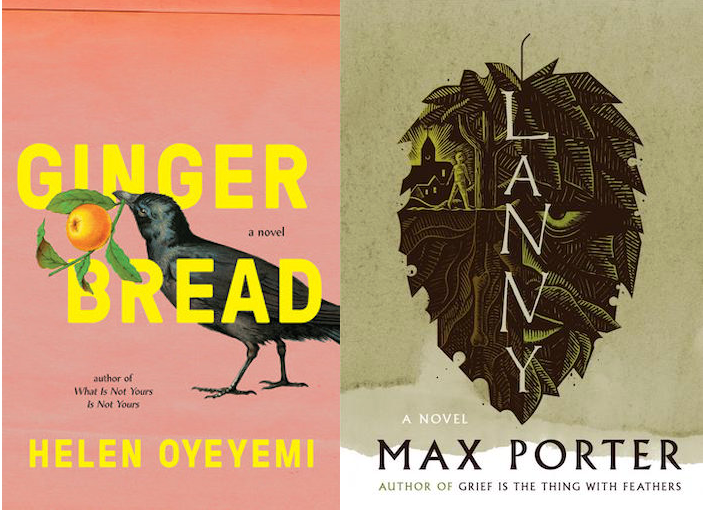 18. 'Life Lessons from the China Dragon: Stories by Chandrahas Choudhury' (Simon and Schuster)
His last novel, Clouds, was longlisted for the inaugural JCB Prize for Literature. Choudhury's next book is a treat, offering an insight into the restaurant trade, but also into the moral and material world of Bombay a quarter-century after liberalisation. "Once you have absorbed the lessons of the China Dragon, you will always be hungry for life – and food" readers are promised.
19. 'Gingerbread' by Helen Oyeyemi (Riverhead Books, Picador)
Taking its inspiration from the curious, consistent place gingerbread holds in Western classic children's literature, Oyeyemi's latest work seeks to lure audiences into a "delightful tale of surprising family legacy, in which the inheritance is a recipe". True to the prize-winning author's inimitable style and imagination—she's been described by Ali Smith as "a writer of sentences so elegant that they gleam"—this book promises to be a literary treat for fans of her fiction.
20. 'Lanny' by Max Porter (Graywolf Press, Faber and Faber)
Porter's debut, Grief Is the Thing with Feathers, was published to widespread acclaim, shortlisted for various prizes and also adapted for the stage. His next novel is "playful, irreverent, full of magic" and "brings us the best and the worst in English civic life", says his publisher. "It will haunt the imagination for years to come," she adds. Naturally, it's already on most books-to-look-forward-to-in-2019 lists.
APRIL

21. 'Good Talk' by Mira Jacob (Bloomsbury)
Jacob debuted on the literary landscape in 2014 with her big, beautiful book The Sleepwalker's Guide to Dancing. Her next, a graphic memoir, was born from her viral Buzzfeed article 37 Difficult Questions from My Mixed-Raced Son—and responds to her six-year-old, who asks if Trump hates brown boys like him; deals with her Trump-supporting parents-in-law; and also looks back on what it meant to be a brown-skinned New Yorker on 9/11. Jacob aims to have tough conversations, and to do so with nuance and earnestness.
22. 'The Selected Works of Abdullah the Cossack HM Naqvi' (Grove Press; Atlantic Books)
From the inaugural DSC Prize-winning author of Home Boy, this is the tale of "one gloriously unaccomplished man (a septuagenarian protagonist), his impending death, and the history and life of his bustling, shape-shifting city, Karachi". Of the book, Akhil Sharma has said: "What a fun, fantastic, original thing this is".
23. 'Pops' by Balaji Venkataraman (Duckbill)
A YA novel about a young boy who meets his estranged father for the first time—in the family courts—this is Venkataraman's sophomore novel after Flat-track Bullies, which was shortlisted for the Crossword Book Award.
24. 'An Instinctive Feeling of Innocence' by Dana Grigorcea, translated from the German by Alta L. Price (Seagull Books)
Grigorcea's debut, Baba Rada, won her the Swiss Literary Pearl. In her stunning sophomore novel, a tragic-comedy full of colour, the Swiss-Romanian author paints a world where new and old cultures converge, and where surprises occur. This is a portrait of Romania and of one woman's path to self-discovery.
25. 'Small Days and Nights' by Tishani Doshi (Bloomsbury)
Doshi's last work, the poetry collection Girls Are Coming Out of the Woods, was much loved by readers in India and elsewhere. The author returns to fiction with the story of "the ties we bind and the secrets we bury" and a woman "caught in a moment of transformation"—set on the coast of Madras. The novel promises to be "luminous, funny, surprising and heartbreaking" all at once.
26. 'I Remember Abbu' by Humayun Azad, translated from the Bengali by Arunava Sinha (Amazon Crossing)
Published by the global translation imprint of Amazon Publishing, this novella, by the late Ekushey Padak Award-winning scholar, poet, and linguist is a "sweeping saga of war, family, innocence, and memory"—about the Bangladesh Liberation War. Translated into English for the first time, it is the story of the strong bond between a father and daughter, set against the fight for independence.
MAY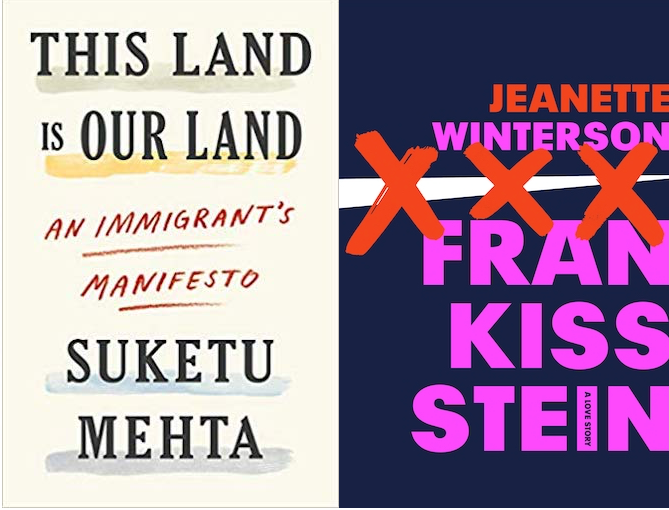 27. 'This Land is Their Land' by Suketu Mehta (Jonathan Cape)
The author of the acclaimed Maximum City, Mehta's timely new work is an exemplar of "writing in the age of Trump" and the rise of the far-right. A "literary polemic of the highest order", the book is centred on contemporary conversations around borders and the worldwide anti-immigrant backlash, and informed by his own experience emigrating from India to Britain and America.
28. 'Frankissstein' by Jeanette Winterson (Jonathan Cape)
2018 was celebrated as the bicentenary of Mary Shelley's Frankenstein. In her new novel, Winterson tackles questions of identity, technology and sexuality to revive and revisit the classic horror story. Partially told through Shelley's perspective "as she dreams up her monstrous creation", the author also takes us head on into a "modern-day nightmare where consumerism and politics are set to bring humanity to breaking point".
29. 'Close to the Bone' by Lisa Ray (HarperCollins India)
Ray's candid, inspiring story is about how one of India's first supermodels debuted the scene at the young age of 16; her life on the sets of Bollywood and her brush with the Oscars; her relationship with her parents, battle with eating disorders, the lovers and traitors in her life; being a cancer survivor and the mother of twins through surrogacy. This certainly sounds like a must-read memoir.
JUNE

30. 'My Seditious Heart' by Arundhati Roy (Allen Lane)
Two decades. 20,000 pages. These collected non-fiction works span the writing space between Roy's Booker-winner and her latest novel. In conversation with the themes and settings of both her novels, these essays form a "near-unbroken memoir" of her journey as "both a writer and a citizen, of both India and the world, from 'The End of Imagination', which begins this book, to 'Azadi', with which it ends". A sure-shot classic and a collectible.
31. 'Three Novellas by KR Meera', translated from the Malayalam by J Devika (Aleph)
A triad of novellas, Slowly Forgetting, The Deepest Blue, and The Angel's Beauty Spots, by the prize-winning Malayalam author come together in this translated collection. Translated by J Devika and edited by Mini Krishnan, these stories, all featuring female protagonists, explore a range of relationships: marriage, unrequited love, past love, infidelity and failed love.
32. 'The Unlikely Adventures of the Shergill Sisters' by Balli Kaur Jaswal (HarperCollins)
From the author of the much-loved Erotic Stories for Punjabi Widows, chosen for Reese Witherspoon's Book Club, comes this "delightful, moving and life-affirming" new novel about three sisters who have been instructed by their dying mother to visit the Golden Temple and carry out her last rites. This is your literary dose of laughter.
33. 'Gun Island' by Amitav Ghosh (Hamish Hamilton)
This, Ghosh's highly anticipated return to fiction, following his recent Jnanpith Award win, has a global reach: expect a wide-ranging cast of characters and settings that vary from the Sunderbans to Los Angeles and Venice. It is a story "about a world in which creatures and beings of every kind have been torn loose from their accustomed homes by the catastrophic processes of displacement", and where uncanny episodes occur in the spaces between the human and non-human.
34. 'City of Girls' by Elizabeth Gilbert (Bloomsbury)
Fans of the international bestseller Eat Pray Love have cause to rejoice. Gilbert's new novel is a "glittering coming-of-age epic stitched across the fabric of a lost New York" in the summer of 1940. Meet the protagonist seamstress Vivian Morris, who discovers that the city demands that "one must live many lives", and who herself "means to drink the heady cocktail of life itself to the last drop".
35. 'Babu Bangladesh!' by Numair A. Choudhury (Fourth Estate; HarperCollins)
"The most astonishing work of fiction to come out of the Indian Subcontinent in years" and "certainly the most definitive Bangladesh novel in any language"—the reputation of this debut, fifteen years in the making, and published posthumously, precedes it. It all begins in Bangladesh, 2028, when a biographer unearths and documents the life of an "enigmatic and controversial" political luminary—and by extension, a nation.