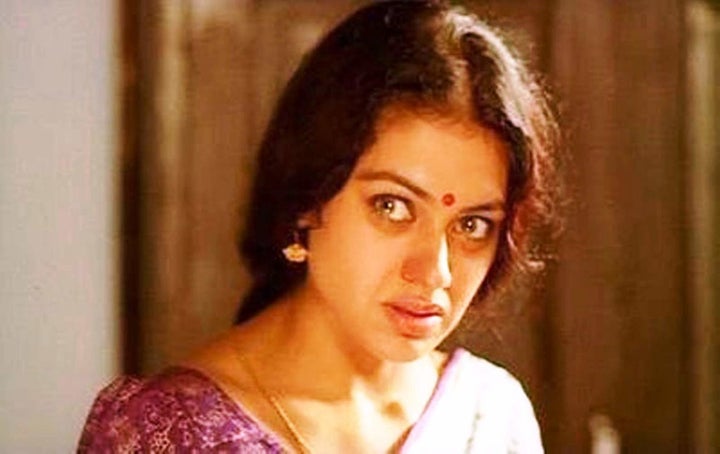 A psychological thriller, the film is the story of Ganga (Shobana), a woman visiting her husband Nakulan's (Suresh Gopi) ancestral home for the first time. She becomes fascinated by the tale of Nagavalli, a dancer who was lusted after by the patriarch of the house ages ago.
The family believes Nagavalli's spirit still haunts the house—seeking revenge against the man who kept her away from her lover and later murdered her—and is contained inside one part of the house that is always locked. As she learns more about Nagavalli's life, Ganga's fragile mental health crumbles and she begins to think she is, indeed, Nagavalli. A psychiatrist (Mohanlal) arrives at the house to help unravel the truth.
Manichithrathazhu is an unusual watch, weaving spine-chilling moments of terror with scenes of comedy and drama. The move, regularly telecast on different Malayalam channels, still holds up to repeated viewing.
Here are five of the best scenes from the film —
1. "Oru Murai Vanthu Parthaya"
Think of Manichithrathazhu, and any fan would immediately hum "Oru Murai Vanthu Parthaya". In this song, Shobana seamlessly oscillates between dancing as Nagavalli, performing before the cruel patriarch Sankaran Thampy, and as Ganga, the woman possessed by Nagavalli's spirit who believes she's dancing with her lover Ramanathan. As graceful as it is terrifying, the actress' performance in this song alone is deserving of the National Award she received in 1993.
2. "Vidamaate?"
This iconic dialogue is one most Malayalis would know word for word.
"Vidamaate? Vidamaate? Apo nee enne ingerundu engeyum poga vidamaate?"
This is the scene where the truth about Ganga's mental state is revealed to her husband Nakulan. He sees her "possessed" by Nagavalli's spirit for the first time when he refuses a request. Shobhana is fearsome as she lifts a bed half off the ground in anger and threatens to kill Nakulan (who Nagavalli thinks is the cruel patriarch who killed her) and drink his blood.
3. The one where Nagavalli almost gets them
When Thampi (Nedumudi Venu), the current head of the household, temple priest Kattuparamban (Kuthiravattom Pappu) and distant relative Dasappan (Ganesh) go to lock the Thekkini, where Nagavalli's spirit is believed to be contained, they are chased by a woman—they can hear her anklets and see her fast-approaching shadow, but the viewer can't see anything more about the pursuer. You will feel your heartbeat rise as you watch this scene. Watch from 42:50 to 44:59 below.
4. Mohanlal's entrance as Dr Sunny
For a film that had superstar Mohanlal in it, director Fazil made the unusual choice of having the actor make his first appearance just before the one-hour mark. Mohanlal plays Dr Sunny, the psychiatrist whose presence is unwelcome to most members of the household, but who holds the key to solving the mystery of what Nagavalli's spirit wants. Mohanlal acts out every phase of his journey from America to Sabarimala to Madampalli even he deals with curious bystanders and burning bags with his trademark wit.
5. When Mohanlal pretends to be Sankaran Thampi
Shobana's performance as Ganga looms large over Manichithrathazhu and is an indelible part of why the film remains iconic. There are, however, a few scenes in which Mohanlal makes his presence felt. In one such scene, the actor steps into the role of Shankaran Thampi and talks to the bloodthirsty spirit of Nagavalli (after locking her in first).