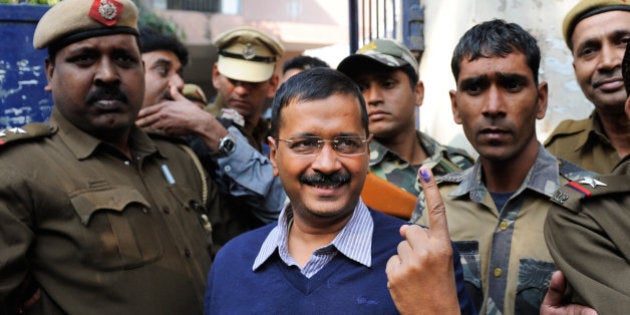 The Aam Aadmi Party (AAP) is set to form the next government in Delhi after an astonishing victory in a fiercely-fought assembly election that saw the decimation of the Congress and the humiliation of main rival Bharatiya Janata Party. The AAP and its charismatic and mild-mannered leader Arvind Kejriwal has led weeks of intensive campaign in the hope of returning to power in a city they had ruled briefly in 2013.
The result itself is not surprising—opinion and exit polls had given a conservative majority to the Aam Aadmi Party. But barring the party itself, very few predicted the AAP avalanche.
What did the party, that had painted itself into a corner even a year ago over high profile defections and acrimonious public spats involving its leaders, get right this time?
The man himself: Kejriwal, largely perceived as a people-friendly champion of the poor, took on, stemmed and reversed the Narendra Modi wave throughout his campaign. Finally a political party had a candidate who could match Modi's magnetism and reach. Kejriwal, in his unassuming blue pullover and muffler came to be seen as the people's CM Delhi needs. He was pitted against BJP's Kiran Bedi—a political debutante—who failed to match Kejriwal political acumen and connect. In addition to it, a series of comments by Bedi worked against her and cemented Kejriwal's base. BJP's miscalculation in deciding the CM candidate turned out to be AAP's gain.
The AAP response to personal attacks: The Aam Aadmi Party response was dignified in the face of personal attacks by the BJP in a series of newspaper ads intended to humiliate Kejriwal's party. While top leaders criticized BJP strongly for the ads, the party maintained a united front and did not retaliate in kind. Kejriwal congratulated Bedi on her candidature on Twitter, and the party's spokespersons on television remained civil and gracious even when they came in for vicious attacks from other parties.
Social media: The party's social media strategy has always been astute and aggressive. This time too, they embraced Twitter and Facebook with a determination that can only match the BJP's online campaign during the Lok Sabha elections. A special research tool created by 10 volunteers of AAP to gauge public opinion may have actually given AAP an edge in their online strategy in the Delhi assembly election. It's remarkable how they adopted the meme mufflerman, an epithet used by the rivals as an insult, and built a cult around it.
Confidence of the common man: Many were curious to see the crowd reaction when Kejriwal first started reaching out to voters who had elected him CM and then faced disappointment as he quit to contest the general elections. But the AAP leader had a decisive strategy—own up to past mistakes, ask for forgiveness and promise to serve them better given a second chance. The humble approach seems to have worked for AAP. Their poll agenda was straightforward—security for women, better governance and contain corruption.
Strong leadership: In the end, strong central leadership even in the face of criticism and infighting helped the party immensely. They top leaders rallied around Kejriwal even when many volunteers and former leaders quit to join BJP. Kejriwal had the confidence of thousands of AAP volunteers. Kejriwal himself evolved as a leader and consummate politician and used his experience to his advantage.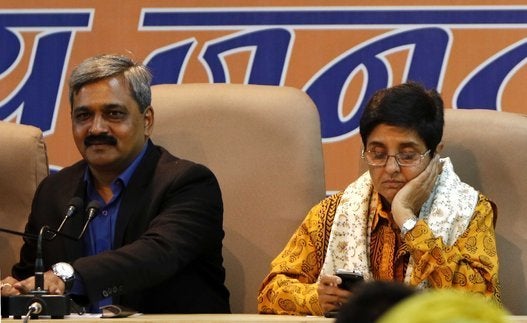 IN PICS: 2015 Delhi Assembly Elections
Popular in the Community