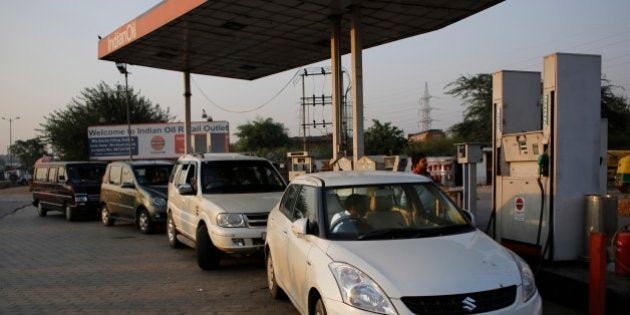 What do a slowing world economy, higher oil production and shale oil extraction in North America have to do with Modi in India? A lot actually. These events are the reason that oil prices have fallen 40% this year. India, one of the world's major oil importers, has reaped the benefits, be it lower inflation or a lower current account deficit. A favourable oil price environment comes as a blessing to Modi, who gets time to implement major structural reforms. In a high-inflation environment, major decisions become harder to implement.
If you are a driver, you have already noticed the fall in the price of petrol and diesel. This is where de-regulation helps—any fall in international price of oil means your monthly fuel bill also goes down. And this year the fall has been steep—oil is down by $30 a barrel in just the last three months.
Here are 5 ways the Indian economy benefits from lower oil prices:
1. Current Account Deficit Checked: Oil imports constitute nearly one-third of India's total import bill, so the fall in price means the current account deficit narrows. In the quarter that ended June 30, the deficit was 1.7% of GDP, or $7.8 billion, way lower than the $21.8 billion it was last year in the same period. In 2012, this figure had reached 6.7% of GDP, which led to a devaluation of the rupee and warnings from credit agencies about a sovereign ratings downgrade. This year, things look much better, and analysts expect oil prices to stay low in the near future.
2. Consumers Spend More: With a lower fuel bill, consumers will have more to spend on dining out or buying a new car. Sectors that benefit from more spending will grow, pushing GDP higher.
3. Easier to De-Regulate Fuel Prices: It is easier to take the politically difficult decision to de-regulate fuel prices because consumers will see prices go down. That is exactly what the Modi government has done. And when international prices rise, as they will at some point, the government will save on subsidy bills which will help India's financial health. It will take a strong leader to then not start regulating again.
4. Lower Inflation: Low fuel prices means lower transportation costs, and lower fuel costs for businesses. That reduces inflationary pressures on the economy, and some businesses might pass on lower costs to customers. This works in the short term -- ultimately inflation needs to be controlled through structural reforms.
5. Good for Business: Businesses that rely on fuel a lot, such as airlines or transport companies, benefit from lower fuel costs. Airlines in India, which have been losing money for years, will get a respite with lower aviation fuel costs. Some businesses that grow during this period might expand and hire more people.