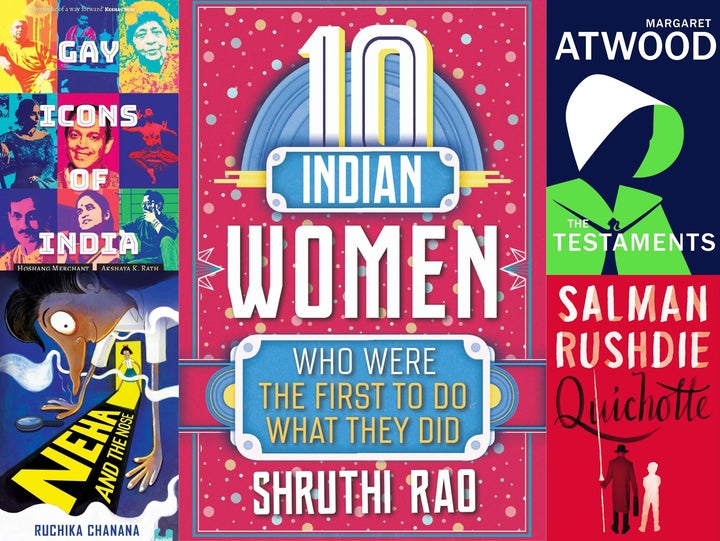 From Amitav Ghosh's much-awaited Gun Island to Ocean Vuong's warmly welcomed On Earth We're Briefly Gorgeous and Angela Saini's Superior, June's literary calendar has been nothing short of super.
The rest of the year seems as promising for book lovers—how can it be anything but when we're finally getting a sequel to The Handmaid's Tale? And while HuffPost India's big, fat list of 50 books, published between July and December of 2019, is by no means exhaustive, we hope it will serve as an entry point and your reading guide for the rest of the year.
What are you waiting for? Get bookmarking and pre-ordering now!
JULY
1. 'The Far Field' by Madhuri Vijay (HarperCollins India; Atlantic Books UK)
The Pushcart Prize-winner's debut, described as "at once politically timely and morally timeless", follows a "complicated flaneuse across the Indian subcontinent", and deals with big questions—Indian politics, class, history and sexuality—through beautiful prose.
2. 'The Nickel Boys' by Colson Whitehead (Hachette India; Little, Brown, UK)
From the Pulitzer Prize-winning writer of The Underground Railroad comes this fiction-based-on-fact book about a real reform school in 1960s Florida. Highly dramatised, devastating, driven—these are some of the words used to describe this story of two schoolboys, which is also the story of contemporary American reality.
3. 'The Aayakudi Murders' by Indra Soundar Rajan, translated from Tamil by Nirmal Rajagopalan (Blaft Publications)
Rajan, who excels in both the Tamil pulp fiction scene and the genre of supernatural mystery thriller, in equal measure, offers this work of crime fiction—a "head-spinning mystery involving ancient treasure, spirit possession, and a series of grisly killings".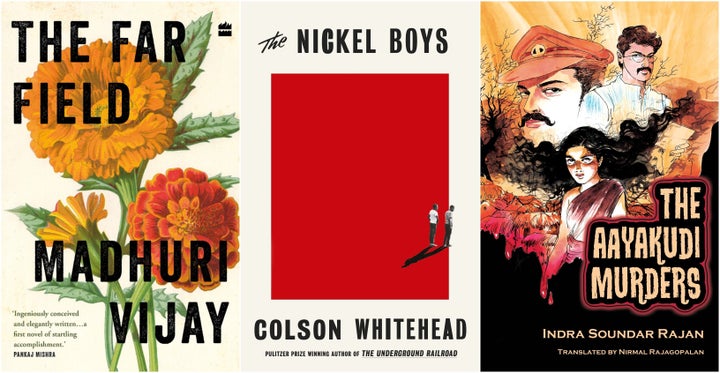 4. 'Love in the Time of Affluenza' by Shunali Shroff (Bloomsbury India and UK)
Bloomsbury's Faiza Khan calls it "Feminine Mystique but if Betty Friedan had written that as slapstick set in Bombay's upper crust"—a book that is deceptively commercial and chicklit-like, but is actually "unusually witty and tight". And that's all the convincing we need.
5. 'Plastic Emotions' by Shiromi Pinto (Influx Press, UK; Penguin India)
Pinto's sophomore work comes with advance praise from a slew of master storytellers, including Neel Mukherjee and Preti Taneja. Revisiting and resurrecting the life of Minnette de Silva, a forgotten feminist icon and architect, it travels across London, Chandigarh, Colombo, Paris and Kandy with ease and elegance.
6. ′The Yogini' by Sangeeta Bandyopadhyay, translated from Bengali by Arunava Sinha (Tilted Axis Press)
Following the twin successes of Panty and Abandon, Bandyopadhay is back with an English PEN Translates Award-winning "hallucinatory and explosively sensual" new novel, which straddles the space between fantasy and reality and asks: 'How do you imagine your place in the universe?' Tilted Axis Press had us at that sublime cover.
7. ′Neha and the Nose′ by Ruchika Chanana (Duckbill)
"The Nose flared slightly. It sniffed, snorted elegantly, and then scrunched into itself." With the Nose as their secret weapon, these is no case teenagers Neha and Johan can't sniff out. And now the warden of the girls' hostel is knocked out cold, setting off a series of mysterious incidents.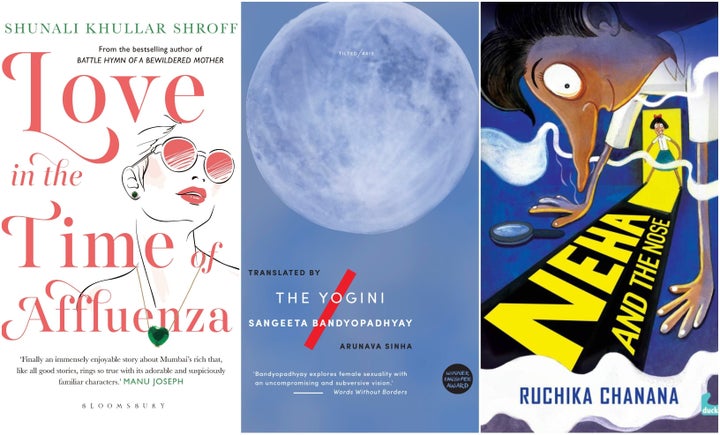 8. ′Ghazalnama' by Maaz Bin Bilal (Yoda Press)
The poet and translator maps his journey between the cities of Delhi and Belfast—the third city being a language, Urdu. He translates Mirza Ghalib, Faiz, and Bahadur Shah Zafar; writes his own ghazals of love and longing; and talks about Palestine and Kashmir, and "his own body becoming a battleground".
9. ′Gay Icons of India' by Hoshang Merchant and Akshaya K Rath (PanMacmillan India)
In the wake of the Supreme Court's ruling on Section 377 last year, this book celebrates and pays homage to 22 extraordinary personalities from the queer community—dancers and poets, writers and artists—who have resisted injustices through their art and greatly aided LGBTQ+ social movements.
10. ′Fierce Femmes and Notorious Liars: A Dangerous Trans Girl's Confabulous Memoir′ by Kai Cheng Thom (Young Zubaan)
A young girl—who happens to be a Kung-fu expert and pathological liar—runs away from a stifling city in search of sisterhood, and arrives at the "Street of Miracles". Here, she is adopted by a vigilante gang of glamorous warrior femmes called the Lipstick Lacerators, whose mission is to scour the Street for violent men and avenge murdered trans women.
11. ′The Monsters Still Lurk′ by Aruna Nambiar (Rupa Publications)
From the author of Mango Cheeks, Metal Teeth—a coming-of-age tale and social satire set in 1980s Kerala—comes a new book set in 1991. Rajiv Gandhi has been assassinated, a new government is in place, followed by a series of economic reforms that will transform not only the country, but also one ordinary family. In the authors' own words, this is "a story about family and ageing… and not (much) about monsters".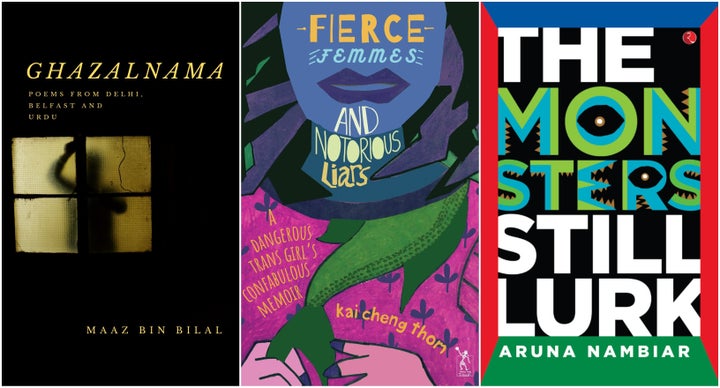 12. ′Looking for Miss Sargam: Stories of Music and Misadventure′ by Shubha Mudgal (Speaking Tiger)
The vocalist's first foray into fiction, this is a "delightful, witty" collection of short stories set in the world of music. Mudgal writes about everything from sparring Sufi stars from India and Pakistan to ustads who trick and ruin naïve fellow artistes and proud divas.
13. ′Flyaway Boy' by Jane de Suza (Puffin)
"Everyone lives in boxes. Only they don't know it. Kabir doesn't fit in. He follows the wrong rules and wild runaway lines." He's naughty, and every adult's nightmare. Only now things have gone too far… because the nightmare is reality. From the Singapore-based author of the SuperZero series.
AUGUST
14. 'The Man Who Saw Everything′ by Deborah Levy (Penguin)
An "unmissable" new novel from the twice Man Booker Prize-shortlisted novelist—most recently of Hot Milk. "Audacious" and "ambitious" are two epithets that have been used to describe Levy's latest, which may be one for fans of Sandra Newman's The Heavens.
15. 'Quichotte' by Salman Rushdie (Vintage)
With his newest work, Rushdie joins the ranks of authors who revisit and reimagine Don Quixote—in his case, through an inversion of Miguel de Cervantes's classic and set in contemporary America. Here, the winner of the Booker of Bookers "illuminates our corrupt times where fact is so often indiscernible from fiction".
16. 'The Girl Who Lived Twice' by David Lagercrantz (Hachette India; Quercus)
The sixth in the Millennium series that continues Stieg Larsson's The Girl with the Dragon Tattoo books is a "thrilling ride that scales the heights of Everest and plunges the depth of Russian troll factories".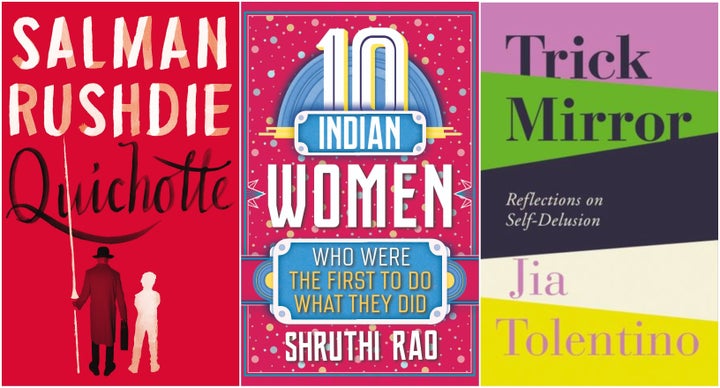 17. '10 Indian Women Who Were the First to Do What They Did' by Shruthi Rao (Duckbill)
Stories of ten pioneering Indian women whose lives and achievements have been extraordinary and call for celebration. One for kids (and adults!) to become better acquainted with the stories of these iconic women, including PT Usha, Jaddan Bai Hussain and Savitribai Phule.
18. ′Trick Mirror: Reflections on Self-Delusion′ by Jia Tolentino (4th Estate, UK)
Following in the footsteps of Susan Sontag, Joan Didion, and Rebecca Solnit comes this fiery collection of essays chronicling US culture—the internet, the self, feminism, and politics—from The New Yorker's "brightest young talent". (Remember THAT Marlon James profile?!) While you wait for this one, check out Tolentino's perceptive writing in The New Yorker and whet your appetite.
19. 'Wild Himalaya' by Stephen Alter (Aleph)
The Himalayan-born writer uses botany, zoology, geology, folklore, science, mythology, spirituality and personal reflection to craft "the definitive natural history of the greatest mountain range on earth". This is arguably Alter's magnum opus.
20. 'Rattu and Poorie's Adventures in History: 1857′ by Parvati Sharma (Puffin)
Revisit the 1857 Uprising via this duo's hilarious and historical adventures as they come face-to-face with two 19th century soldiers, Rani Lakshmi Bai, and other figures from the past, in a bizarre set of events.
SEPTEMBER
21. 'New Kings of the World: Dispatches From Bollywood, Dizi, and K-Pop' by Fatima Bhutto (Aleph)
The rise of Eastern culture is the biggest challenge yet to America's monopoly of soft power since the end of the Second World War, Bhutto argues. This is a book about these "new arbiters of mass culture sweeping the world of the twenty-first century"—containing incisive analysis alongside exclusive interviews with pop culture stars, sociologists and cultural commentators alike.
22. 'The Testaments' by Margaret Atwood (Vintage)
Like we've said before, for lovers of literature, Margaret Atwood's The Testaments is undoubtedly the most anticipated novel of the year. The long wait is almost over as, this September, Atwood picks up Offred's story in a sequel—15 years after she stepped into the unknown.
23. 'The Water Dancer' by Ta-Nehisi Coates (Penguin)
With two non-fiction bestsellers—Between the World and Me, and We Were Eight Years in Power—under his belt, Coates, arguably one of the best essayists in America today, makes his fiction debut with the wildly anticipated The Water Dancer: a spy story set on a slave plantation. The hype, the wait!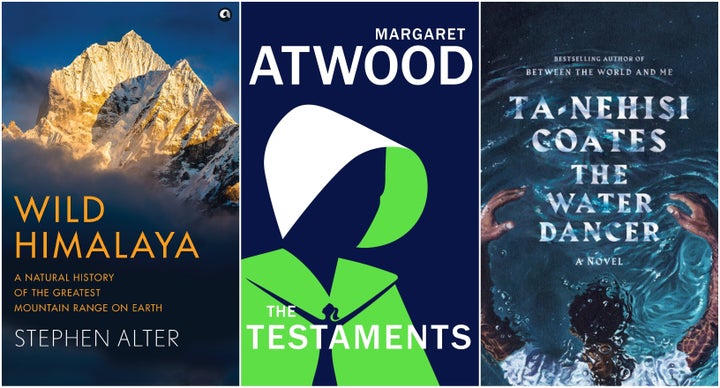 24. 'Coventry' by Rachel Cusk (Faber and Faber)
Following her trilogy—Outline, Transit and Kudos—in which she reconfigured the boundaries and our ideas of fiction, Cusk's new work is a series of essays about choices, womanhood, and art (themes at the centre of her literary corpus) and also cultural and literary criticism, including on DH Lawrence and Olivia Manning. This can be read as a companion text to her fictional works.
25. 'The Rain Harvesters' by Stephen Aitken and Sylvia Sikunder (Young Zubaan)
The rains are delayed, and all through the summer, siblings Sunita and Rakesh are only too happy to take their neighbour's elephant, Mango, down to the river to bring back water. When the clouds finally burst, there isn't enough to keep all the plants alive. A chance discovery sets the children's minds racing, and they then invent a way to save their vegetable garden—rains notwithstanding. The perfect read for the post-monsoon season.
26. 'The World That Belongs to Us: An Anthology of Queer Poetry from South Asia' edited by Aditi Angiras and Akhil Katyal (HarperCollins India)
This first-of-its-kind anthology showcases the best of contemporary queer poetry from South Asia and its diasporas. Poems by well-known voices share space with those by newer poets, all of whom write on queer lives and experiences in varied ways and languages. The result? An "urgent, imaginative and beautiful testament to the diversity, politics, aesthetics and ethics of queer life in South Asia today".
27. 'The Institute' by Stephen King (Hachette India)
Earlier this year, King fans were treated to a screen adaptation of Pet Sematary. The master storyteller of suspense, who has over 50 books to his name, returns with a "thrilling, heartbreaking, stunning novel of childhood betrayed and hope regained".
28. 'Imaginary Friend' by Stephen Chbosky (Hachette India)
Best-known for his bestselling coming-of-age novel, The Perks of Being a Wallflower, Chbosky's next work, 20 years after his first, is worlds darker: expect an abusive relationship, a missing son and tragedy. It has been described as both "a work of towering imagination and emotional depth".
29. 'So Now You Know' by Vivek Tejuja (HarperCollins India)
The year was 1991. Vivek was eight. He realised he was gay. Only he didn't, exactly: he just knew he wanted to be different. This is a funny and poignant memoir about growing up gay in India. "Written with a lightness of touch, an effervescent charm, and a sense of despair giving way to laughter," it will warm your heart.
30. 'The Dutch House' by Ann Patchett (Bloomsbury UK)
A "masterpiece" from the Orange Prize-winning writer, this is a "a richly moving story that explores the indelible bond between two siblings, the house of their childhood, and a past that will not let them go". If you thought it couldn't get any better than Commonwealth and State of Wonder, think again—early readers are already calling this Patchett's best, most powerful yet.
31. 'Year of the Monkey' by Patti Smith (Bloomsbury UK)
From the National Book Award-winning writer of Just Kids and M Train, a memoir reckoning with "loss, aging, and a dramatic shift in the political landscape of America"—in which "dreams and reality are vividly woven into a tapestry of one transformative year". Studded with Smith's signature Polaroids, Year of the Monkey is a "touchstone for our turbulent times".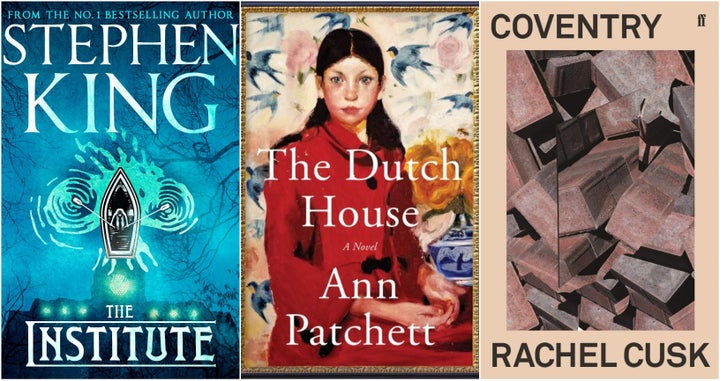 OCTOBER
32. 'Prelude to a Riot' by Annie Zaidi (Aleph)
Recently the recipient of the $100,00 Nine Dots Prize, Zaidi's new novel, set in an unnamed southern town under the shadow of communalism, is subtle in its dealings with sectarian violence. In the space of a small book, the writer speaks truth to power. This one is unmissable.
33. 'Grand Union' by Zadie Smith (Penguin)
The first-ever collection of short stories from the bestselling novelist and essayist. Readers can look forward to a treasure trove of 10 previously unpublished stories sitting alongside her best-loved ones from The New Yorker and elsewhere. "Sharply alert and slyly prescient" in true Zadie-style—we're waiting with bated breath.
34. 'Amma' by Perumal Murugan, translated from Tamil by Nandini Murali (Amazon/Westland)
Translated for the first time from Tamil into English, this is a tribute by Murugan to his mother. The writer and scholar, whose One Part Woman was published to controversy, was shortlisted for the inaugural JCB Prize for Literature with Poonachi.
35. 'A Month in Sienna' by Hisham Matar (Viking)
From the Pulitzer Prize and Rathbones Folio Prize-winning writer of the moving memoir, The Return, this deceptively small book is about big meditations and reflections: "how art can console and disturb in equal measure" and "the relationship between art and the human condition".
36. 'Aranyaka' by Amruta Patil and Devdutt Pattanaik (Amazon/Westland)
Braiding the stories of three spirited rishikas—Katyayani the Large, Maitreyi the Fig and Gargi the Weaver—this graphic novel is about "the fears and hungers that underpin all human interactions", "the great forests within us, and without", and ultimately, about "food, feeding and love".
37. 'The Merman and the Book of Power' by Musharraf Ali Farooqi (Aleph)
From the DSC Prize for South Asian Literature-shortlisted writer and translator, a book of everything from historical accounts to apocalyptic omens—featuring a merman, a slave girl and a "Book of Power" that is both a curse and a key to happiness.
38. 'Museum of Broken Teacups' by Gunjan Veda (Yoda Press)
Travelling on behalf of the Dalit Foundation, the journalist and writer spent a year in villages that are home to Dalit communities across India, meeting tattoo artists, naqqara players, lavani dancers and Kolhapuri chappal makers, and recording their stories and histories along the way.
39. 'Monsoon' by Vimala Devi, translated from Portuguese by Paul Melo e Castro (Seagull Books)
First published in 1963, two years after Goa became a part of India, Devi's Monsoon, written as a resurrection and recreation of her Goan childhood, is a cycle of a dozen stories best described as "satirical, desolate, tender, humorous and dramatic".
40. 'Truck de India!' by Rajat Ubhaykar (Simon and Schuster India)
A traveller and writer, journalist Ubhaykar makes a cross-country trip—hitchhiking along with Indian truck drivers, making plenty of pit-stops, and recording their itineraries, struggles, and stories beyond stereotypes. This is "not just an intimate account of trucks—those beautiful beasts of burden—and the men who drive them, but also the story of India, on the road". Hop on for a ride!
41. 'Bombay Balchao' by Jane Borges (Amazon/Westland)
It was on the warmest of warm Christmas eves in 1945 when the folks at Cavel, a tiny Catholic village on D'Lima Street, first came to believe that they were the chosen lot. This historical fiction set in South Bombay spans eight decades—and the plot unfolds as we witness Michael Countinho's long life, and his making of "delicious, melancholic and funny memories".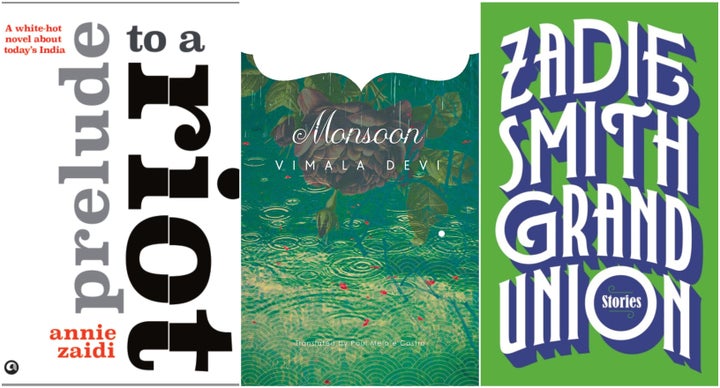 NOVEMBER
42. 'Suncatcher' by Romesh Gunesekera (Bloomsbury UK)
A novel about a boy growing up in 1960s Sri Lanka, not comprehending identity politics and imminent war—and instead gravitating towards a glamorous wealthy, older boy—it's already been called his "most brilliant work since Reef".
43. 'Amanushik' by Manoranjan Byapari, translated from Bengali by Arunava Sinha (Amazon/Westland)
A story inspired by the infamous murder case of Hetal Parekh in Kolkata, where a security guard was charged for rape and murder, and executed. If you liked Tayari Jones's An American Marriage, this may be one for you.
44. 'Exquisite Cadavers' by Meena Kandasamy (Atlantic Books, UK)
This formally-inventive, beautiful at sentence-level novella by the Women's Prize for Fiction-shortlisted writer, which began as a reaction to the reception of When I Hit You, is best explained in her own words: "I had been frank and forthcoming in telling the world that the book drew upon my own experience within a violent, abusive marriage. I was also clear, as an artist, that the book was constructed as a novel, a work of auto-fiction. However, reviewers were labelling the work a memoir. I therefore embarked on an experiment–an oulipo–deciding to write a novel based on a story as removed from my own as possible…"
45. 'Pet' by Akwaeke Emezi (Faber Children's)
A Women's Prize for Fiction longlistee, Emezi's adult novel Freshwater, considered the most anticipated African Literature debut of the decade, was published to wide acclaim last year. They now make their YA debut with Pet, "a story of a transgender, selectively nonverbal girl named Jam," and the monster in Jam's hometown Lucille. The book asks: how do you save the world from monsters if no one will admit they exist?
46. 'In the Dream House' by Carmen Maria Machado (Graywolf Press, US)
From the writer of Her Body and Other Parties, arguably one of the best short story collections of this decade, comes a memoir, an "engrossing and wildly innovative account of a relationship gone bad, and a bold dissection of the mechanisms and cultural representations of psychological abuse". Expect everything from legal proceedings and fairy tales to Star Trek and Disney villains.
47. 'The Starless Sea' by Erin Morgenstern (Harvill Secker)
A "magical new novel" from the bestselling writer of The Night Circus. Zachary Ezra Rawlins is a graduate student in Vermont when he chances upon a strange book hidden in the library. He turns the pages—to tales of lovelorn prisoners, nameless acolytes, key collectors—only to read a story from his own childhood! He decides to play detective, and a series of clues take him to a masquerade party in New York, and through a doorway leading to a subterranean library.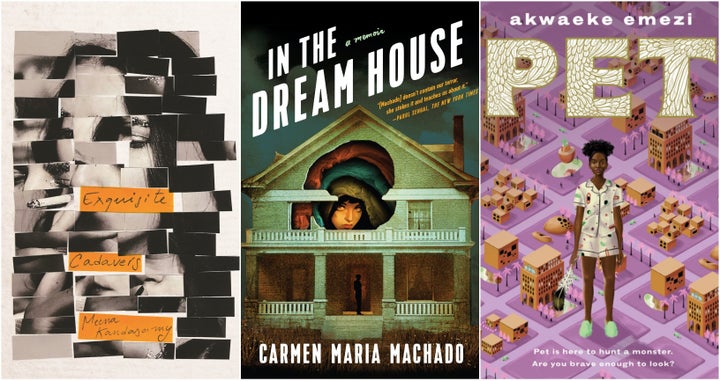 DECEMBER
48. 'Of Morsels and Marvels' by Maryse Condé, translated from French by Richard Philcox (Seagull Books)
For the 2018 Alternative Nobel Prize winner, the process of cooking is on par with writing. This volume, an enchanting culinary and literary journey of the author's travels to India, Indonesia, and South Africa, is not your regular recipe book.
49. 'Sisters at New Dawn' by Varsha Sheshan (Young Zubaan)
If being the new kids isn't enough, sisters Padma and Kannagi Shankar quickly find that New Dawn High School isn't your regular school. Odd-but-interesting subjects such as 'Pot of Gold' and 'Maths and Beauty' are taught—and sometimes, by students. A discovery in the library leads to more questions including: will their solutions work or will the bullies win?
50. 'Poetry of Protest' edited by Meena Kandasamy (HarperCollins India)
Kandasamy's second literary offering of the year is an edited poetry anthology featuring three decades of work by revolutionary poets from across languages, geographies, and walks of life, who all "question our idea of India" and bear witness to "how this country makes and unmakes itself". It speaks of the "singing in dark times".
Popular in the Community