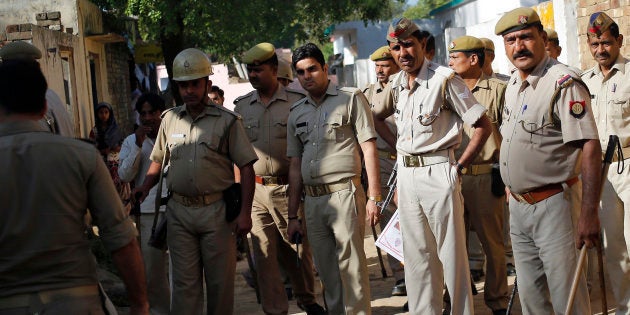 In the aftermath of the murder of a Dalit man and Bhim Army member Sachin Walia, reports suggest that the police have arrested six Dalit men for allegedly conspiring to incite caste violence in Uttar Pradesh. Reports say that according to the police, they planned to kill an upper caste leader.
The Times of India reported that Ravindra Bharat, Rahul and Satveer were arrested from Hastinapur, Bunty and Nitin from Modinagar in Ghaziabad, and Deepak from Brahmapuri. They were all arrested from their homes and interrogated over the weekend.
The arrest comes close on the heels of Walia, the brother of Saharnpur's Bhim Army chief, being shot dead. While Walia's family have claimed that he was a victim of caste violence by the upper caste Rajput, the police have claimed that his death was because of accidental firing.
Report say that no arms were found with the six men arrested, but the police confiscated their phones.
Additional Superintendent of Police, Rural (Meerut), Rajesh Kumar told Indian Express, "A conversation between Rahul and Nitin revealed that they planned to kill a leading upper caste leader in Saharanpur, to avenge the death of Sachin and to disturb law and order. Later, other conversations showed more people were involved in the planning. They had arranged the weapon and vehicle for the crime and were planning to leave for Saharanpur soon."
The police said that they had been keeping a track of social media activity since the death of Walia.
The Times of India report says that the arrested youth shared "inflammatory" WhatsApp messages on groups that have at least 80-100 members each.
However the police have no information on who the group had planned to target or what their political affiliation is.
The Bhim Army has denied that the 6 Dalit youth were affiliated to them.