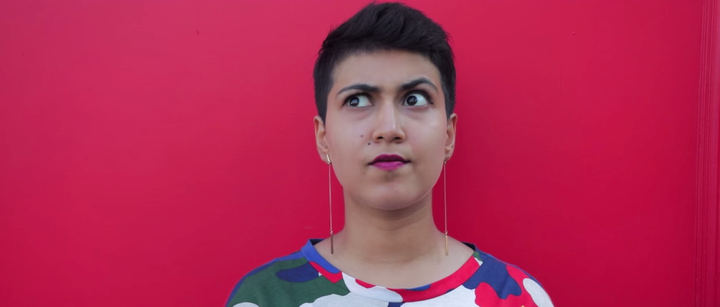 Ahead of the release of Ranveer Singh and Alia Bhatt-starrer Gully Boy, which is inspired by the underground rap scene in Mumbai, there has been a lot of media attention on Indian rappers, especially DIVINE and Naezy. The film explores the lives of the hip hop community in Mumbai and is inspired by DIVINE, whose song Mere Gully Mein, with rapper Naezy and produced by Sez On The Beat, had hit the right notes with music lovers.
However, Azadi Records, a Delhi-based independent record label, said in response to HuffPost India's queries that it would be unfair to say that Gully Boy was solely responsible for the sudden interest in hip hop.
Azadi, whose artists include Siri and Prabh Deep, said that before signing an artist, they look for the story being told—one that comes from a place and a community that hasn't been heard from before or is being told using a different narrative.
If you've been wanting to listen to some great Indian rappers (apart from DIVINE and Naezy, who you should definitely check out), here's a handy list:
Prabh Deep
Prabh Deep, whose album Class-Sikh was the debut release of Azadi Records, recounts the struggles of unemployment and the problem of drug addiction on the streets of Delhi through his music.
About why he chose the streets of Delhi as his subject, Prabh Deep told HuffPost India, "It's where I grew up and learnt everything about life. I can only talk about what I've experienced, and everything that I have comes from the streets of Tilak Nagar."
In Suno, he talks about how the "streets are ablaze with strange sounds" and says he is laying bare what's happening on the streets. Watch the full video below:
K4 Kekho
K4 Kekho, an artiste from Arunachal Pradesh, raps about the discrimination faced by the people of North East. His video I Am An Indian, he says, is inspired by true incidents and situations that the people of North East have to face in mainland India.
He told The Print that complaints from his outstation friends about the racism they faced, was his inspiration. The challenge was to spread awareness without hurting anybody's sentiments, he added. Watch his video below:
Siri
Siri is one of the few female rappers in India. Her track Live It is a message to people that they don't need anyone's approval to be themselves. When she's writing, she told HuffPost India, she just wants to sound fierce and nonchalant. "It's a subtle message of being empowered."
She also said that she wants more women rappers on the Indian music scene.
She also features in Girliyapa's "power anthem" Tu Bas Naach.
Swadesi
Swadesi is a multi-lingual hip-hop crew based in Mumbai, which has taken up the deforestation of Mumbai's Aarey forest in their work. They recently participated in a fundraising event called 'Awaaz Do', where the proceeds went towards NGO Vanashakti's efforts to conserve Aarey Forest.
Swadesi released their latest track, The Warli Revolt, in support of the forest and the tribals who call it home. Apart from Aarey, Swadesi told HuffPost India, they "take a keen view of what's going in the socio-political space" for their music.
Listen to The Warli Revolt below:
Seedhe Maut
The bi-lingual duo, Encore ABJ and Calm, recently released their debut album Bayaan. Their track Shaktimaan portrays the frustrations of an aam aadmi.
Encore ABJ told HuffPost India, "Growing up and trying to understand how system works in our day-to-day lives, I came across a lot of people/encounters which got me thinking that people often sell themselves short. They give up something just because it's easier flowing with the current than opposing it. This eventually stems out to herd/sheep mentality."
Shaktimaan, he said, comes from a place of recognising your own potential. "I mean REALLY recognise oneself. Often I feel that people have more potential than they give themselves credit for."
Listen to Shaktimaan below:
Sumeet Samos
Samos, a Dalit rapper, uses his music to create awareness about casteism. In his video Ladai Seekh Le, he talks about caste discrimination.
The rapper told News18 that it is important to use art to tell the stories of everyday oppression of people, especially the downtrodden masses. Watch the video below.
Smokey the Ghost
Smokey the Ghost's concept-mixtape 'Her name is ?' is inspired by his "past relationships with women, politics and his parents". He told The New Indian Express that the mixtape attempts to address how society has abused "the woman's identity for centuries".
"Gender roles are a social construct," he added.
Listen to the mixtape below:
Popular in the Community