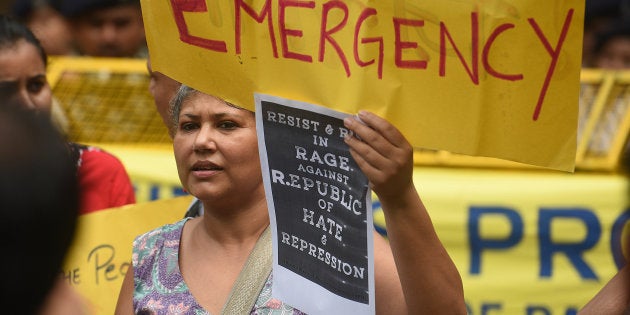 Amid protests and harsh criticism against the government over the arrest of activists who work for rights of adivasis, Home Ministry sources have said that seven of the 10 activists arrested since June were part of a list of organisations with "Maoist links" that the United Progressive Alliance (UPA) had put together.
NDTV quoted a senior bureaucrat as saying, "The UPA government had, in December 2012, identified 128 organisations with links to the CPI (Maoists) and written to all state governments asking them to take action against people involved with these organisations. Seven of those -- Varavara Rao, Sudha Bharadwaj, Surendra Gadling, Rona Wilson, Arun Ferreira, Vernon Gonsalves and Mahesh Raut -- arrested so far, belong to the organisations appearing in this list."
Gadling, Wilson and Raut were arrested in June, and Rao, Bharadwaj, Ferreira and Gonsalves were arrested on Tuesday with the Supreme Court putting them under house arrest till 6 September. Activist Gautam Navlakha was also arrested on Tuesday.
This justification from the Home Ministry came even as civil society and activists criticised the government for cracking down on voices of dissent.
A Home Ministry source told The Times of India, "The front organisations ensure fusion between overground andunderground activities. They are responsible for recruitment of educated youth who go to the field to keep the movement alive and play the role of ideologues."
The Maharashtra police that carried out the raids and the arrest did not however reveal under which the activists had been arrested.
The Maharashtra state government has also supported the police action.
The Economic Times quoted Union state minister for home affairs Hansraj Ahir as saying, "Police department has free hand to initiate action and it is doing so."