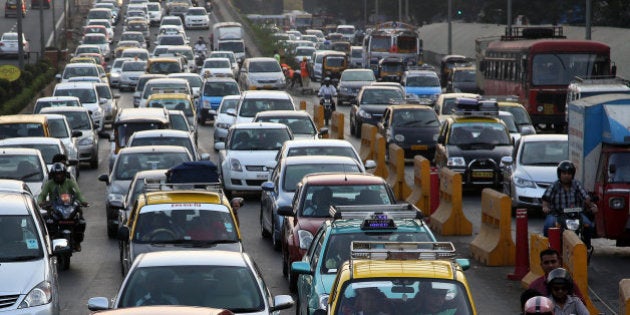 In 2014, global carbon dioxide emissions will reach a record high of 40 billion tonnes. Greenhouse gas emissions need to be reduced in order to contain the global temperature rise to 2 degree Celsius to avert the catastrophic consequences such as extreme heat waves, flooding, water scarcity and droughts.
At the U.N. climate change conference in Paris in 2015, all countries will finalise a global agreement that will obligate every country to combat climate change. Countries have to submit their "intended nationally determined contributions" next year.
This year's U.N. climate change conference is currently underway in Lima, Peru. This will be the last major gathering of negotiating parties before Paris 2015. The two-week negotiations run until December 12.
Right now, the largest emitters of greenhouse gases are China (29 percent), the United States (15 percent), the European Union (10 percent) and India at (7.1 percent).
Unfortunately for India, it lost an old ally in China since that country struck a deal with the United States to begin reducing emissions by 2030. After Beijing changed the longstanding position that developing countries have held—that rich countries should shoulder the burden of cutting carbon emissions—all eyes are on New Delhi. How can India combat climate change while pursuing development and poverty eradication—and not come across as the bad guy?
Here's what the Narendra Modi government is saying at the conference:
1. India is sticking to its conventional position—that developed nations should shoulder the the burden of mitigation (cutting greenhouse gas emissions) as they are responsible for most of the carbon emissions since the industrial revolution.
"We don't want a mitigation-centric deal that is being pushed by developed countries as we want to grow to end poverty", Susheel Kumar, Additional Secretary in the Ministry of Environment, Forests and Climate Change, said in Lima. "We want all five key elements -- Adaptation, Mitigation, Finance, Technology Transfer and Capacity Building -- must be there in the global climate deal."
2. Developed countries should transfer clean technologies so developing countries can pursue growth while reducing their carbon footprint. Developing countries should also together contribute $100 billion a year from 2020 onwards to the Green Climate Fund, which can be used by poorer nations to offset the financial burden of becoming greener.
3. Climate change is already a reality and developing nations have already evolved mechanisms to cope, by way of new agrarian techniques, or building new kinds of houses, etc. The effect of these need to be taken into consideration for the Paris agreement. "Developing countries are talking quite a bit about adaptation, but not developed countries," Kumar said in Lima.
4. New Delhi said that it cannot give a deadline for when its emissions will peak and begin to decline. Beijing has promised to achieve this by 2030.
5. The share of cuts that each country will be allocated to effect in Paris next year should include both mitigation and adaptation actions. Before leaving for the conference in Lima, Environment minister Prakash Javadekar said, "The comprehensive INDC (Intended Nationally Determined Contributions) would also project the requirement of support in terms of finance and technology transfer. It would cover all the national missions and other initiatives under national action plan on climate change as well as state action plans on climate change".
6.India may announce its "contributions" by June but it won't be rushed into any decisions. "There is no hurry to do that. We have been working on it. We will come out with our comprehensive and well worked out plan at an appropriate time," Kumar said in Lima.
7.India plans to reach out to the SAARC countries (South Asian Association for Regional Cooperation) to scope out a regional position on climate change issues.