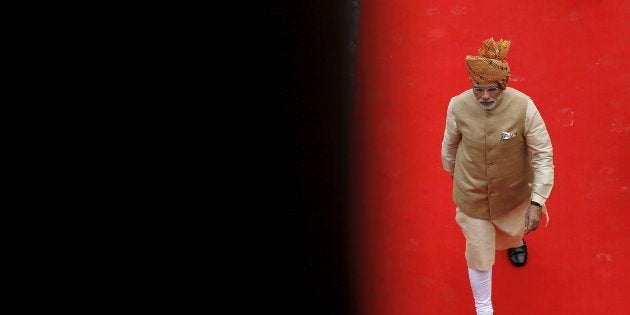 There have been reports in the media highlighting how Donald Trump and Narendra Modi have similar traits, ideologies and ascents to power (see, for example, here and here). To me, this looks like a gross oversimplification. My view is that they are two different leaders who came to power under different contexts. Both of them are leaders of two great democracies who were brought to power by the people. But Donald Trump can never be Narendra Modi. It's like comparing oranges with tangerines. They are so different. Let me tell you why.
1. Modi's humble beginnings vs. Trump's silver spoon
Narendra Modi was born into a family which struggled to make ends meet. His father was a tea vendor and a young Modi often helped him after school—it was a hard life. He was a diligent student who loved reading and debating. He wanted to study in a well known Sainik school in Jamnagar but his mother could not afford it. Everything that PM Modi achieved in his early days was through hard work and nothing was delivered to him on his plate. Donald Trump, on the other hand, was born to wealthy father who was a real estate developer. He went to the well known Kew-Forest School in Queens at New York and later to the New York Military Academy when his father decided he needed a remedy for his behavioural issues.
Since Modi has been a part of a marginalized section of the society he can understand their pain. This is something President Trump can never achieve.
While young Modi spent his early days in small single storey house (approximately 40 feet by 12 feet) , Donald Trump spent his childhood in a lavish two-story Tudor Revival home While young Narendra spent his childhood grappling with scarcity, little Don pretty much got whatever he wanted.
Since Modi has been a part of a marginalized section of the society he can understand and feel their pain. This is something President Trump can never achieve. He may talk about the pains of less fortunate people but I'm not sure whether he has any idea of what it is really like.
2. Simple living vs. high rolling
When you go through Narendra Modi's life, you realize he had ascetic tendencies. He was hugely influenced by the teachings of Swami Vivekananda. As a matter of fact he even wanted to join the Ramakrishna order but was turned away thrice. Modi has always lived simply and that hasn't changed even since he came into power. Trump is just the opposite. He has always led the high life and associated with glitz and glamour.
3. Impeccable personal conduct vs. unbecoming hi-jinks
Narendra Modi an impeccable track record as far as his character is concerned. Even his harshest critics can't point fingers at his integrity and the values that he stands for. What else do you expect from someone who has led a life on Vivekananda's teachings? One cannot say the same about Donald Trump after the Access Hollywood tape and accusations of sexual misconduct from women. The obnoxious rhetoric used by Trump during election rallies was highly offensive and while Modi was hard-hitting during elections, he never stooped to slandering entire groups of people.
4. Prior experience in government vs. no experience
Before Modi got elected as Prime Minister, he served as the Chief Minister of Gujarat from October 2001 till May 2014. As a Chief Minister, he played a major role in governance, transforming the state and making it an investment magnet. Trump on the other hand is a successful real-estate magnate but he has had no experience in government.
5. Promising hope vs. peddling fear
Narendra Modi got elected to power by talking about his vision of "Acchhe Din" or good days. This signified hope and optimism. On the other hand, Donald Trump did talk about "Make America Great Again" but it was based on stoking people's fear around jobs, immigration, terrorism, trade and the failures of the establishment in Washington.
6. Aspirational brand vs. out-of-reach brand
As I see it Brand Modi stands for the impossible being made possible, humility, change and transformation. He inspires people across social strata. For millions of children who are born in under-privileged families, he serves as a role model of what merit and hard work can achieve. If the son of a tea vendor can become PM, anyone in the nation can. While Trump may have tried to project himself as a "change agent", he has all his life represented glamour, showmanship, wealth and arrogance. His life trajectory has nothing in common with that of most Americans. While his voters may think he has the power to lead change, I doubt how much they can hope to emulate a tycoon who has led a charmed and glamorous life.
7. A global statesman vs. a loose cannon
Thanks to Narendra Modi's art of leadership and influence, India has a seat on the global high table. Given Trump's statements about Muslims, China, Mexico, Saudi Arabia, NATO etc, global leaders are looking at him cautiously. They want to see whether he will tone down his rhetoric or carry on in the same reckless way. Clearly, he has to do a lot to be a leader of the free world.
Do you still believe Donald Trump and Narendra Modi are similar? It's for you to decide.