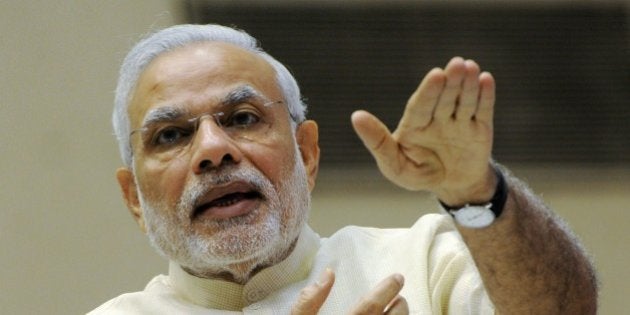 Prime Minister Narendra Modi's Digital India programme is like a giant umbrella under which several big projects will run, aiming to bring broadband speeds to India's rural areas, which suffer from lack of connectivity.
"E-Governance is going to change into M-Governance," he said. "M is not Modi Governance. It is mobile governance," Modi said at the launch Wednesday.
Digital India will be vast in scale, and ambitious in its aims in true Modi style. India's top businessmen committed Rs 4.5 lakh crore to build various parts of the program, expected to generate 18 lakh jobs. Modi hopes to reduce corruption in government services by making most of that available online.
So what exactly will Digital India do with such colossal investments? Here are seven things you need to know about it:
1. Broadband Highways: Modi has said that India is suffering from digital divide - meaning there are millions of people who do no have access to broadband and the opportunities it presents - and that needs to be bridged. Broadband highways will be routes through which internet connectivity will reach 2,50,000 gram panchayats by December 2016. Reliance Jio's 4G plans will also figure in this ambitious programme, which will make for a National Fibre Optic Network by 2016.
2. Digital Locker: This online locker will be able to store all documents issued to you by the government, and will require an Aadhar card as identification for the first time. After that you will be able to set your own password and even link it with a Google or Facebook account. Services such as passport applications might become fully online when the relevant authorities are able to access your verified documents online. You won't be required to go to a government office with a folder full of documents.
3. Mobile connectivity: Over 42,000 villages will have seamless mobile connectivity by 2018. This will require Rs 20,000 crore worth of investment, and companies such as Airtel, Idea and Reliance will all play a role along with state-owned BSNL and MTNL.
4. e-Kranti: This is perhaps the biggest program within Digital India, and focusses on a mobile-first approach. That means integrating public programmes on single portals, and using technology for their implementation and for public grievance system when they don't work well. The government will also fast track approvals using IT, and mandate standards and protocols for software and hardware. A National Cyber Security Co-ordination Centre will be set up to combat cyber attacks, which have the potential to disrupt large parts of Digital India. Major IT companies such as TCS, Wipro and Infosys are expected to work on projects to make this possible.
5. Jobs: Business Process Outsourcing (BPO) centres will be set up in states that have lagged in development, such as the North-Eastern states and rural areas. One crore students will be trained in smaller towns and cities in five years, to develop a skilled workforce for such BPOs and the IT sector. Telecom service providers have agreed to train 5 lakh people in smaller towns to work in their projects.
6. Manufacturing: Digital India seeks to spur electronics manufacturing to the extent that there would be net zero imports — that is exports will equal imports — by 2020.
7. MyGov: This website crowdsources ideas from the public for design of programmes such as better traffic management, using big data for making cities smarter, and even for the PMO's mobile app among many others. The idea is to start new programmes in consultation with informed citizens for better implementation.



Popular in the Community