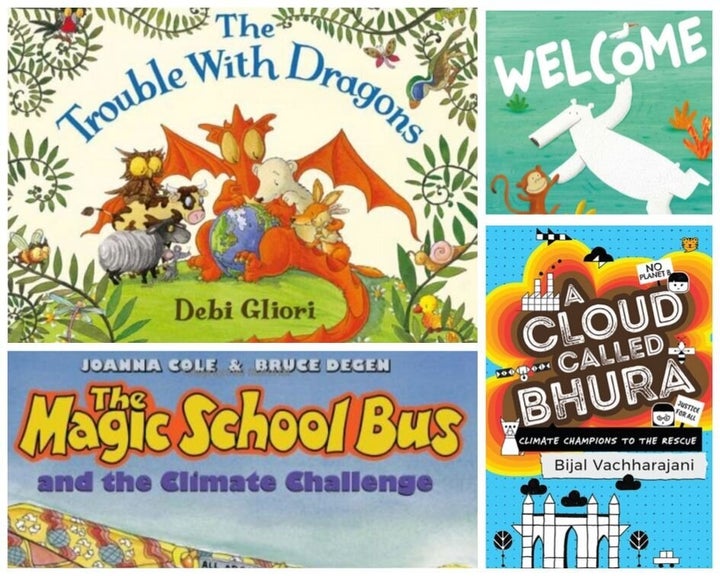 On August 28 this year, 16-year-old Greta Thunberg sailed into New York harbour after a 15-day voyage on a racing yacht equipped with solar panels and underwater turbines – an event covered by media across the world. The 'zero-emission' journey came a year after Thunberg shot to fame after protesting outside the Swedish parliament for stronger action against climate change. From September 20, Thunberg and other young activists around the world are organizing a coordinated global climate strike in 150 countries, a landmark moment in the history of environmental protest.
After decades of insufficient action by governments and individuals alike, it is perhaps not surprising that the world's most prominent and blunt climate change activist today is a teenager – representing a generation that will most severely face the brunt of the climate crisis.
The signs and chatter are everywhere, and some kids are starting to feel the effects of climate anxiety while many continue to remain unaware of the reasons behind the unfolding crisis. How then can parents communicate to children effectively and clearly about the extent and contours of climate change without overwhelming them and still holding out an element of hope?
From picture books for very young readers to teen novels that imagine what a world afflicted by an environmental crisis looks like, the eight books on this reading list offer, through the lens of fiction, ways to think about and make sense of the most pressing concern of our times.
1. The Trouble With Dragons by Debi Gliori
In Debi Gilori's wonderfully imagined and illustrated book, dragons not only exist, they also have a tendency to do exactly what they want without thinking of the consequences. They consume recklessly, chop down forests, puncture holes in the atmosphere, melt the polar ice caps and pollute the land. Sound familiar? Soon enough, there's nothing left in the world except smoke and flooded areas full of jellyfish, leaving the dragons to bemoan what they've done. "Don't go. Don't leave us alone," they beg the other birds and animals, "A world without wildlife is no kind of home." The others promise to return if the dragons promise to clean up their act, which they do joyfully, thrilled to learn about alternative ways of life. With vibrant and delightfully detailed illustrations (the expressions of the repentant dragons are particularly potent aww-inducers), The Trouble With Dragons shows that it's not too late to veer off a path to destruction.
2. Welcome by Barroux
As more and more people are forced to leave their homes and seek refuge from the effects of climate change, this absorbing illustrated book is the perfect way to build empathy and understanding in younger readers. Three polar bears are leading perfectly happy polar bear lives when suddenly, with a loud CRACK! they are set adrift on a small piece of ice. They find land and the possibility of a new home several times but chancing upon welcoming locals is much harder. The land of cows finds them too furry and too bearish, the pandas say there's no space for them, and the giraffes ignore them altogether. The trio finally find a deserted island to make their own but in a twist three lost monkeys soon show up, looking for a home as well. The polar bears, thankfully, are only too happy to let them in. Beautifully illustrated, Welcome packs a range of emotions, and the importance of friendship and acceptance into its slim pages while resisting the path of preachiness.
3. The Problem of the Hot World by Pam Bonsper and Dick Rink (illustrator)
Five forest friends – a bear, a mole, a fox, a deer and an owl – realise that the world around them is heating up and set out on an adventure to do something about it in this whimsical illustrated book. The increased temperatures are causing the trees to die out, the water to dry up and the bees to disappear. The animals' quest culminates with fairies and a magical cave that transports them to a past without global warming. It has an ending that is at odds with the other books on this list for younger readers – which focus on actions that we can take to make a difference rather than an escape – but the book's mesmerising illustrations and relatable characters make it a good starting point for kids to understand the impact of climate change.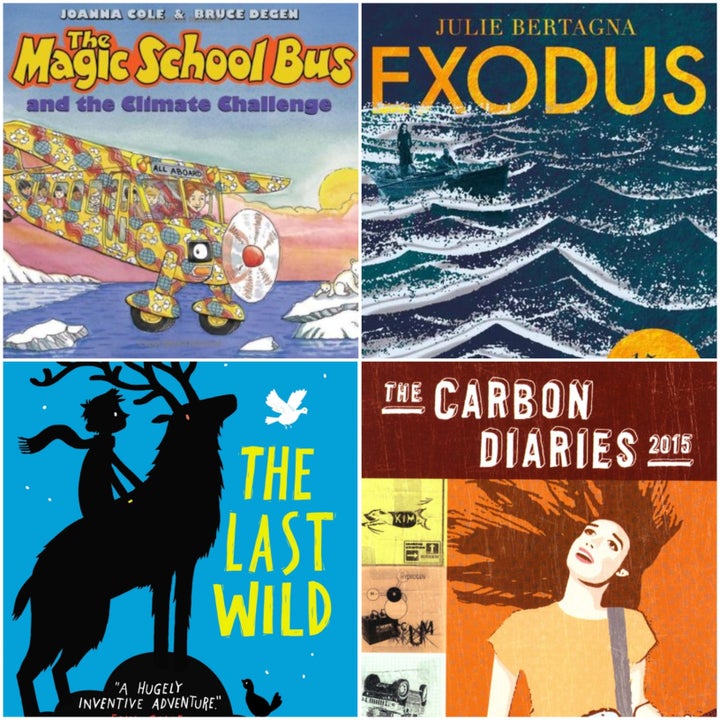 4. The Magical School Bus and the Climate Challenge by Joanna Cole and Bruce Degen (illustrator)
Combining science, facts and a flying school bus, this is the most informative of the books on this list. It's a part of the widely-read Magical School Bus series and this time, the enthusiastic science teacher with all the answers, Ms Frizzle, takes her students on a journey to see how the world has changed in the last few years due to climate change, and to understand the reasons behind it. The book works for a wide range of age groups – younger readers have fascinating illustrations and the fictional field trip to absorb them and there's a wealth of information on the margins and in captivating infographics for older readers, including tips on what they can do to fight the problem.
5. A Cloud Called Bhura by Bijal Vachharajani
A rare and sorely-needed young adult novel on climate change to be set in South Asia, A Cloud Called Bhura begins with the residents of Mumbai waking up one morning to find their skies taken over by a giant, noxious, brown cloud. As the frenzied media dubs the cloud Bhura, and the adults of the city busy themselves with finger-pointing, bureaucratic stumbles and political posturing, the situation worsens over time. Temperatures rise intolerably, the city's birds disappear and Mumbaikars start to develop severe breathing problems. It's up to the book's protagonist, 13-year-old Amni, and her group of friends to take matters into their own hands. Inspired by Greta Thunberg and young climate change activists across the world, Vachharajani novel demonstrates the power of collective action and imaginative thought as teenagers are forced to exercise control over their own futures. Alternating between an urgent call to action and laugh-out-loud funny, A Cloud Called Bhura succeeds most remarkably in creating a memorable cast of characters, including the satirised Vaatodiyo Bahuche, an all too familiar TV anchor who shouts incessantly into his microphone and is more interested in hashtags than answers in the face of a crisis.
6. The Last Wild by Piers Torday
A dystopian novel set in a post apocalyptic world might not be a terribly original way to talk about environmental ruin, but Piers Torday's vividly imaginative novel is anything but ordinary. The first in a trilogy and set in a futuristic world, The Last Wild tells the story of 12-year-old Keyster James who is unable to talk since the death of his mother and is locked away in a home for troubled kids. The world outside is a fairly dark place as well, ravaged by human-induced climate change and a deadly disease that is turning animals extinct. But our young protagonist discovers an unusual ability when a flock of pigeons and an assertive cockroach come to bust him free – he can communicate with them telepathically. They soon embark on a thrilling adventure to find a cure for the disease that is afflicting the animals of the world. It's an eccentric, captivating and ultimately charming book that asks questions both about individual heroism and about how humans will shape the world. The best part though is that there are two more books in the series to read after finishing this one.
7. The Carbon Diaries: 2015 by Saci Lloyd
Published in 2009, this eco-thriller has all the trappings of a Young Adult novel – high school, young romance, a conflicted family life – but is set in a world where global warming has led the UK to become the first country to make carbon rationing compulsory. 16-year-old Laura lives in a rapidly crumbling London and all she wants is the life of a regular teenager. She's infatuated with her classmate Ravi, plays in a punk band and wants to pass her exams. But things increasingly go awry as disasters strike the city: drought, fires, riots and a deadly hurricane. Written in the form of Laura's diary entries over the year 2015, the escalating crises are reflected in her increasingly frenetic journal. The novel might have been hasty in imagining how soon large-scale devastation of climate change would manifest in a major global city but with its accomplished sense of place, fleshed-out characters and ultimate triumph over adversity, it's a fascinating peek into a plausible future.
8. Exodus by Julie Bertagna
Julie Bertagna's prescient science fiction novel for teens is unafraid to go full dystopian, jumping to the year 2100 when a large part of the world has drowned due to melting ice caps and high sea levels, and most forms of technology have failed. On the remote island of Wing, 15-year-old Mara and her fellow inhabitants attempt to keep the rising waters from engulfing their home when she discovers that there might be an oasis in the seemingly endless ocean. They set out on a quest for this high-walled 'sky city' of New Mungo, but of course in a time of crisis, they are not exactly welcomed with open arms. Chock-a-block with fascinating details and world building, the novel can sometimes feel like it's attempting too much, but its wholly original imagining asks the difficult question of who gets to survive and flourish in a world lying in ruin.

Popular in the Community