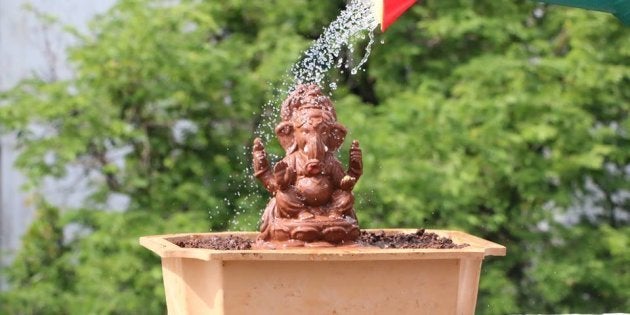 Every year, Ganesh Chaturthi celebrations culminate in the immersion of Ganesha idols into the sea, rivers, lakes or ponds. As most idols are made from Plaster of Paris and toxic, non-biodegradable chemical colours, the immersion ends up causing considerable harm to marine life. In a bid to reduce the environmental damage, many devotees have begun installing Ganpati idols that are both innovative and eco-friendly. A report by the Hindustan Timesobserves that there has been a dramatic jump in the demand for 'green' idols to celebrate the festival this year.
Here are some of the most creative eco-friendly Ganpatis doing the rounds:
Mumbai artist Dattadri Kothur creates eco-friendly Ganpati idols that are made from red soil and fertilisers, and contain plant seeds. At the end of the 10-day festival, the idols undergo a symbolic immersion. Instead of being immersed in a water body, the idol is placed in an accompanying pot and watered until it dissolves. Thanks to the lady finger or tulsi seeds are sown in the pot, the idol grows back as a plant.
When it comes to keeping this festival 'fresh', sculptors and idol makers seem to be taking things quite literally. For the last two years, giant Ganesha statues made from Mentos mint candy wrappers have been doing the rounds in Mumbai. Last year there was a very 'sweet' 6-foot Ganesha decorating a pandal in Malad. And, this year, a society from Byculla West has produced another imposing Ganesha, innovatively incorporating candy wrappers in different hues.
For the second year in a row, Mumbai-based NGO Sprouts Environmental Trust is making idols that fish can eat. The brainchild of ecologist Anand Pendharkar of the Sprouts Environmental Trust, the statues are made with clay and stuffed with fish-friendly food such as corn, spinach, wheat and vegetable powder. The team has also reduced the size of the idols and decorated them with biodegradable, organic colours such as turmeric, chandan and gerua.
Several Ganpati makers have taken to substituting cow dung for clay in the interest of preserving the environment. This greener method of producing Ganesha idols, according to a report in the Deccan Chronicle that quotes one of the many manufacturers who have taken up this green initiative, "can be immersed easily in lakes, and can also act as manure for plants."
Commercial designer turned baker Rintu Rathod has been adding a sweet touch to the festival with her chocolate Ganeshas. Five years ago, the sight of half-dissolved Ganpati statues cluttering Mumbai beaches made Rathod determined to minimise her carbon footprint. She began making chocolate Ganeshas which, upon immersion in milk, became the perfect recipe for milkshakes, much to the delight of children in different orphanages where the milkshake is then distributed.
This year, Rathod has upped the ante: she has baked a five-feet tall chocolate Ganpati that weighs a whopping 50 kg. She toiled for over 60 hours on the Ganpati, and will eventually dissolved it in milk to create a chocolate-shake prasad that will be distributed to children across Mumbai.
While going green might be a new trend for many Ganpati followers, one family in Mulund has been minimising their carbon footprint during the festival for over a quarter century. According to a report in the Times of India, the family worships a pyramid of sugarcane sticks that represents the pandal, and are distributed on the day of the immersion as prasad to friends and family members. Last year, in an attempt to avoid plastic materials and chemical colours in Tamil Nadu, 20 workers produced a 2-tonne Ganpati made entirely of sugarcane sticks. (Check it out below.)
Ganesha Of Coconut Husks:
There is no shortage of eclectic eco-friendly materials to construct a 'green' Ganpati idol. While some have opted for raw vegetables to make the idol at home (here's how, bee tee dubs), these women from Sabarkantha have combined mud and coconut husk to produce Ganpati idols that will easily dissolve. The basic structure is made from mud, and once dry, the figures are bound with fibres from coconut husks.
Pune-based artist Vivek Kamble has been making alum Ganesha idols that can quickly dissolve in water. Since alum is often used for the purification of waste water, Kamble says the statues help clean the water. The idols are designed with food colours, and weigh between 1 to 1.5 kg and are up to 10 inches tall.
A neighbourhood in Mumbai has made a 9-foot tall Ganesha idol out of spices and newspapers. The Shri Sai Darshan Mitra Mandal in Malad crafted the 190-kg statue of the elephant god using 9 kg of clove, 20 kg of cinnamon, 6 kg of chillies and 1 kg of mustard seeds. In the past, the team has also fashioned idols out of unconventional materials such as pencils and erasers, chocolate and toy cars.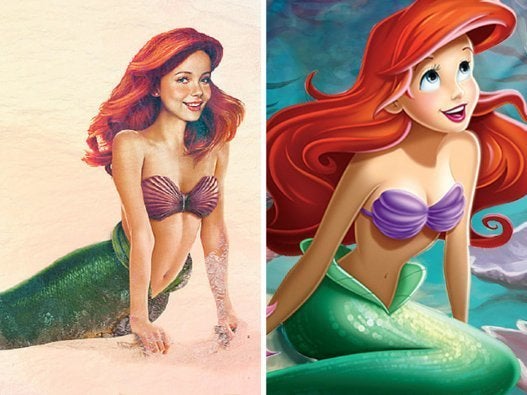 What These Disney Characters Would Look Like In Real Life