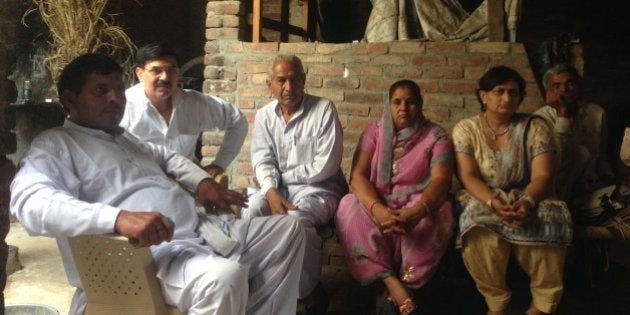 BAGHPAT, Uttar Pradesh/NEW DELHI -- You probably read about the tragic story of a 'khap' panchayat (a gathering of village elders with no legal locus standii, but considerable sway in some north Indian villages nonetheless) ordering the rape of two sisters in India. While the succession of news reports — both in domestic and international publications — have first elicited outrage, and even condemnation from the British Parliament, they have now cast doubt on the entire episode, which occurred just a little over 40 kms from the national Capital.
"Your eyes do not deceive you. An unelected all-male village council in India has ordered that 23-year-old Meenakshi Kumari and her 15-year-old sister are raped," reads the Amnesty petition. "The 'sentence' was handed down as punishment after their brother eloped with a married woman," reads the petition. "They also ordered for the sisters to be paraded naked with blackened faces. Nothing could justify this abhorrent punishment."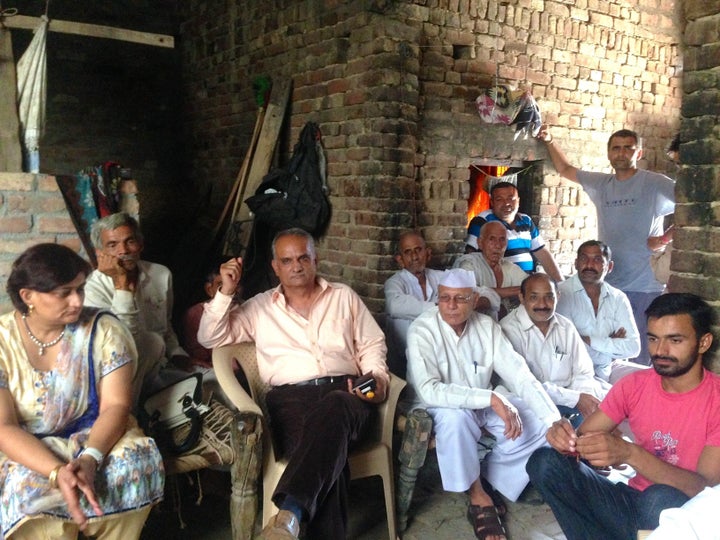 Members of the Jat community have come from even neighbouring Meerut city to rally around the Jat woman's family.
The story of two Indian sisters ordered raped by a village council has now reached far and wide. A complexity of the story and the evidence and the lack thereof corresponding to claims and counter-claims between two families at the heart of the story stand less of a chance at eliciting similar levels of global interest.
And that is a shame because the details of this story illustrate the festering fault lines of an Indian village that can turn an everyday event such as two young people falling in love into a expanding tidal wave of conflict that can throw lives into disarray overnight.
While many questions remain on what exactly happened, we met with the key figures in the story to find answers to the main questions.
Two sisters, aged 23 and 15, and belonging to the Dalit caste grouping, fled to the nation's capital this year in May, fearing for their lives after their brother, Ravi, reportedly eloped with a woman from the higher Jat caste in Baghpat village in Uttar Pradesh state. Dalits are traditionally regarded as "untouchables" in India, and the lowest-rung in the country's oppressive and resilient caste system. The elder sister, Meenakshi Kumari, then approached the Supreme Court in August, alleging that a khap panchayat had ordered that the Jat woman's 'honour' should be avenged by raping the two Dalit sisters and parading them naked in the village, their faces blackened. The apex court has taken cognisance of the case, asking the Uttar Pradesh government to respond by 15 September.
How Exactly Did The Matter Unfold?
According to the petition, Ravi and the woman (whose name is being withheld as she wishes to remain anonymous) fell in love in 2012. Both were 18 years old, and lived less than 100 metres away from each other in their village. However, the woman was married off by her family to a man of Khatri caste on 10 February this year and went on to live in neighbouring Haryana state. She returned in April to her parents' house and eloped with Ravi shortly thereafter. The woman's family, however, denies the claim, alleging instead that Ravi had tricked her by promising to help her find a job with Delhi Police. Ravi's elder brother, incidentally, is a constable with the Delhi Police.
After the Jat family allegedly put pressure on Ravi's parents, the couple then 'surrendered' at the Mehrauli police station in south Delhi 10 days after they had fled from Baghpat, on 2 May. According to police records, the woman told Delhi cops that she was pregnant with Ravi's child and faced threat from her family. Interestingly, the 21-year-old was then 'handed over' to her maternal uncle, and she subsequently returned to her family in Baghpat on 6 May.
Less than two weeks later, the couple ran away again. Again, in interviews to HuffPost India, the woman's family has denied the claim, alleging that Ravi managed to trick her again after blackmailing her with videos of her he threatened to make public. Even as local UP police picked up members of Ravi's extended family in Delhi for questioning, his parents, two sisters, and younger brother fled to the nation's capital, fearing backlash from the Jats in their village. Caste-related violence targeted at the Dalits is not uncommon in the north Indian heartland. They came to the eldest son of the family, Sumit, the Delhi Police constable.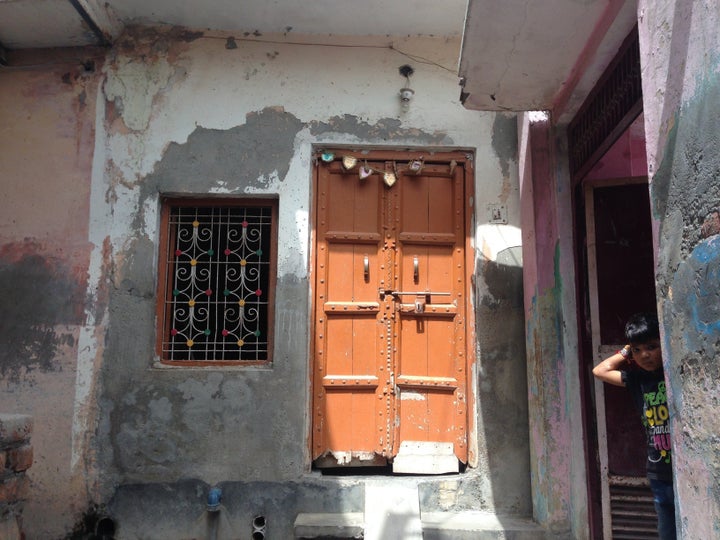 Even though part of the Dalit family has returned to the village, their home remains locked and bolted at all times. They say they fear violent retribution from the Jat community.
Ravi's father, Dharampal, lodged a complaint with the National Human Rights Commission (NHRC) as well as the National Commission for Scheduled Castes on 25 May. When the runaway couple approached Ravi's aunt in Meerut in UP a couple of days later, the harried father rushed there to again 'hand them over' to the local police there, hoping that the pressure on the rest of his family would end if the Jat woman was 'returned' to her family.
"It would be impossible to live in the village for us if the woman did not go back to the family," he explained to HuffPost India. "They would never accept their daughter married off to a Dalit."
The Meerut police then handed over the couple to Baghpat police — despite there being no police case in the matter, according to the petition — and the two were taken back to their village. Curiously, a case against Ravi was registered the next day by the same police officer who had brought him back from Meerut — Sub Inspector Aman Singh — for allegedly carrying 2.5 kilos of poppy husk. His arrest warrant shows that Ravi was picked up during 'routine patrolling' by Singh, who apparently didn't recognise Ravi until he identified himself. Ravi has since then been charge-sheeted in the case, but then given bail after a local court found the case dubious. However, he continues to be in jail well after two months of his bail order. This, his father claims, is because people in the village are now too scared to stand as guarantors for his son, without which he can't get bail.
After the Dalit family's house was allegedly ransacked on 30 June — while the family was still in Delhi — Dharampal again complained to the NHRC the next day, alleging his family was being harassed by police, as well as the Jat community. A month later, the family received word from their "well-wishers" in the village that a khap panchayat had passed an order that the Dalit girls should be raped.
The 'rape diktat' — first reported in Hindi language newspapers — sent shockwaves across the country, making its way to national, and then international headlines. Around the same time, human rights organisation Amnesty International India took notice of the case.
We have also independently contacted members of the Jatav community in the village who have confirmed that the khap panchayat had issued the order: Amnesty
It was the "unusualness" of a Dalit family approaching the Supreme Court with a petition of this nature that prompted Amnesty to take up their case, explained the organisation's representative Gopika Bashi. "We contacted the lawyer and the family (whom we met in person and continue to remain in touch with), and reviewed the documentation submitted to the Supreme Court," she said in response to an emailed questionnaire from HuffPost India.
On 24 August, the NGO issued an 'Urgent Action' on the case, which was then sent to Amnesty International's global Urgent Action Network that reaches out to over 165,000 people around the world. As Amnesty offices across the globe circulated the petition to their respective countries, it garnered global interest in the petition.
Till now, over 320,000 people have signed the petition. These include people from the United Kingdom, USA, France, India, Australia, New Zealand and Spain.
Is There Evidence Of A Khap Meeting Or An Order?
There is little proof that such a khap panchayat — what India's Supreme Court has ruled as completely illegal in a 2011 order — actually took place and passed the order. The family contends that such meetings can be secretive. The Jats in the village insist that no such meeting took place.
In the Supreme Court petition, the girls say that they have heard from their well wishers in the village that there has been a Khap order.
According to Meenakshi's advocate Rahul Tyagi — a criminal lawyer who is fighting her case pro bono — the younger Dalit sister returned to her home in Sankrod village in Baghpat discreetly in July to continue her studies at the local school. He told HuffPost India that the villagers told her relatives and well-wishers that the Jat community did not want Meenakshi's family back in the village.
"And what has been decided by the leaders of the village is, by holding a panchayat, is that this honour has to be avenged," the villagers told them, he said. "And that can be done by dishonouring the sisters... It's not safe for them to be here." Specifically: "We'll rape you and parade you naked."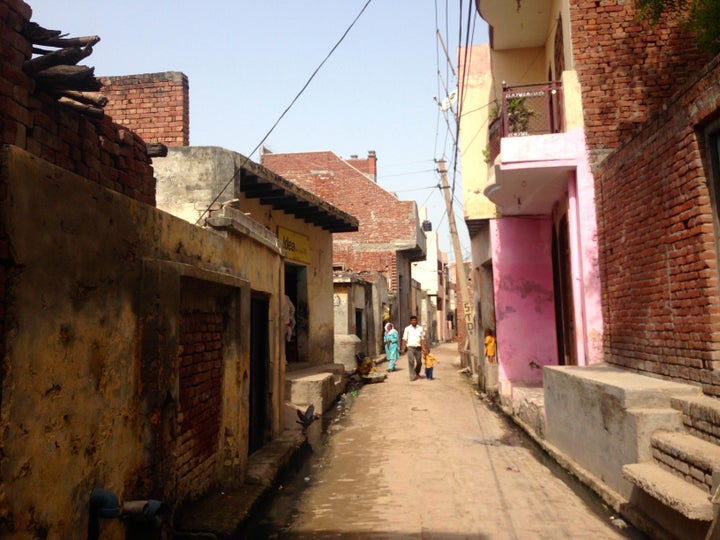 An alleyway in Sankrod village, which has become the focus of media attention since this case made international headlines.
In Bagphat, few people are willing to make any observations on the matter. Apparently one person, a Dalit neighbour, spoke to the media and was allegedly beaten up later. He has since then become unwilling to come on record, Tyagi said. The same man spoke under condition of anonymity with HuffPost India, corroborating the story, but was vague about how exactly the panchayat took place.
Meanwhile Amnesty officials told HuffPost India that they had independently verified that such a khap meeting had been called by contacting other members of the Jatav (Dalit) community in the village.
"The family told us that they found out about the khap panchayat order from members of their community," said Bashi. "The order, and the details of the punishment, are also mentioned in the writ petition to the Supreme Court. We have also independently contacted members of the Jatav community in the village who have confirmed that the khap panchayat had issued the order."
She also cited the Jat woman's statement to Delhi Police on the threat from her family, as well as transcripts of recorded telephone conversations between the family members of the Jat woman and the Dalit girls in May this year, where the Dalit family is threatened. These phone recordings are part of the submissions in the Supreme Court petition, where members of the Jat woman's family — on two separate occasions in April and May — have threatened Ravi's father of dire consequences, including raping his daughters.
It is perhaps this definition of what a khap constitutes that has spun different narratives of the incident. Tyagi said that khap panchayats were largely unorganised, random meetings. "What is a panchayat? 20 people, elderly people will come, busybodies who have nothing else to do and say we'll avenge the honour and this and that and do this," he said. "No notices are issued — it's not formalised. That is all that is required... That is how it has happened."
Villagers of Baghpat largely disagree. "Around 360 villages have to be notified about a khap meeting, where 8-9,000 people can show up. We haven't had such a meeting in years," said Dr. Jagpal Singh Teotia, a local leader.
One afternoon last week, a large number of the Jat community had assembled at the house of the Jat girl who had reportedly eloped with the Dalit boy.
"Khap is not a small thing, but it is a matter of prestige. Baghpat is part of the Dhama Khap, and you need a large area to assemble people and give sufficient notice to people so they can travel long distances to attend it," said Colonel Shiv Pratap Singh, general secretary of the Uttar Pradesh Jat Mahasabha, who had travelled from Meerut to Sankrod village, where the incident had taken place, to "ensure justice for everyone".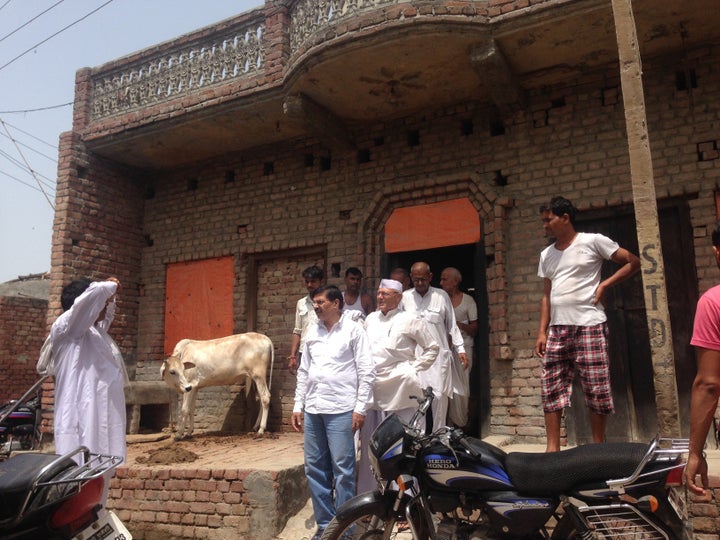 The Jat community has rallied around the family of the Jat girl who reportedly eloped with the Dalit boy. They allege that she was tricked and raped by the boy.
Leader of the Dhama Khap, Chaudhary Jitendra Singh, told Hindustan Times that no such meeting had been called. "It is the handiwork of those who want to malign the khaps," he said, adding that he last went to Sankrod to attend a funeral two months ago and had come to know of the issue only through media reports.
Meanwhile, Baghpat's additional superintendent of police, Vidyasagar Mishra, told HuffPost India that police investigation into the incident has so far revealed that no such khap meeting took place. He added that inter-caste marriages as well as inter-religious unions took place in the village, citing police records where couples had eloped in the past and then returned home to live peacefully. While villagers said that they had "no problem" with inter-caste marriages, they said no such marriages had taken place in Sankrod.
I don't know why this has been made into a Khap issue... I guess because it sells: Dalit girls' advocate
Tyagi himself believes that the case had little to do with khap panchayats, even though it's part of the Supreme Court petition.
"Police atrocities on behalf of a dominant caste — that is all that this case is about, I don't know why they have (made it a Khap issue)," he told HuffPost India. "I guess because it sells..."
In fact, he largely blamed media for zeroing in on the khap "angle".
"The media interest goes up drastically if the word khap panchayat comes up. From the very first day I met everyone I've been telling them that is not what this case is all about," he said. "This is about two consenting adults, they fall in love, their communities are opposing it, they go to the police and instead of the police protecting them they hand them over and put them behind bars in a false case. What is going on? This is what the case is all about."
Why Is This Case Important, Khap Order Or Not?
This case is fascinating for the amount of evidence that has been gathered by Ravi's family that lays bare the institutionalised discrimination faced by a Dalit family from a police force dominated by higher castes. The Supreme Court petition includes transcripts of phone conversations between the Dalit family and UP police officers as well as calls received by them from Jats members of the village. There is extensive documentation on police action — or inaction — at every step of the way, starting from May this year up till when the petition was filed last month.
"I usually don't take such cases," explained Tyagi, who is a criminal lawyer. "But the evidence in this case is amazing. It's rare for such cases to have this sort of documentary evidence and we decided to approach the Supreme Court with this."
The documents point at police irregularities and conflicting police accounts. Already, a preliminary police inquiry following the petition has found that one of the UP police officers in the case, a sub-inspector in the local village police station, was guilty of negligence, said Baghpat additional SP Mishra. "He did not complete formalities as he should have," admitted Mishra.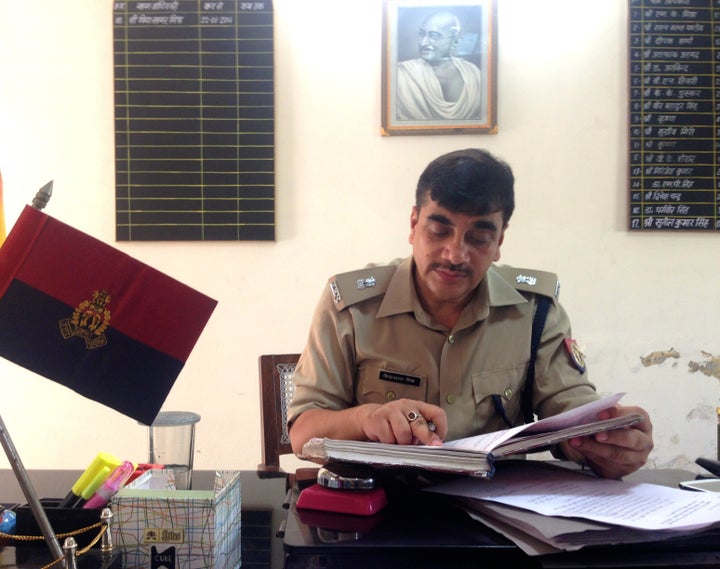 Baghpat's additional superintendent of police Vidyasagar Mishra is investigating the local police station's role in the incident.
The Dalit boy, Ravi, who eloped with the 21-year-old Jat girl, is behind bars in a narcotics case. Now the case has been transferred to the UP crime branch for inquiry after allegations that the entire case was false, and he was allegedly framed to "teach him a lesson".
Separately, the Jat girl, who according to a statement she gave to Delhi Police, said that she was in love with Ravi and was pregnant with his child, has now accused both Ravi and his elder brother, the Delhi Police constable, of rape. "I just knew Ravi as a neighbour, and he tricked me into going to Delhi with him," she told HuffPost India, under the watchful eyes of her mother, sister, and other female relatives. "I will fight the case against him no matter what it takes."
It is as yet unclear if she is being pressurised by her family, though she denied that to HuffPost India. Her rape allegation is pending at Baghpat's chief judicial magistrate's court. Police are yet to register an FIR in the issue.
What Are Ravi's Family Circumstances?
Ravi's father Dharampal retired as a sepoy of the Indian Army, and now holds a private job. His eldest son works with the Delhi Police, and all his children are educated or enrolled in school. While Meenakshi is a graduate, her two younger siblings — a brother and a sister — go to school. Ravi, too, was sent to school but he dropped out before completing his graduation. The family owns a three-storey house in their village in Baghpat.
The crucial pieces of evidence collected in this case are largely due to the presence of mind of the eldest son Sumit, the Delhi Police constable. Well-versed with law and procedure in such cases, Sumit ensured that there was a meticulous paper trail as events unfolded over the past few months. At every juncture, his role is apparent — he recorded phone conversations with police as well as any threats received by his family and helped his family approach police functionaries both in UP and Delhi. He persistently followed-up with advocate Rahul Tyagi until he had time to look at the case file. Without his aid, it is unlikely that the family would have been able to pursue the case at all.
What About The Jat Family?
The Jat woman's family that lives down the narrow lane from Ravi's house appears to be economically better-off, with a house four times the size. They own cattle, but claim that they don't own any farmland, and that the only earning member of their family is the woman's brother. The father, a frail-looking old man, largely remained quiet when HuffPost India visited his house, complaining of ill health because of the case. The interiors of their house were dingy and the floor uneven, as opposed to the much smaller Dalit home which had freshly coloured walls and a fridge, television set.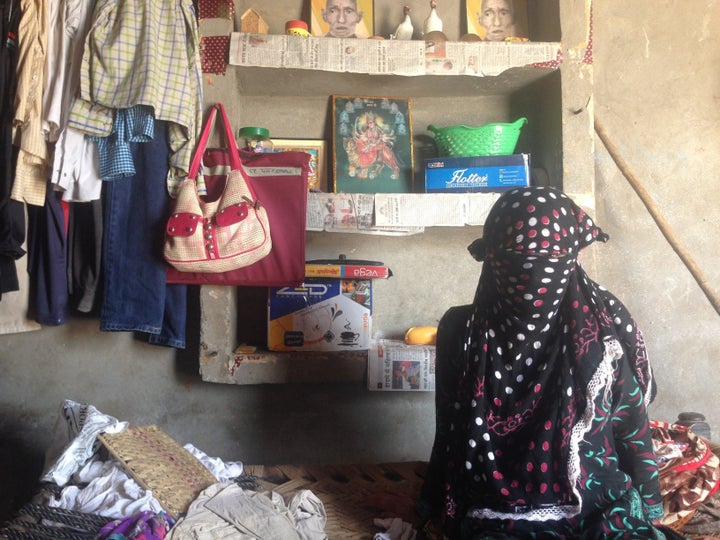 The Jat girl who reportedly eloped with a Dalit boy is now back at her parents' home in Sankrod.
What Are The Caste Politics In This Area?
As per the area records, Baghpat district houses about 11.6 lakh (1.16 million) people. According to the 2001 Census, the Scheduled Caste population of the area is 127,810 people, less than 10 percent of the total population. Many Dalit villagers work as field hands in farmland owned by the Jats.
Senior police officials of Baghpat told HuffPost India that the population of Sankrod village, where the incident took place, is mixed, and that inter-caste as well as inter-religion marriages are routine. In fact, Baghpat additional SP Mishra referred to police records of the number of couples from different religions who have run away this year — all of 10 — to establish that such matters were "routine". "These couples come back and are accepted in the community and continue to remain married," he claimed.
It is interesting to note here that most cops in UP are Jats or belong to other higher castes — in fact according to a 2009 study this state has the highest gap between the actual number of SC police officers and the prescribed percentage of 21. Only about seven percent of the UP police force actually comprises of SCs.
Meanwhile, villagers of Sankrod gave a different picture as to Mishra's. They claimed that while inter-caste marriages were acceptable, their village had not seen any such unions. In fact, they said no one from their village could marry each other at all. "All the children of the village from different communities are one family," an old Jat villager said. "We marry our children off to people from other villages. That is how things are done."
According to NACDOR (National Confederation of Dalit Organisations), which fights for Dalit rights, Baghpat's marriage patterns remain highly rigid and rudimentary. A representative of the organisation told HuffPost India that inter-caste marriages are rare, and even if they do happen, the groom has to be of the higher caste. This also known as 'Anulom' in Hindi. "A Dalit boy marrying a Jat girl is the rarest of rarest case," said the representative. This was confirmed by many villagers — mostly of the Jat community — in Sankrod.
What Is Next In This Case?
Meanwhile, back in Delhi, Meenakshi and her sister appear shaken by the entire incident. "I don't think we will ever be able to go back to our village," she told HuffPost India. "I was going to start my B.Ed course but now I don't know if I'll study further. We'll be unable to afford living and studying in Delhi like this." Her sister, who is in class 10 now, has her board exams at the end of this academic year, but has been unable to attend school because of the incident.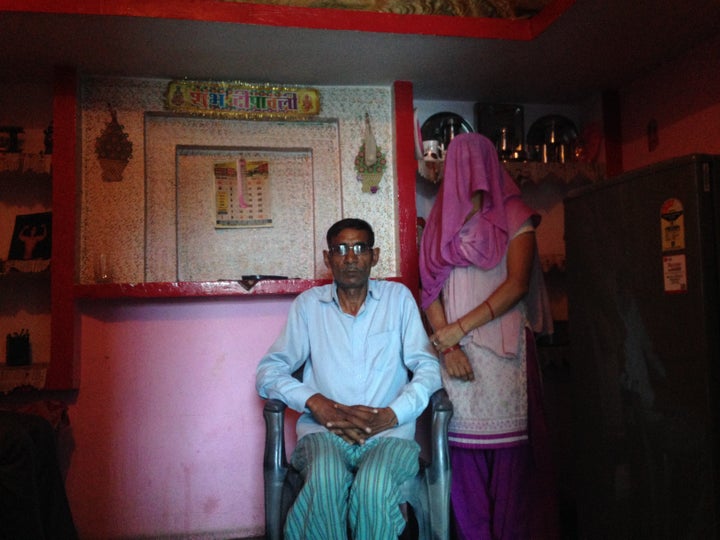 Meenakshi's parents are back in their village to help their son get bail in a narcotics case. They keeps their house locked at all time, fearing for their lives.
Even though now security has been deployed for her family in Sankrod, she fears returning to the village. "The Jats broke into our house earlier, when there was no security. We are outnumbered there," she said. "Despite the media and public attention in the case right now, they are still threatening my family daily and have falsely implicated my brother. What will happen once this attention goes away?"
The UP government is expected to file a reply next week.