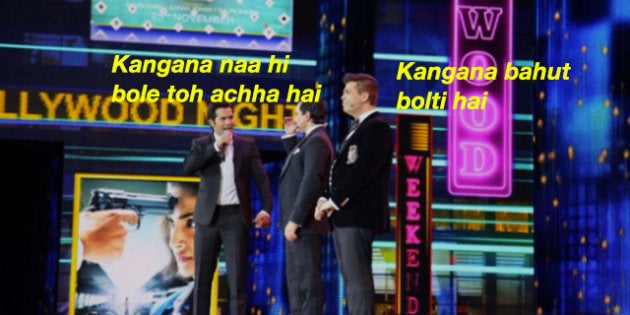 On Sunday night, at the IIFA Awards in New Jersey, three privileged men with enviable pedigree in India's film industry, took digs at a self-made woman actor for speaking out against nepotism, which still makes or breaks the careers of many in Bollywood.
Saif Ali Khan, son of actor Sharmila Tagore, Karan Johar, son of Dharma Productions' founder Yash Johar, and Varun Dhawan, son of director David Dhawan, came together in admitting that the issue, which was raised by Kangana Ranaut in a public interview, is alive and kicking.
When Dhawan went on the stage to collect his award for the Best Actor In A Comic Role in Dishoom, Khan 'joked' that the actor had made it big in the industry because of his father. To which Dhawan quipped, "And you're here because of your mummy." And then Johar, the co-host of the show, added, "I am here because of my Papa."
Following these admissions, the trio sang out in unison: "Nepotism rocks."
It was not difficult to guess who their barbs were directed at, but Dhawan elaborated. He reminded Johar of a song in his film, which goes, "Bole choodiyan, bole kangana." The director rejoinder to this was: "Kangana naa hi bole toh achha hai ... Kangana bahut bolti hai. (It's better if Kangana doesn't say anything at all, she speaks a lot.)"
Shaming a woman for her opinion. Check. Asking her to shut up. Check.
In February this year, Ranaut had called Johar 'intolerant' towards outsiders and a 'flag bearer of nepotism' on his chat show Koffee With Karan. Since then, Johar has not been exactly kindly disposed towards her. In interviews to different media outlets over the following few weeks, Johar made his displeasure clear. In an event in London sometime later, Johar said he was done with the 31-year-old actor playing the "woman and victim card".
Responding to his insinuation, in an interview with Mumbai Mirror, Ranaut said, "I use every card possible. At the workplace, it's the badass card to fight cutthroat competition. With my family and loved ones, it's the love card. When fighting the world, it's the dignity card, and for a seat in a bus, it's the woman card."
In another interview, speaking about nepotism, Dhawan added his two cents. "They (that is the 'outsiders' to the industry) are acting if their father hasn't even bought a pencil box for them," he said. "After a point, it just becomes an excuse." Clearly, not for the first time, he didn't realise that his comment was insensitive, if not abominable.
It seems Johar and his ilk are still unwilling to accept that nepotism exists within the industry — or that there is anything problematic with it. Instead, along with two leading Bollywood personalities, he decided to attack Ranaut at an event where she wasn't there to respond.
So classy, dear privileged men of Bollywood. They had to take down Ranaut for speaking up, for calling out the dynamics of a system they are all products of. In case they didn't know it, this is exactly what privilege looked like. It's not exactly a secret that getting a leg up in Bollywood is an enormous uphill battle for an outsider. No matter the talent, the first break matters.
Whether or not the remarks by Johar and others were insulting to Ranaut, they proved that Kangana was right all along. Nepotism exists in the industry and the people who refuse to acknowledge that the competition was never been on a level-playing field, only exhibit their blindness to the blessings of their class and family lineage.
Many on Twitter pointed this out.
To not accept a point of view is one thing. But to mock someone for expressing it is unacceptable.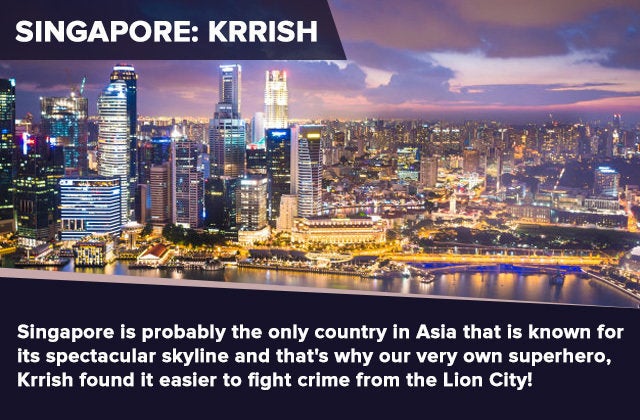 Destinations Every Bollywood Fan Should Add To Their Travel Bucket List
Popular in the Community