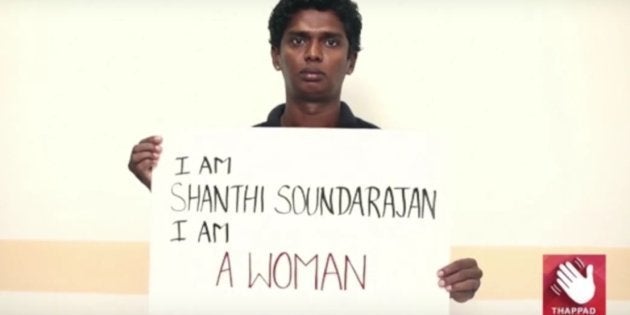 The year 2006 was a turning point for Shanthi Soundarajan. It was the year that she won a silver medal in the 800 m race at the Doha Asian Games, a career high for the athlete who was born to an improverished Dailt family in a Tamil Nadu village. Soon after her win, Soundarajan was suspended after reportedly failing a controversial gender test due to high levels of androgens. The runner was banned from sports and stripped of her numerous national and international medals.
The decision changed Soundarajan's life. Once a star athlete, she struggled to make ends meet, even being forced to work as a daily wage worker at a brick kiln for some time. Over the next ten years, she was to fight a long and lonely battle for justice, filing numerous RTIs just to get a copy of her gender test report, which she was only able to procure earlier this year. Now 35, Soundarajan had been as a temporary coach, focused on tutoring children from an underprivileged background like her.
After a decade-long struggle, Soundarajan is finally getting a permanent job as a state coach with the Sports Development Authority of Tamil Nadu. She was helped by Madurai-based gender rights activist M Gopi Shankar, who petitioned for her case with the Tamil Nadu government. But it was a viral video campaign in August that brought her forgotten story in the limelight.
Titled #JusticeForShanthi, the campaign was started by Madurai and Facebook community Thappad in August, a day before the inauguration of the Rio Olympics in August. It was spearheaded by a video that asked for the athlete's name to be reinstated as the winner of the competitions she had won and for her to be given a permanent job by the government. The video went viral, getting thousands of shares and helping the online petition reach its target of 10,000 signatures in two months.
Madurai also approached online comedy group Put Chutney to make a video in Tamil, to explain the significance of her struggle to residents of the state.
Finally, on October 16, Tamil Nadu's Minister for Sports K Pandiarajan announced that Soundarajan had been appointed as the permanent athletic coach of the Sports Development Authority of India in the state. "She was offered many coaching positions abroad, but she always says she wants to live her dream through her students in Tamil Nadu," Madurai said. "This will enable her to be financially independent and take care of her family."
The international rules on gender tests were changed in 2015, when the Court of Arbitration for Sport suspended gender tests for two years. Taking note, the Tamil Nadu government has also promised to write to the Indian Olympic Association and Athletics Federation of India to put her case forward in the Court of Arbitration for Sport.
In an emotional Facebook video, Soundarajan thanked her supporters but also said that her struggle was incomplete as long as her medals . "No women in sport should undergo what I underwent," she says in the video. "It's a positive start (but) I need my medal, It's India's medal, I hope the central government will take measures to get back my medal as the South African government did for Caster Semenya."