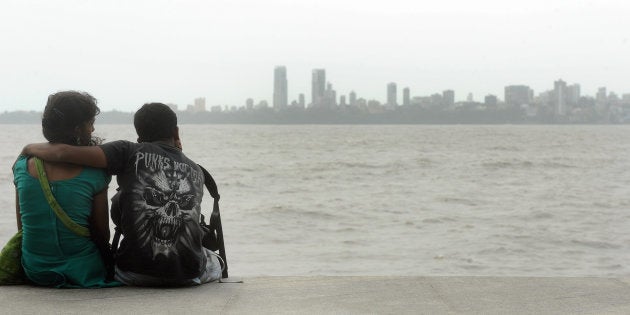 Say a man and a woman, who are in a relationship, choose to live under the same roof. They also choose to not ratify their relationship with the stamp of marriage. How exactly will they affect the social ecology around them? Since minding their own businesses is not something several of our fellow countrymen and women are good at, apparently, a live-in couple could also be creators of 'terror'. No, this isn't the latest nugget of wisdom shared by the country's foremost moral guardians -- certain meddlesome, unabashedly pre-historic residents of Gurgaon housing societies. The person who warned us against the pitfalls of letting consenting, law-abiding adults be, is actually a former High Court chief justice.
Justice Prakash Tatia, former chief justice of Jharkhand High Court and present chairperson of Rajasthan Human Rights Commission recently told The Indian Express that live-in relationships are more detrimental to the idea of women's rights than triple talaq was.
One would think that Tatia was referring to protection of the rights of a woman who's been in a long live-in relationship and her right to alimony, property etc in a society which still has largely skewed gender privileges. But no. Tatia was more worried about the neighbours of the individuals who choose to be in a live-in relationship.
Now they could be doing pretty much the same things as their neighbours, but it is in common sanskaari knowledge that buying cauliflower, doing laundry, making tea, ordering in food, drinking, throwing parties and paying electricity bills can be efficiently done together by a man and woman only if they are married. And of course, you may not be breaking the country's law by having sex, but housing societies in India do tend to follow a different set of 'laws'.
"The area where they (a couple) live-in...there is a sense of insecurity. A neighbour thinks, whether my daughter or son goes there (to the couple's house). There is a sense of fear, which virtually creates terror...there may be fights. I am not saying the people who are fighting are right but it's the reality," Tatia told The Indian Express.
There is no scientific evidence that people contract incurable diseases by visiting live-in couples, but Tatia is clearly in possession of very classified information to the effect.
Tatia also put up a spirited defence of not minding our businesses by saying that if we choose to live in a society, we should be okay with living inside a wedding episode of a K-serial 24x7, 365 days a year.
"What is the effect on family...on one's daughter of a marriageable age? On the son? If we ignore all this, we are individuals...we have no right to say we live in society or with dignity because we are not relevant for others and others are not relevant for us...they (couples living in) live outside society," Tatia said.
He did, later on, wonder what happens if the man chooses to leave the woman and the latter is in a particularly disadvantageous position. That is a valid concern and has been already addressed by the Domestic Violence Act, 2005 where an aggrieved live-in partner can claim alimony and damages. It applies to a woman. In May 2015, the Supreme Court upheld the Bombay High Court's decision to grant alimony to a woman who had been in a live-in relationship with a man for several years. In May this year, the Gujarat High Court also directed a man to pay a monthly alimony and a sum of Rs 1 lakh apart from that to a woman who sued her ex under the Domestic Violence Act.
Tatia said that he had asked for public opinion since he is set to send recommendations to the government based on the same. If Tatia sticks to this train of thought, one wonders what the fate of live-in couples in Rajasthan will be.