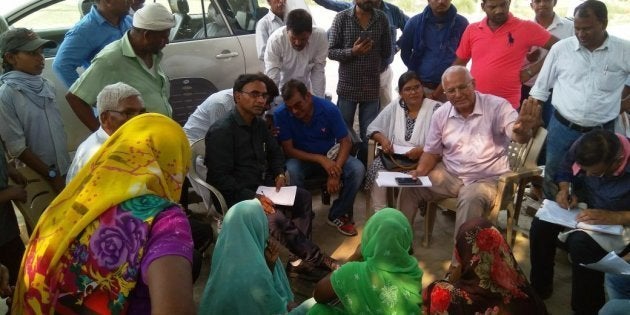 Retired IPS officer Sarwan Ram Darapuri, born a Dalit in pre-independence India, has seen police personnel from backward castes and tribes being asked to sit on the floor to eat lunch in a mess while upper-caste men sat on benches. He has been left out of celebrations in the neighbourhood and his children have been asked their caste before being assigned a seat in class.
After his retirement in 2003, the 75-year-old has unsuccessfully contested for the Lok Sabha thrice. But he's not giving up. The Lucknow-based activist says he'll contest the general elections again next year. Why? He hopes to help Dalits understand how political parties, especially the Bharatiya Janata Party (BJP), have been co-opting voices from the community while using the state mechanism to oppress and silence them in Uttar Pradesh.
Darapuri is no fan of Mayawati's Bahujan Samaj Party and Mulayam Singh Yadav's Samajwadi Party either. However, he thinks that the Yogi Adityanath-led BJP government has been the worst thing to happen to the Dalit community in the state.
"Ever since Adityanath came to power, the police has been slapping the National Security Act (NSA) on the victims whenever there's an incident of communal or caste-based conflict. The most glaring evidence of that is how in the Shabbirpur case, three Dalit men including Chandrasekhar Azad have been jailed under the NSA, while the Rajputs are roaming free," Darapuri said.
In May 2017, riots that broke out between upper-caste Thakurs and Dalits left one man from each community dead in Shabbirpur. The police later arrested the chief of Dalit rights group Bhim Army, 31-year-old lawyer Chandrasekhar Azad. Just after a court granted him bail, the UP government charged him under the National Security Act (NSA), which allows the government to hold someone considered a 'threat to the state' prisoner without a trial or bail for a year.
NSA VS DALITS AND MINORITIES
Two weeks ago, Darapuri participated in a demonstration organised by the Bhim Army in Delhi demanding that Azad be released immediately. "A petition has also been filed at the Supreme Court recently, arguing that Azad's detention has been completely unlawful," Darapuri said.
The likes of Azad, Darapuri said, are a threat to the BJP as there's a deep fatigue for Mayawati's caste-based politics which has no Dalit agenda. Azad and Bhim Army, on the other hand, have been raising issues of social development and political exploitation which strike a chord with voters, he added.
"Several Dalits in UP, especially in Shabbirpur where the riots happened, had voted for BJP. But with Azad pointing out the hypocrisy of their politics, a lot of voters were disillusioned. Now with Azad's arrest, more people are eager to get rid of BJP," he said.
"There must be at least 200-300 people who have been jailed under NSA by the Yogi government. Almost all of them are either Muslims—they are in a majority—Dalits, OBCs and political opponents," Darapuri claimed. He said this number was based on meetings with activists and RTIs filed by him, which he said is in the process of compiling. HuffPost India couldn't independently verify this number.
Rajeev Yadav, whose organisation Rihai Manch has been tracking and documenting cases of NSA being used to jail people in UP, especially in cases of caste-based and communal skirmishes, told HuffPost India that Darapuri's claim may not entirely be off the mark. "In cases of communal clashes in Kanpur, Barabanki, Bahraich, Azamgarh and Kasganj, we found at least 18 people have been booked under the NSA, all of them Muslims. None of the Hindu men involved in these cases are facing NSA charges. In some of the cases they haven't even been arrested," said Yadav.
In March, said Darapuri, Barabanki, which has had a history of communal unrest, witnessed a fresh round of violence. "On the eve of Maha Shivaratri, a group of Hindu youth threw gulal at a teenage girl who was riding pillion on her brother's bike. The boy protested against the harassment, and that led to a scuffle. More Muslim youth joined and there was a fight between the boys," Darapuri said.
Four Muslim men were charged with NSA right as they were granted bail and jailed. Darapuri and Yadav had led a delegation to the Barabanki district magistrate's office this June, demanding that this be revoked.
"We found a similar patter in the cases against Dalits. There are several such cases in Basta, Muzaffarnagar and Meerut, apart from Shabbirpur," said Yadav.
WHO WILL BE THE FACE OF DALITS IN 2019?
Darapuri, who says he opposes Mayawati's "anti-Dalit" politics, places some of his hopes in Azad leading at least a movement at a local level if he is released. "There's a lot of anger over him in Dalits that he can capitalise on," he said. However, he fears that if the government manages to keep him in jail for too long, the movement may lose its momentum. "There's also going to be a clamour for political attention among the people who are there. Most of them are young and low on experience," said Darapuri.
Darapuri has been a relentless critic of Mayawati as well. During his tenure as a IPS office, Darapuri led efforts to oppose Mayawati's attempts in 1997 to regulate the use of the Scheduled Caste and Scheduled Tribes (Prevention of Atrocities Act, 1989). Labelling it as a blatant attempt to appease 'savarna' (upper-caste) voters, Darapuri, who was still in service, helped organised protests and assisted people who filed a petition against the government in the High Court. The order was finally struck down in 2003.
On Jignesh Mevani, the MLA from Gujarat credited by many as reviving Dalit politics, Darapuri said Congress' backing is a disadvantage.
"People have to come forward and fight elections, instead of just protesting. But I guess, the fear of NSAs and government-sponsored persecution is holding them back," he said.
In the absence of a compelling alternative, said Darapuri, many Dalits may go back to supporting Mayawati.