The short-form video curation app, TikTok, is no newbie in India. One of the most downloaded apps in the country in the first quarter of 2019, it helps users create short videos and express themselves in a creative manner. In addition, if you strike a chord with your audience, your videos have a high chance of going viral. What's more, it is available in an array of Indian languages, including Hindi, Kannada, Tamil, Telugu, and Malayalam.
Taking a step forward, TikTok has launched EduTok, an innovative and knowledge-based initiative that empowers TikTok users to create meaningful and inspiring content, with special emphasis on education, motivation, safety, health, and wellness. With its foray into e-learning, the EduTok Program aims to offer a platform to not just independent creators, but also educational organizations that use TikTok to share their knowledge with millions of users, especially those who are willing to learn. It also helps to connect communities by spreading digital literacy and skill development across India.
There are several content creators who are effectively leveraging EduTok to create inspiring content, broadening their horizons on the professional front, and are at the same time, motivating others to follow their footsteps.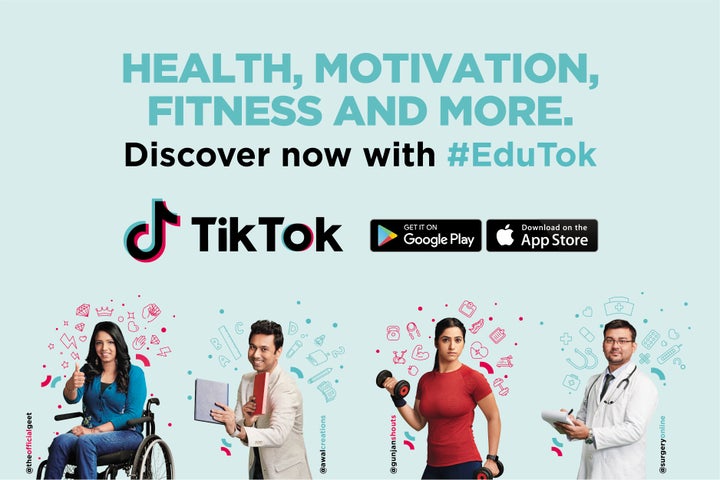 Let's take a look at some of India's best EduTok content creators:
Geet (TheOfficialGeet and EnglishwithGeet)
Sangeeta Jain, known as Geet on TikTok, has a story that will tug at your heartstrings. When she was only 10 years, she met with an accident that left her paralyzed. This did not stop her from achieving her dreams – today she dons multiple hats, that of an engineer, a lawyer, and a social worker. With a drive to change things on the home ground, she moved from the US to India to empower slum children and at-risk youth.
"I run a small NGO in Delhi-NCR region that uses different methods such as storytelling, song, dance, and drama to impart positive values to slum children and at-risk youth. Through motivational talks, one-on-one counseling and organizing free talent shows, we help them channel their energies towards achieving their dreams and goals. Besides, we also visit the youth jail facility regularly to impact the lives of those detained," says Geet.
A renowned motivational speaker and India's first actress in a wheelchair, Geet also makes short films on socially relevant subjects, including women's rights, child abuse and awareness on disability. She's also taking a leap into the world of web series, what she likes to call 'Motivational Educational Comedy'.
Sometimes at the beginning of this year, Geet shot a funny video with her 87-year-old grandmother and was looking for creative platforms, when she heard of Tik Tok.
"Being a motivator at heart, I also uploaded some of my motivational videos and they did really well. These videos got hundreds of thousands of views and people often commented saying these videos helped them change their outlook," she adds.
Geet also runs an English-teaching account that reached 100K followers, within a week of its launch. Today, she has two active accounts - one for motivational content (TheOfficialGeet) and the other where she teaches American English (EnglishwithGeet).
Since joining EduTok, she has doubled her social media presence. Prior to TikTok, she had about 5.5 million followers on Facebook, Instagram, YouTube and Twitter; today she has 6.5 million only on TikTok! Besides, she has often been called by educational institutions to impart her wisdom, and recently delivered her second TedxTalk too!
Gunjan Taneja (GunjanShouts)
Gunjan was a successful engineer who worked with top companies like Adobe and Publicis Media. Her career was at an all-time high, but so was her weight. She tried her best to shed the flab, but was unsuccessful - this eventually led her confidence to crash! Sometime later, she met someone who helped her understand the true meaning of fitness and healthy living. Gradually, her dedication and hard work paid off, and she achieved her fitness goals!
"I always wanted to share my journey with others and motivate them to lose weight. However, it was difficult to constantly create videos with my regular job. That's when I came across EduTok - this platform allows you to make content that can convey your message within 60 seconds. When I began sharing content, the response was overwhelming. This helped me continue my journey here." she shares.
Her idea is to reach out to people and provide simple solutions, such as drinking a glass of lemon water every morning!
"Through EduTok, I have not just gained visibility to the outer world, but also realized my true inner potential. It has also helped me reach the right audience and trust me, my followers are my family now." Gunjan adds.
Dr. Animesh (@Dr Animesh MS)
With a sharp and bright mind, Dr. Animesh Gupta was successfully selected in 5 different competitive pre-medical exams in India. He eventually went on to complete his MBBS from Safdarjung Hospital and MS from Dr. RML Hospital, New Delhi. Today, he runs his medical centres in Delhi, Varanasi and Ballia in UP.
Since there are several fake health videos floating on social media, Dr. Animesh wanted to bust myths and educate people in the right manner; that's exactly why he joined EduTok. "I started sharing my medical knowledge that I have acquired in the last ten years to spread awareness about health. Today, even the smaller towns have Internet facility, which helps to share the right knowledge and guide people free of cost." he adds.
"Thanks to EduTok, my videos have gone viral not just in India, but abroad too! My videos receive over a million views. This journey from a normal person to a 'celebrity' has been a heartwarming one." he smiles.
Awal Madaan (@AwalCreations)
Millions of Hindi-speaking people are now living their dream of learning English, thanks to Awal's videos on TikTok. He explains concepts of English in an easy and interesting manner, and is currently one of the top educational content creators, with over 5 million followers.
He began his career as a marketing and advertising professional with an American ad agency, and that's when he realised how important English language skills are to secure a good job with a multinational. This is when he decided to help Hindi-speaking people to understand concepts in their native language.
While he was already popular on several social media platforms, he jumped onto the EduTok bandwagon to continue his mission of empowering and educating people.
"I have given a complete makeover to the concept of learning languages. My followers are not only academic staff, but also sales-staff of stores, self-employed individuals, and the like," he says.
With a smart approach, great confidence and a passion to motivate society, these EduTok stars are no less than 'celebrities' and are making moolah too! After all, as they say, content is king!