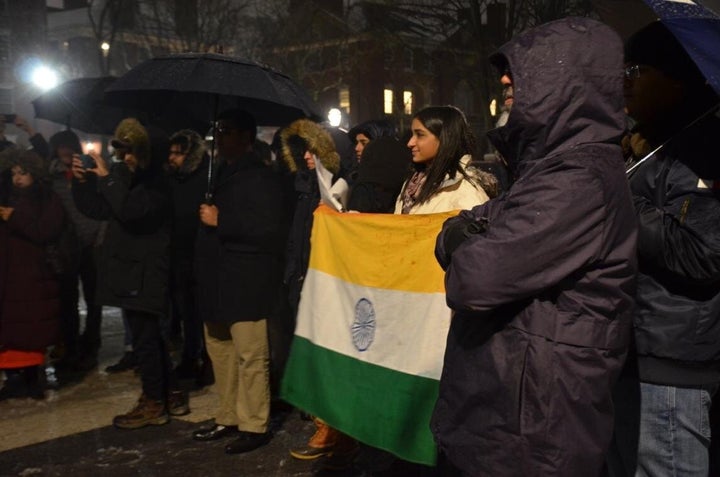 It was 30°F (-1°C) and snow and sleet were starting to accumulate in Boston, when around 300 people, bundled up in their coats, gathered at Harvard University's Science Center to protest against the Citizenship Amendment Act (CAA) and police brutality against student protesters in India.
"What brought me here was nothing but my love for India," said Dr. Ruha Shadab, a doctor by training and a second-year public policy student at Harvard Kennedy School. Shadab was also one of the key organisers of the protest.
"One of the things I am most proud about is the story of our freedom struggle and what our founding fathers and mothers did and the decisions they made in 1947," she added. "Nothing makes me prouder than to think of the constitution and the values enshrined in it. If I think that idea of my nation is being challenged, I will come out in -4 degree Celsius in snow and sleet and rain."
Students from universities across the greater Boston area participated in the protests. They read out passages from the Indian constitution and sang songs of protestation from the Urdu Hum Dekhengey and to patriotic Assamese songs. Protesters spoke up against how the combination of CAA and the National Register of Citizens (NRC) violates the social fabric of India.
Rohan Sandhu, a Public Administration in International Development graduate student at Harvard University, tweeted, "Education is nothing, if not about active citizenship."
The Citizenship Amendment Act allows Indian citizenship for only non-Muslim immigrants from Bangladesh, Pakistan, and Afghanistan. The protesters at Harvard University have criticized it for being exclusionary and against the secular fabric of India. They also denounced to use of brute force by the police against student demonstrations and expressed solidarity with the university students in India who have taken to the street.
What started off as student protests against the CAA on Sunday in Delhi have spread across India after the news surfaced of the police violently attacking the students of Jamia Millia University and Aligarh Muslim University. Internationally, similar protests in solidarity of the students are being planned across the world in Berlin, New York, Washington DC, London, Hague and Toronto.
Earlier this week, around 150 students and affiliates at Harvard had signed an open letter to the Indian Government decrying the "violent suppression of protestors." The letter is also critical of the CAA calling it a "deeply regrettable act of legislation." Another joint statement was issued by over 400 students from 19 universities including Harvard, Yale, Columbia, Stanford and Tufts condemning the "brutal police violence unleashed against students at Jamia and AMU as a gross violation of human rights under the Constitution of India and international human rights law"
The students of University of Oxford also released a statement denouncing "the violence unleashed on students in Jamia Millia Islamia, Aligarh Muslim University, Delhi University, Cotton University and other educational institutions. The use of police force against students exercising their fundamental right to protests in the university spaces and elsewhere is direct attack on foundations of a democratic society."
""By not speaking up sooner, we have let fascism grow.""
"I think students are now getting out because students understand the importance of education, dissent and a free environment to talk and express their opinions. That is how we grow intellectually," said Souvik Mandal, a doctorate fellow at the Department of Molecular and Cell Biology/Center for Brain Science at the Harvard University protest. "Without intellectual growth no growth is sustainable."
Mandal added that these protests were long overdue. "They were necessary since the beginning. By not speaking up sooner, we have let fascism grow."
Prime Minister Narendra Modi has called the student protests in India "deeply distressing" and appealed for peace and unity. Nevertheless, the Prime Minister has come under fire for stating that the people who are causing violence "can be identified by their clothes."
"Hindutva is the major fault-line here," said MIT researcher Satyanarayan Ray Pitambar Mohapatra to the protestors. Satya had shown up in a north Indian kurta pajama in Boston's frigid winter in response to Prime Minister's veiled reference to the Muslim attire of the protestors in India. He argued that Hindutva cannot keep milking Islamophobia.
"The protests across India show that Modisahab has bitten more than he can chew."
The toll of the protests keeps rising in India. The northeastern state of Assam, the center of the CAA protests, remains in the dark as the government has shut down mobile internet services and curfew remains in place for many of the regions. At least four people have died in Assam after being shot by the police. Further, 175 people have been arrested and 1400 people have been detained in Assam.
More than 100 students were injured, and dozens arrested after police stormed into the campuses on 15 December 2019. Another 113 people have been detained in Uttar Pradesh for "objectionable" social media posts, reports PTI. On 17 December 2019, the police also reported that 21 people - including 12 policemen - were injured in the clashes between the police and protestors in the Seelampur district.
Some protesters remain hopeful.
"I am disappointed in this country that I love. At the same time, I am also incredibly hopeful because the kind of solidarity seen in the last few weeks, I have never seen that in my life in India," said Dr. Shadab who is from Delhi. "It is amazing people to see people come up and outrightly support Muslims, outrightly support the idea of a secular India. This amount of outspoken comradery is completely unprecedented and so reassuring. It might be a dark time, but I am so incredibly optimistic, and my heart is filled with warmth."
Bansari Kamdar is an Indian-origin freelance journalist and researcher presently based in Boston.
Popular in the Community