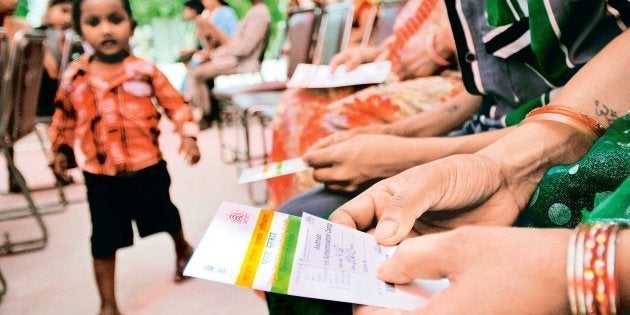 Today, the India's Supreme Court has upheld the constitutional validity of the Aadhaar which will have a ripple effect on the Indian government's plans to use it as the primary proof of identity for citizens to access essential services. When it was launched in 2009, the pitch behind Aadhaar was that the ID would increase efficiency, reduce leakages and make life easier for India's vulnerable citizens. In reality, it has produced many stories of exclusion and suffering. Almost exactly a year ago, in Jharkhand, an 11-year-old girl starved to death after her family lost their ration card, which had not been linked with Aadhaar. A few months earlier, the government of Jharkhand had mass-cancelled thousands of ration cards which weren't linked to Aadhaar, ostensibly to fight fraud. And Kumari and her family paid the price.
In Jharkhand's Karimati village, the local dealer had been refusing to give ration to Kumari's family, saying that their ration card was no longer valid. Activists confirmed with Jaldega block office that the child's mother Koyli Devi's card had indeed been cancelled. The activists placed a request for a new card, explaining the circumstances, but it arrived two weeks after Santoshi's death.
This is just one of a large number of reported hunger deaths over the past few years, and these are frequently linked to the requirement of having an Aadhaar card, activists have found. They compiled a list of 56 such deaths since 2015. Of these, they say, 27 were directly related to Aadhaar. The highest number of deaths has been in 2018, according to the activists.
This table was prepared by Reetika Khera and Siraj Dutta, with contributions from Swati Narayan and the Right to Food campaign in Odisha, Jharkhand and Delhi.
"On the occasion of Santoshi's death anniversary, we compiled the attached list of reported hunger deaths from 2015 onwards," the activists explained. "By hunger death, we mean that the victim died after prolonged hunger because there was no food or money in the house, and that, quite likely, he or she would have survived otherwise. This is a partial list, based on Google searches in the English and Hindi media."
According to the research, most of the victims are from disadvantaged groups, including Dalits, Adivasis and Muslims. The study also shows that of the 25 Aadhaar-related deaths in 2017 and 2018, 18 were purely because of Aadhaar. The common reasons included losing the ration or pension card for not linking Aadhaar, and failure of biometric-based authentication for Aadhaar.
The list also mentions some deaths where Aadhaar was the likely cause, but isn't completely certain. This accounts for the remaining seven deaths. Jharkhand and Uttar Pradesh are the states with the highest number of starvation deaths linked to Aadhaar.
Two of the most recent deaths happened just weeks ago. Five-year-old Govinda, and two-year-old Aishwarya, from Buxar in Bihar, died on 31 August and 1 September, respectively. The two children belonged to the most backward 'maha-Dalit' community. Their father had been jailed, allegedly for participating in a violent protest, and the family had no access to rations for eight months, because they could not link their ration card to Aadhaar, explained the children's mother, Dhana Devi.
Initially, the family survived with the help of neighbours and friends, but this support waned over time, and slowly, the two children succumbed to starvation. Speaking to The Wire, Devi said that she was now worried about her surviving child Arjun, who had also grown weak.
In fact, the list of starvation deaths that Khera and Dutta shared includes 10 children, mostly around three-six years old. The oldest child in the list is 11 and the youngest two.
"In a healthy democracy, hunger deaths would make headlines and become a matter of debate and action," the activists wrote. With the Supreme Court now due to render a judgement about the constitutional validity of Aadhaar, one can only hope that such loss of lives will stop.