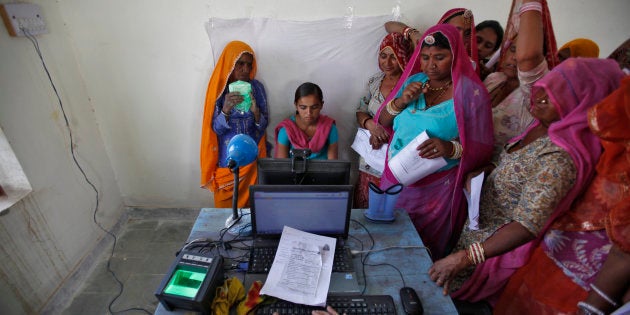 Activists, policy experts and lawyers who have been campaigning against Aadhaar are disappointed by substantial portions of the majority judgement delivered by the Supreme Court on Wednesday.
Speaking with reporters in the national capital few hours after the judgement was delivered, Usha Ramanathan, legal expert and one of the key advocates who argued against the Aadhaar project in court, said she felt "deep disappointment" that the court did not relate with the plight of people who are being excluded on account of Aadhaar despite activists filing affidavits demonstrating what is happening on the field.
The majority judgement upheld the constitutionality of Unique Identification Authority of India's (UIDAI's) controversial project and said that Aadhaar being mandatory to access welfare schemes was a "legitimate exercise".
Ramanathan said the court has "retained the idea of welfare as something that a state gives to a people but which they have not yet recognized as a right that people have. It's an entitlement and a right. And that's where we have regressed through this judgement a little".
Referring to the judgement's reliance on claims made by the UIDAI chief in a power presentation, she added, "You cannot replace constitutional arguments with a power point."
Friday will mark a year since an 11-year-old girl in Jharkhand starved to death after her family lost their ration card, which had not been linked with Aadhaar. Researchers have said that Aadhaar is linked to half the starvation deaths reported since 2015.
Nikhil Dey, a campaigner with the Mazdoor Kisan Shakti Sangathan, said the judgement did not give any relief to the poor.
"I am unable to get it across, particularly to English-speaking people, that there is this much class bias that you do not understand that it is not the people left out not having Aadhaar cards. It is those who have cards and they are excluded because of Aadhaar." To illustrate this point, he said that Rajasthan government's food department website reflected that "roughly 25% of the national food security beneficiaries" chosen by the government have been unable to receive their rations over the last one year. All of these 25% odd beneficiaries have Aadhar but since their biometrics did not work, they could not receive their entitlements, he explained.
Anjali Bhardwaj from the Right to Food Campaign said the court had not factored in "evidence" from the government about how the poor have been excluded.
"The government has been constantly saying that it (Aadhaar) is an anti-corruption tool and this is reflected in today's judgement, too. How is it an anti-corruption tool? Where is the evidence? Every single time this government has made a claim that, because of Aadhaar, there have been savings, corruption has been combated; they have been unable to provide any evidence to back their claims," she said.
However, some parts of the judgement drew praise, especially the striking down of Section 57, which had allowed private companies such as Paytm and Reliance Jio to use the Aadhaar database.
This puts "an end to private ambition being built over this project", said Prasanna S, a lawyer associated with the petitioners who argued against Aadhaar. "I say that sucks the blood out of the project. And to take out metadata from authentication records from being stored...that takes the flesh out (of the Aadhar project). What the court has preserved now is just the skeleton and we do not know how long will it sustain," he added.
Ramanathan said the introduction of a provision for a judicial review of money bills was significant and added that the ruling gives hope that things may change in the future.
"The judgement does a number of things...basically it shakes up the project. It's not as if the majority judgement has said that Aadhaar is a great project, let's all carry on with it and let's change nothing. They have also found problems that they cannot ignore," she said.