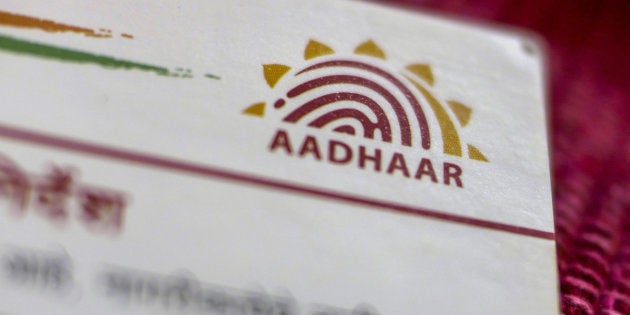 But what does this judgement mean for the common people? Mishi Choudhary, a technology lawyer and online civil liberties activist, broke down the key takeaways for HuffPost India.
Choudhary cautioned that this is a preliminary reading before reading the full 1,448 page judgement, and that the details of the verdict could raise fresh implications, but said that the Court has made a number of statements which will affect people.
Firstly, she clarified that the striking down of Section 57 of the Aadhaar Act would prevent private companies from making use of the Aadhaar. This could have an impact on companies like Reliance Jio and Paytm, where eKYC has been a growth driver.
For people fed up of being asked to produce an Aadhaar everywhere they go—at banks, phone companies, or even to access private buildings—this is good news.
"So mobile phones, not required, bank account linking, again not required, these are the important things from a consumer perspective," Choudhary explained. "I am a regular person, what do I require Aadhaar for? If I am on one of beneficiaries of welfare schemes or filing my income tax, then I need to have an Aadhaar."
GRIEVANCE AND REDRESSAL
"There is a lot more going on, like Sections 33 (1) and 33 (2) [related to the disclosure of information] being read down, which will be important, though I want to read the judgement before talking about that," she added. One thing in particular that she noted as important is the court saying Section 47 has to be amended to let people raise their grievances.
"The public gets impacted in—there was no offence or grievance addressal mechanism. I could never approach anybody to do anything," Choudhary explained. "Earlier only UIDAI or an officer of the UIDAI could complain, but now the majority is saying that this section must be amended, and it should include a grievance or redressal mechanism for the victim herself."
"There is quite clear details on what it would be required for, or not," she added. "When they talk about kids, when they talk about school admission, they say none of this will require Aadhaar. In their interim orders of 2015 they had been saying, just restrict it to the welfare schemes, and it looks like that is the intention here. But I'm also speaking from hearing what was said from the bench."
STILL COVERING EVERYONE?
While the Aadhaar judgement seems to move away from a broad requirement for Aadhaar, Choudhary also said that with the requirement for Aadhaar for welfare schemes, and the requirement for linking it to PAN cards for income tax filing, having Aadhaar becomes largely mandatory for most Indians by default.
"There is one population under income tax, and one under welfare schemes," Choudhary said. "So very few citizens are left who are not touched by it in that sense. So there is an argument that they have essentially said yes, all Indians need to have an Aadhaar."
"Maybe people who are non-residents, or kids are the only real exemptions, creating a kind of awkward situation here, and if that doesn't get clear, we might have to file another case," she added.
At the same time, the majority judgement said that the Aadhaar was secure and bringing more benefits on the ground than exclusions. Choudhary completely disagreed on this, and added that even the court had made some recognition of this.
"If you see the dissent, Justice Chandrachud does not buy any of this, and rightly so," she said. "From my perspective, there is just no recognition of the facts on the ground. They say it's very secure, that CIDR (Central Identities Data Repository) is safe, and we have enough stories that have come out, about the lack of security."
"If you see Justice Chandrachud, he's talking about the government, how private companies are involved, that's going to be a problem," she added.