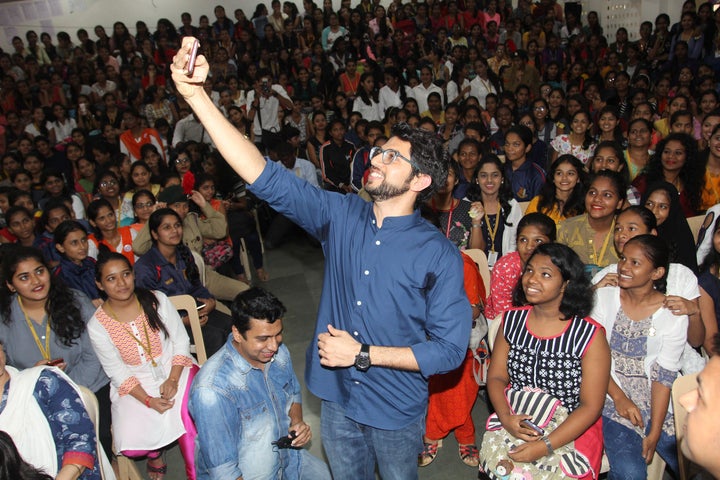 MUMBAI, Maharashtra — Just ahead of Maharashtra's state assembly elections in 2014, 24-year-old Aaditya Thackeray, son of Shiv Sena chief Udhhav Thackeray, turned up at the Bharatiya Janata Party (BJP) General Secretary Om Mathur's door to discuss seat-sharing formula between Shiv Sena and BJP.
The BJP, which was already contemplating contesting the election alone, took his presence as an insult.
"We have already expressed our displeasure with this. Aaditya Thackeray is a junior leader. Someone senior should have come for discussions," the then leader of opposition in Maharashtra assembly and senior BJP leader Eknath Khadse said at the time.
A few days later BJP ditched its 25-year-old alliance partner Shiv Sena.
Five years later, Aaditya Thackeray, now 29, will be the first member of the Thackeray clan to actually contest an election—his grandfather Balasaheb famously influenced Maharashtra politics using what he called his "remote control"—in the face of an existential threat that could put an end to a party that once defined a nativist turn in Mumbai's turbulent politics.
Thackeray will contest from Worli, a safe seat likely to throw up few surprises. However, the future of the Shiv Sena, the party his grandfather Balasaheb Thackeray founded in 1966, is far from certain.
The Shiv Sena has been in an uncomfortable alliance with the BJP for over 29 years now. With the 2019 Maharashtra state elections around the corner, Thackeray must somehow rescue the fading Shiv Sena from dissolving into its much bigger, better-financed alliance partner which has made steady inroads into the Shiv Sena's support base.
In private, BJP leaders say 2019 marks the last time they will play nice with the Shiv Sena. In 2022, the BJP aims to capture the cash-rich Brihanmumbai Municipal Corporation (BMC) which has bankrolled the Shiv Sena's patronage networks for decades. If the BMC slips from its grasp, it is unclear how the Shiv Sena will survive.
"We are eying 2022 BMC. Our cadre will be active in the seats contested by Shiv Sena and we will work to keep our base robust for the BMC polls," a BJP leader from Mumbai claimed.
"Time is not far when we will control Mumbai and the Shiv Sena will meet the fate of RPI factions," a BJP minister close to Chief Minister Devendra Fadnavis said, referring to the fragmentation of the Republican Party of India. "Look at the Shiv Sena now. Uddhav used to say that he won't go begging with a bowl in hand to anyone. He has come with a begging bowl to us now."
The Shiv Sena's fate in Maharashtra is likely to be mirrored by the BJP's coalition partners in other states, like Nitish Kumar and his Janata Dal (United). As the saffron party continues to grow, its allies find themselves increased squeezed for space.
In an interview with HuffPost India, Thackeray appeared sanguine. He has roped in political strategist Prashant Kishor's Indian Political Action Committee (IPAC) to manage his campaign, which is centred around a high voltage 'Jan Ashirvad Yatra'.
His supporters claim he is fighting the election as he intends to be either Chief Minister or Deputy Chief Minister of the state.
"There have always been cycles where Congress has been up or the BJP has been up or Jansangh has been up or the Shiv Sena has been up," he said, when asked about the BJP. "So that cycle always goes on, you have to keep serving the people."
Book burning to Bollywood
Aaditya Thackeray made his first public appearance in 2008 when Bollywood icon Amitabh Bachchan launched an album of Thackeray's jejune poetry set to music.
"His creations never rhymed but that really doesn't matter if you are the grandson of Bal Thackeray. He got Amitabh to launch his debut album at the age of 17," remarked a Mumbai-based journalist, who has tracked Aaditya's career.
At a public appearance at Music World, a fresh-faced Thackeray offered an insight into his creative process.
"My dad helped a lot," he said, adding that Uddhav Thackeray had overseen the editing process for the accompanying music video. His family, Thackeray said, had "art in their bloodline".
Thackeray was still a student at St. Xavier's College, but his protest was straight out of the Shiv Sena playbook perfected by his grandfather: None of the Shiv Sainiks—Thackeray included—had read Mistry's book, but they burnt copies of the book at the Mumbai University gate and gave the administration 24 hours to drop it from their syllabus.
A month later, his grandfather Bal Thackeray announced the formation of the "Yuva Sena", the party's youth wing, and named Aaditya as its chief.
Aaditya's entry in politics, Shiv Sena insiders said, was meant to stop the exodus of young Shiv Sena leaders and voters drawn to Raj Thackeray, who had quit the party in 2005 to form the Maharashtra Navnirman Sena. The formation of the MNS significantly hurt the Shiv Sena's prospects in the 2009 Lok Sabha and Assembly elections.
"2005 to 2014 was really a bad time for Shiv Sena. Balasaheb was ailing, Raj and Narayan Rane had quit. We lost back to back elections. Aaditya's launch was to achieve two purposes," said a Shiv Sena member of Maharashtra's Legislative Council. "One was to stop the younger lot from moving towards the MNS and secondly it also accommodated many of the senior leaders' children which stopped them from quitting the party."
Senior journalist and researcher Sachin Parab, who has documented Bal Thackeray's father Probodhankar's life and works, said 80% officer bearers in Yuva Sena are the children of senior leaders.
"There are two factions in Shiv Sena now. One is that senior minister Eknath Shinde and the other opposed to him. By pushing Aaditya's name for the chief minister of deputy chief minister post, the faction opposed to Shinde had made sure Shinde's chances are diminished."
"It depends where your thought process is from," Aaditya told HuffPost India, when asked why he was so obsessed with Bollywood, "These are all friendships that develop into good things when you sit together and brainstorm on how to help society."
Fast forward to 2019, Thackeray will likely have his first election victory handed to him on a platter — much like all his accomplishments till date. Thackeray is contesting from Worli, a Shiv Sena bastion.
In 2014, the party's current MLA, Sunil Shinde, won the seat with nearly 40% of the popular vote. His closest rival was Sachin Ahir, the Mumbai chief of the National Congress Party, with 25% of the vote. Ahir had won the seat in 2009.
In June this year, Ahir joined the Shiv Sena. With the two leading contenders — Shinde and Ahir — making way for Thackeray, it will take some effort for him to lose the seat.
"With Ahir's induction, Worli becomes all the more smooth for Aaditya," informed a Sena leader.
Ahir denied that he was inducted into Shiv Sena to improve Aaditya's prospects from Worli assembly seat.
"My induction had nothing to do with Aaditya contesting from here and there," Ahir told HuffPost India. "He wants to do something out of the box. He wants to create new Maharashtra. I was inspired by his ideas, which is why I joined the Shiv Sena."
Bal Thackeray's Heir?
A Shiv Sena MLC said he once asked Bal Thackeray if the Shiv Sena supremo felt Aaditya was fit for politics.
"Balasaheb told me he will be fit for this generation," the MLC recollected and added that many had predicted that the Shiv Sena would collapse when Aaditya's father Uddhav first took over. "Look at him [Uddhav] now. He has successfully kept Shiv Sena united and strong."
Yet Aaditya's ascent and the chorus demanding he be Deputy Chief Minister, a senior Shiv Sena leader said, has split the Shiv Sena into factions.
"There are two factions in Shiv Sena now. One is that senior minister Eknath Shinde and the other opposed to him," he informed. "By pushing Aaditya's name for the chief minister of deputy chief minister post, the faction opposed to Shinde had made sure Shinde's chances are diminished."
Even so, some say that this has diminished his father's stature.
"I don't know where has this idea come from (of projecting Aaditya) but it is not good for Udhhav," said Sachin Parab. "Why is Aaditya the leading face and not Uddhav? It is going to create doubt in the longer run."
Shiv Sena spokesperson Anil Parab doesn't think so.
"Aaditya Thackeray is Shiv Sena's face. He will be the star campaigner. He is the leader of the youth. Whether he will be the chief minister or deputy CM, that decision will be announced by the party," he said. "There are many faces in any political party likewise we have Uddhav and Aaditya as our party's face."
When asked if it is premature to project Aaditya as a possible Chief Minister or Deputy, Anil Parab said, " I don't think it is premature. Aaditya Thackeray is a good youth leader. He is moving around Maharashtra and people are liking him."
For now, the Shiv Sena appears to have made its peace with the alliance with the BJP.
"Even if it's clear that BJP wants to finish Shiv Sena from Mumbai, it is not so easy to do that as Shiv Sena has a strong base in Mumbai. Take Modi out of equation and BJP will be nowhere," said a Shiv Sena leader close to Uddhav Thackeray. "Even if they break the alliance this time, to have Shiv Sena, Congress, and NCP in opposition won't be an easy prospect for them."
The BJP-Shiv Sena alliance will most likely survive the upcoming elections; but for Aaditya, the real task lies ahead in 2022.