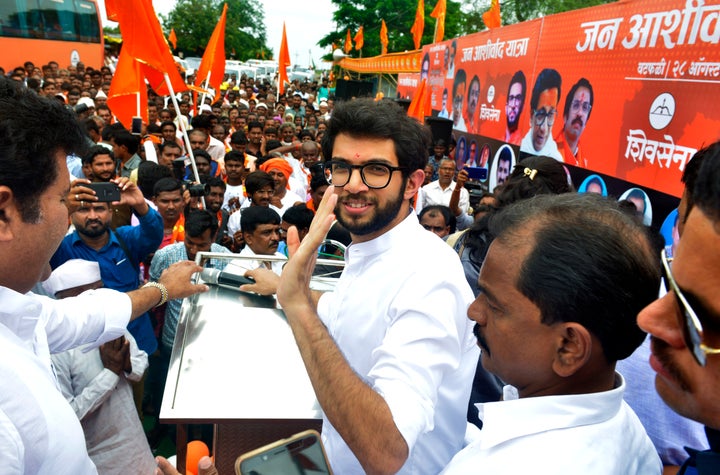 MUMBAI, Maharashtra — Just before the 2014 assembly election in Maharashtra, Shiv Sena president Uddhav Thackeray deputed 24-year-old Aaditya Thackeray, his son and chief of the party's youth wing or Yuva Sena, to hold seat sharing negotiations with Om Mathur, the Bharatiya Janata Party (BJP)'s general secretary in charge of Maharashtra.
The BJP, already contemplating breaking the alliance, treated this move as an insult.
"Aaditya Thackeray is a junior leader. Someone senior should have come for discussions," the then leader of opposition in Maharashtra assembly and senior BJP leader Eknath Khadse had said.
A few days later, the BJP caught Shiv Sena off guard by declaring that it would contest the elections alone. Many inside the Shiv Sena privately lambasted the move to send Aaditya for the negotiations — which was clearly the trigger for BJP's move to break away. Eventually, both parties tied up after the elections, but it was clear that the BJP held the upper hand.
Five years on, the Shiv Sena has sought to project Aaditya as the party's choice for the chief ministerial or deputy chief ministerial post as Maharashtra prepared for elections on 21 October. Chief Minister Devendra Fadnavis has refused to comment, stating that the Shiv Sena's official spokesperson is yet to speak on the issue.
The negotiations for seat sharing between the Shiv Sena and the BJP are still on and the BJP is in no mood to give 50% seats to the Shiv Sena. The Sena, for its part, has signed on Prashant Kishor's Indian Political Action Committee (IPAC) to manage its campaign.
Aaditya is currently crisscrossing the state on a carefully choreographed Jan Ashirvad Yatra.
In an interview with Huffpost India, Aaditya Thackeray spoke about the possible alliance with BJP, him being projected the chief ministerial candidate, his association with Bollywood, the allegations of being a dynast and much more.
Why did you join politics? Because of the family?
I have been traveling with my father and my grandfather as a child and this is something I really love. I have been in politics for almost nine years now and I realise this is the only field where one decision can have an impact on millions of lives, probably a billion lives in our country, so that's why politics and there is nothing else I know of really.
Was it your personal choice or did the family push you?
It was my personal choice to jump into it and I love it. I mean I love Mondays, I love Sundays even more because we have more work on Sundays. So it's great fun. Look at us right now, for the last three months we have been on this yatra. We have been going to distant interiors, speaking and interacting with people. I could have been in the city, chilling and enjoying till the next election, but this is something I do passionately and this is something I enjoy.
There is a buzz that the Shiv Sena is projecting you as the CM or Deputy CM candidate. Isn't it a bit premature?
I have never projected myself, neither has anyone officially from the party. Everyone has the right to voice their aspirations for the party or for me and that's their love but for me, as I said I am not running behind any post, because that will come whenever the people think its the right time for me to get the post. Primarily I am enjoying the whole process of meeting people, helping them, trying to get things done in the state.
What have been the achievements of the party's Yuva Sena since its inception?
We have had a couple of job fairs. We have given jobs to a couple of hundreds of youth. We have got ten out of ten senators in Mumbai university. Before this, we had eight of ten senators and in both the terms we have helped thousands of students, irrespective of who they vote for, with their issues like convocation certificates, correcting spelling errors in their certificates, sports, and others.
Starting from 2012, Yuva Sena and I personally went to drought-affected villages in Palghar district and helped 72 villages fight drought back then. There are so many things that we keep doing each year and if you see my Twitter timeline, it's never been anyone's birthday wish or festival. It's always been work, work, work.
For example, one of our biggest demands was that of the urban forest and we have been able to start that with the BMC. Sixty-six plots in Mumbai would have over 300,000 trees. The BEST bus fare was reduced to five rupees as the base minimal as a part of the Yuva Sena demand.
The Twitter handle for BMC is the biggest grievance redressal firm probably in the world. A city like Mumbai, with so much population density, with so many issues and such vast diversity, solving its issues on Twitter cutting all the red tape — so these are some of the recent things.
Yuvraj Walmiki, who captained India in hockey, was part of a Yuva Sena protest in 2011 that insisted Mumbai university chooses its team only on the basis of merit and not corruption. These are some of our achievements, there are so many things that we have done.
Most of the Yuva Sena office bearers appear to be the children of the top leaders of Shiv Sena?
That's because you have been interacting with some of them on board here. If you go out to the interiors, we have actually tried to find so many people.
Forget political families, we have been trying to find people without any political background as well and that is our biggest challenge, especially for girls without political background to come into politics. Because I am not seeing politics as elections. It's not only about elections, there is much more to it. There is a lot of brainstorming and think tanks and out of the box thinking that you require.
Yuva Sena members have attacked Kashmiri students. Your current Nagpur district chief faced rape allegations.
They have been sacked. Whenever there is an issue of criminal mindset we have taken action. See, finally, what happens is that there are thousands of people who join the party at some level or the other. There is a certain check that you do but you really can not keep checking their activities every day.
Whenever there is an issue that comes to light and whenever there is something wrong, we have been the only party in the country who takes decisive action then and there. We don't set up committees and waste time in that. We have taken action.
"The BJP has a lot of dynasts too. A lot of their MPs are dynasts."
You are the face of this statewide yatra. Why isn't your father undertaking such a yatra?
He is working at his level. He has done his travels before I did last year. He has been touring on his own, I have been touring on my own. I started this because I wanted to thank the people. He is doing his work in Mumbai and other regions. Both of us are doing different work. We can not be on the same tour; we will waste a lot of time covering the same area.
There are reports about your father's health.
He has in fact been meeting people from ten to ten. I don't know where are you getting these rumours from but he has been meeting people every single day. It has been 12 hours of work for him every day.
You are a third generation claimant of the Shiv Sena's legacy. With the BJP on the rise, will there be a Shiv Sena for you to claim?
I think these are things not worry about. Every party witnesses ups and downs. That cycle is there but the ideology remains constant.
I think what we should worry about now are the issues pertaining to the state —farmers' crisis, the loan waiver that hasn't reached the farmers yet, the unemployment which is growing in our country.
These are issues that are primarily at the forefront today. And if we keep thinking about ourselves and the party, people will take us to be fools. Today, as political leaders, we should be thinking of political and state issues rather than the political future of any political party.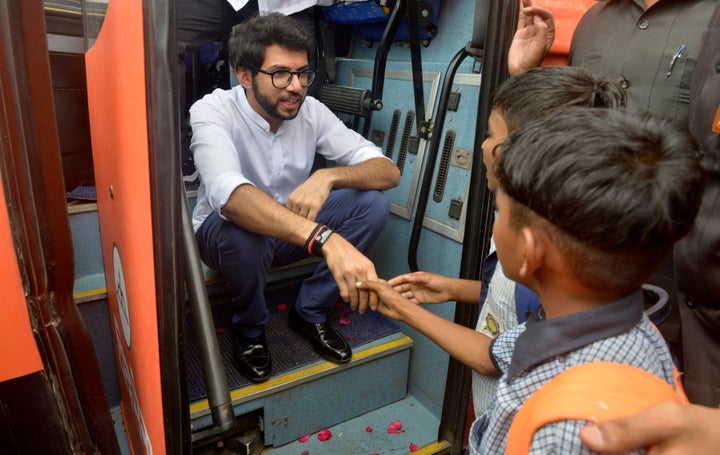 So you don't consider the BJP a threat?
Not at all. There have always been cycles where the Congress has been up or the BJP has been up or Jansangh has been up or the Shiv Sena has been up. So that cycle always goes on, you have to keep serving the people.
Do you have robust party machinery? Why rope in IPAC?
That was a conscious decision on the policy front. That is something for our own logistics.
Your party criticised the government despite being part of it. You declared that you will contest elections alone, but aligned with the BJP.
Now alliance talks are on, but some of your leaders are threatening to go alone. Isn't this sending the wrong message to voters?
Not at all. The voters have trusted us in the Lok Sabha election. They have given us huge success and mandate. Shiv Sena is the only party in Maharashtra that's got an upswing of three percent in votes.
More importantly, we have fought every battle based on principles and not for our own selves. Had it been for our own selves, we could have left the government long back. We fought for the farmers. We have been fighting for the crop insurance scheme. Because of our protest march, we could give ten lakhs farmers 960 crores of their dues. The farm loan waiver was declared by the government only because Shiv Sena got out and protested.
When you have two different cadre-based parties, your cadre needs to know about the perception. Since we are in government today, the media is giving us more attention. When we were in the opposition and when we were fighting with each on these small-small issues, we will have different perspectives. We are not fighting personally, neither the BJP nor we are fighting on personal issues.
These are all issues where we have a different perspective and that's a fight of perspective. I think in a democracy, it is always healthy to have two parties within the same government be able to voice a different perspective. Otherwise, you would have a blanket decision on everything.
Is an alliance happening this time, and are you ready if it doesn't?
From Shiv Sena's end, whatever the chief minister said in the press conference before the Lok Sabha election when we were aligning, we would not betray that. That is from our end. I can't speak for the BJP because I am not a part of the BJP but I am a part of the Shiv Sena and we won't betray his commitment to whatever he said in that press conference in front of the media.
You have a ready platform, but what about the Shiv Sena's grassroots leadership. When will they get a chance?
See, finally, it's good if there is a platform ready. I would be glad but everyone has to struggle. It's not that the Shiv Sena is in full majority and that I am enjoying all the perks.
There is always a struggle for each one of us be it any profession or generation. You have to look at it positively that you are getting that experience and moving ahead. If there is more support, it's the blessings of your forefathers and your family. Family is, of course, the party.
"There are a lot more voices that need to be heard for example, when we talk of Aarey, the Mumbaikars need to be heard. When you talk of farmers, there are certain systemic errors that need to be rectified."
Your alliance partner BJP has always targeted Gandhi family's control over the Congress. You also come from a political dynasty.
The BJP has a lot of dynasts too. A lot of their MPs are dynasts. The point is today in our country, I believe, people should come ahead to do whatever they feel is very important to their lives. If there is a dynast who is not at all interested in politics, he shouldn't be there.
But if there is someone who has lot of interest in politics, passion for work and in serving the people, who has the urge to go out there and stand within the people, fight for their rights, he has every right to come ahead. So we should not look at anybody saying he is a dynast and he is not a dynast. Whatever his background is, if the person is passionate about it — be it politics or cricket or acting, he should get that chance.
Why are all of your initiatives connected with Bollywood? What's this attraction with the film industry?
See, finally, it depends if where your thought process is from. For example, an open gym, that is from Dino [Morea] and he is a good friend of mine. He said, "Aaditya let's start off with an open free gym."
He is one of the fitness icons in this country. If you look at him, he is one of the fittest guys we have around even at the age of 43. So he was like, 'Why don't we take this to the people for free and outdoor because today gyms are expensive?'
After we started 'Fit Mumbai', the prime minister has adopted 'Fit India'. After the Nirbhaya rape case in Delhi, Akshay Kumar called me and said if you are doing something for the youth then why not start with self-defence classes.
I asked him whom do I start with and he said, 'Why don't you start with me' because he is into karate. He has a team, so he was like, 'Let's train girls for free in basic self-defence.'
So that's how his team is helping me. So these are all friendships that develop into good things when you sit together and brainstorm on how to help society.
How do you rate Devendra Fadnavis' government?
I think there has been a considerable amount of good work. There has been a lot of progress if you compare it to the 15 years in the Congress or the NCP. But there is a lot more that is needed. There are a lot more voices that need to be heard.
For example, when we talk of Aarey, the Mumbaikars need to be heard. When you talk of farmers, there are certain systemic errors that need to be rectified. Education reforms have to be come in much faster than we expect in order to create employment.
Would you like to become the chief minister of Maharashtra if given a chance post-election?
It is a very hypothetical question and if I keep some post in my mind, I am never going to enjoy the process, so whatever happens depends on God and the people, but more so I need to first look at getting most of our MLAs elected and prove to the people that we are working for them and will always work for them be it in the government or not.