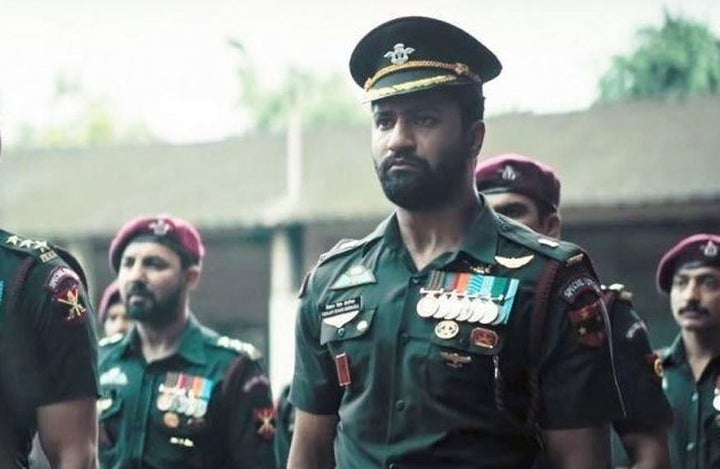 MUMBAI, Maharashtra — "PULWAMA: THE DEADLY ATTACK," declared the middle-aged Bollywood producer, before turning to his mousy assistant. "Kaisa laga?"
The assistant hurriedly indicated his assent. "Ek Aur Likho —Pulwama Attack Versus Surgical Strikes 2.0," the producer said, before turning to this correspondent. "You've got to think of long, complicated titles. The straight ones like Pulwama, Surgical Strike 2.0, Balakot are all gone."
While most of India anxiously waits for news of war and prays for the safe return of captured Indian Air Force Pilot, Abhinandan Varthaman, Bollywood is moving quickly to capitalise on this national tragedy.
February 26, the day India launched air strikes on Pakistan, was an unusually busy day at the cramped up offices of the Indian Motion Pictures' Producers' Association (IMMPA) in Andheri in Western Mumbai as representatives of at least 5 different production companies rushed to reserve jingoistic movie titles for films that they hoped to make in the future.
A person present at the office described the scene as "a khichdi," saying producers fought to register titles like Balakot, Surgical Strikes 2.0, and Pulwama Attacks. "After a point, they started discussing amongst themselves, suggesting variations of the same title," said the person, who begged off being identified for the fear of upsetting Bollywood bigwigs. "It was quite a sight."
The success of Uri: The Surgical Strike has prompted a surge of titles focused on the India-Pakistan conflict, a review of titles registered in February reveals. Confirmed titles include Josh" and How's the Josh by the Vikram Malhotra-led Abundantia Entertainment.
After the February 14 attacks at Pulwama, where 49 CRPF jawans were killed, titles registered that day, according to data provided by trade magazine Complete Cinema, include, Pulwama Pulwama: The Surgical Strike, War Room, Hindustan Hamara Hai, Pulwama Terror Attack, The Attacks of Pulwama, With Love, From India, and ATS - One Man Show.
On Feb 27, an IMMPA representative confirmed there had been an overwhelming number of applications in the past week for titles related to the Pulwama attacks and the Balakot strikes that followed. A few of the titles, the representative said, had been applied for by Abundantia and T Series.
To register a title, all a production house needs to do is fill a simple form, with 4-5 alternative titles in order of preference, and pay a sum of Rs. 250 along with 18 per cent GST. Often, those registering a certain title don't even intend to go through with a film/web-series or a TV show. They register it so they can sell it off to a studio or a major producer who might have the financial infrastructure to actually make the film.
Pritish Nandy and Anurag Kashyap famously had a beef over the title "Womaniya," which was registered with the Nandys. Kashyap's movie, about two women sharpshooters, was ready to go on floors and he wanted the title, which his team of writers had coined during Gangs of Wasseypur. Sensing Kashyap's desperation, Nandy demanded a sum of Rs. 2 crore for the title, a demand which Kashyap termed "extortion." He eventually settled for Saand ki Aankh after Nandy refused to relent.
On February 27 this correspondent visited the IMMPA office under the guise of a minor producer hoping to make a Indo-Pak themed web-series — which, you never know, may still just happen. Most of the straightforward titles were already taken, but the producer who hoped to bag PULWAMA: THE DEADLY ATTACK , had some suggestions.
The trick, he confided, was to come up with a sentence that had all the key words.
"Then, just reduce the font of the rest of your title and highlight only Pulwama/Balakot/Surgical Strikes 2.0 in big, bold letters," he said. "Isn't it a solid idea?"
The IMMPA woman tasked with registering the title looked up, and validated his ingenuity with a smile and a nod of quiet astonishment.
The producer clapped. "Bring out the cash"
The assistant took out the money. The deed was done. "PULWANA: THE DEADLY ATTACK" joined an ever-increasing list of titles pending IMPPA approval.
This morning, after videos of IAF pilot Abhinandan Varthaman in Pak custody emerged last evening, this correspondent rang up the IMPPA to check if the title, Abhinandan or Wing Commander Abhinandan, is available.
"Please send your application quickly," said the man on the phone. "It will be gone soon."