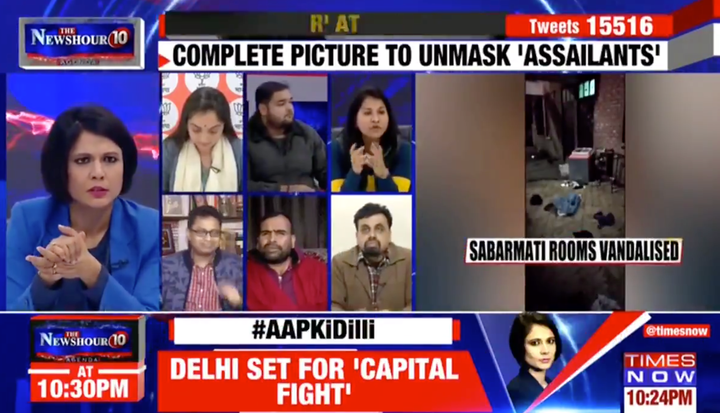 ABVP's Delhi State Joint Secretary Anima Sonkar admitted on national television that the two men purportedly seen carrying rods on video during the attack on JNU on Sunday night were affiliated with her organisation.
During a debate on Times Now, Sonkar claimed everyone was asked to be armed for "self defence" when they stepped out of their hostels during the JNU attack.
"In all the WhatsApp groups, so much panic was spread, so much threatened calls were given that whenever you are stepping out, step out in groups, step out while you have rods... whatever you get handy, pepper spray, somebody has acid..." she said.
During the debate, Sonkar first identified the two men — seen in on video during the attack — as ABVP members, saying she was 'not disowning' them. But later backtracked, saying she had only meant to say Vikas Patel was an ABVP member.
When questioned by host Padmaja Joshi about who had asked them to be armed, Sonkar said, "The entire Brahmaputra Hostel was asked to be armed. Not ABVP, everyone was asked."
While no members of the masked mob that attacked students and teachers at JNU on Sunday night have been identified, on Tuesday, the Delhi Police said it had filed two FIRs against JNU students union leader Aishe Ghosh and 19 others for "vandalism".
NDTV reported that the FIR against Ghosh and 19 others claimed they had vandalised the university's server room on January 4, the night before the students were attacked by the masked mob.
JNU Professor Sucharita Sen, who suffered head injuries during the attack, has filed a police complaint on Tuesday, PTI reported.
Sen said outsiders had gathered at the university campus with sticks, rods, and deadly weapons.
JNU students had shared screenshots of what appeared to be WhatsApp groups of ABVP and RSS supporters ostensibly coordinating the storming of the university campus.
The ABVP on Monday claimed Left activists were involved in the attack.