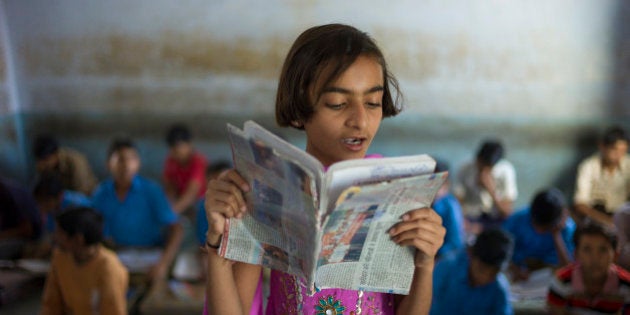 A team of academicians that reviewed the revised textbooks of Rajasthan state board said that they were 'anguished' by the flaws and limitation of content in the revised school textbooks and will file a public interest litigation in the Rajasthan High Court.
The review team, led by professor Apoorvanand of Delhi University and professor Rajiv Gupta from the Rajasthan University, said the textbooks contained errors and limitations from a pedagogical point of view.
The group pointed out that these textbooks, an edited version of the 2015 textbooks, were prepared in 45 days.
"Nowhere in the world are textbooks brought out in such a short time," the group said in a release, pointing out that the content has been saffronised.
Change in references of Indus Valley Civilization to Sindhu Ghati Culture, calling Aryans the native of India, hailing Varna Pratha as a good practice and striking wrong, are some of the key contentions in the study material, as pointed out by the group.
"These books do not adequately represent marginalized communities like the Dalits, tribals, etc. The bias is evident from the statement about Nizamuddin Aulia, that he was despite the fact that he belonged to another religion," the experts highlighted.
"These books even dwell in Vedic mathematics, which is well known is nothing to do with the Vedas, instead was developed in the fifties as methods at best as short cuts to solving mathematical problems but not instilling conceptual clarity," they added.
Bolstered by the BJP's ascent to the Centre in May, 2014, the state government in Rajasthan, which came to power in December 2013, has been altering the school syllabus to bring it in line with the party's Hindutva ideology, and to undo what they believe has been Congress Party's monopoly over India's modern history in which members of the Nehru-Gandhi family are excessively glorified.
Given below is the full text of the press release.
Shiksha Ka Adhikar, Rajasthan

The new textbooks issued by the Government of Rajasthan are weak than the current textbooks by every parameter of content, knowledge acquisition, pedagogy and scientific temper.

A Review of these Text Books by Prominent Educationists

A brief analysis of the initial review

A note for the media

Jaipur,

23rd May, 2016

A preliminary review of Rajasthan's new textbooks was conducted by a group of educational experts from Rajasthan and Delhi, teachers and members of various groups campaigning for better education.

The review revealed many errors and limitations form the pedagogical point of view. The experts expressed their anguish and amazement at these flaws and felt very strongly that these textbooks should not be taught for the coming session. They also felt the need to initiate a state level campaign and decided that a public interest litigation will be filed in the Rajasthan High Court..

The review was conducted under the leadership of Prof. Apoorvanand of the Delhi University and Prof. Rajiv Gupta from the Rajasthan University. The other members were Devyani, Mamta Jaitly, Himanshu, and Mihir who reviewed the Hindi textbooks from class 1 to 8. Social Science books were analyzed by Dr. Rajiv Gupta, Dr. Lad Kumari Jain, Rajendra Saiwal, Dr. Pramod Gauri and Prof. Apoorvanand. Kamal, Ketan, and Pramod reviewed Environmental Studies while the Mathematics textbooks were reviewed by Shri Ravi Kant. Komal Shrivastava and Dr. Shomna Dutta reviewed the science textbooks.

The Process of textbook review and criticism

On the basis of NCF 2005 Prof. Apoorvanand told the media persons that a textbook is assessed not only on the basis of its content but also its illustrations, cover page, print and paper quality as all these factors play an important role in teaching and learning. Prof. Apoorvanand's first point of contention was the haste with which these textbooks have been prepared. They were prepared in 45 days and he added that nowhere in the world are textbooks brought out in such a short time. That is why these textbooks have completely failed to achieve their pedagogical objectives. They neither give the children for any experience nor help the teacher in any way. They are also not helpful in developing analytical skills; whereas, the Right to Education Act clearly states that educational pedagogy should help children to draw their conclusion on basis of exploration. Prof. Apoorvanand also expressed amazement at the fact that the books commissioned in 2013 and 2015 have been superseded after they entered the market for barely the first or the second time. Moreover, these books were superseded without giving a reason and hence the commissioning of new books was uncalled for.

Saffronisation of the content and the renaming of the Sindhu Ghati Culture (Indus Valley Civilization) as Sindhu Saraswati Sabhyata (Indus Saraswati Culture) and linking it to Vedic culture.

Prof. Apoorvanand also said that the books introduced by BJP government in 2016 are actually edited versions of the 2015 textbooks. The editing has been done in the framework of Hindutva ideology. For example, in the class 9 Social Studies book Sindhu Ghati Culture (Indus Valley Civilization) which is known by this name through out the world has been called the Sindhu Saraswati Culture, which is in accordance with the RSS recreation of history. Without offering any factual evidence, they have tried to tell that Indus Valley Civilisation is a part of the Vedic culture. Nor do the books present any evidence for the assertion that satellite pictures show that the Saraswati river flows under the ground on basis of the epic Mahabharat. It is claimed that Balaram, the brother of Krishna had gone on pilgrimage on the banks of the Sindhu River. Prof. Apoorvanand felt that this mixture of history and mythology is likely to confuse the students and develop a myopic vision of history.

Aryans were the natives of India, Varna Pratha (Caste System) was good.

Class IX textbooks state that Aryans were natives of India and the word Arya connotes higher qualities. Also that Vrana Pratha (Caste System) is very good. Prof. Apoorvanand pointed out that in the section on World Wars I and II, the role of Hitler and Fascism was omitted nor was there any mention of the killing of Jews. In Class XI, there is a chapter that glorifies Hitler. This does not any way increase their store of knowledge or enhance their capacity for analysis.

Strikes are wrong and improper

Apart from numerous proof reading errors, Prof. Rajiv Gupta argued that these books deny change and progress and stand for a status quo. They do give the students any space for questioning and showing disagreements. In Class VII, are told that strikes are wrong and improper which, in turn, implies that the National Trade Union Act is also wrong. Earlier books mentioned the displacement of all communities during the partition of India, but these books mention the displacement of the Sindhis only. This clearly shows the slant of politics in favour of a particular community. These books do not adequately represent marginalized communities like the Dalits, tribals, etc. The bias is evident from the statement about Nizamuddin Aulia, that he was despite the fact that he belonged to another religion.

Buddhism as a religion is marginalized in the Social Science textbook of Class VI.

While Gautama Buddha himself is mentioned, no credit has been given to all the artistic and cultural achievements of Buddhism. It is very clear that the objective of these books is to convince the children that the followers of only religion only dwelt in this country and that this country belonged to them alone.

An example of gender bias

Dr. Lad Kumari Jain looked into the gender aspect of these books and said that the earlier PCPND Act, given on an inner page of the earlier books, has been removed and it has not been mentioned with that province. The books have discussed the sex ratio in the state but have omitted the child sex ratio which is a very serious problem in Rajasthan.

Silence on meat as a source of protein; Silence on Animal Reproduction and removal of the chapter on adolescents from the earlier edition

Komal Srivastava, educational activist BGVS said that the chapter on animal reproduction has been removed from the text books of science for class VIII. The description on reproduction in plants has been retained. Meat has been mentioned as a source of protein, while discussing sources of protein and nutrition. Pictures of Pulses and eggs has been shown and not meat, which is the highest source of dietary protein. This shows bias towards a predominantly vegetarian diet.

In the science book of class VIII, the chapter on Bio diversity begins with a shloka from Vishnu puran, which is not even connected with the subject. At the end of the chapter various breeds of cows have been discussed as an example of bio diversity in cows. Whereas what they have shown are the varios breeds of cows, for which Rajasthan is well known. This reduction of the concept of bio diversity to types of cows will only confuse the student.

Towards the end of the chapter too there are Sanskrit sholaks. This is not required in science books and if at all concepts from religion are to be used then text form all religions can be included including the Bible, Koran and the Jataka Tales.

Boring Texts: Environment studies from class 3 to class V

Long time educational activist said that these books are loaded with too much information as compared the EVS books prepared between 2013 and 2015. These books do not develop the skills of observation, classification, comparison and drawing conclusion. These books do not give the student the opportunity with his or her surroundings. They also not inclusive of all sections of society and on the contrary they inflict on the children the daily rituals of Hindu tradition. For example, a greeting has been shown as touching of feet. Even scientific facts are put forth in the background of myths and parables. There are few opportunities for students to perform experiments and draw scientific conclusions, thus hampering a scientific outlook amongst students.

Hindi Text books a recipe of learning by rote; A reversal of pedagogy

Long time educationist and teachers trainer Ms. Devyani who reviewed with Mamta Jaitly, senior activist from the women's movement, stated that although the books claim to be based on the 2005 NCF, however, in reality the books have retrogressed in pedagogical processes and these books no more generate dialogue with the kids but are promoting rote. These books too lack inclusivity of all sections of society and do not give equal representation to all religions, instead are very middle class focused. The books do not facilitate critical thinking or fresh knowledge generation or independent of application of mind instead promote rote. The main problem is the lack of creating an environment of questioning through these books.

NCF advocates meaningful conversation through books, however, the standard on eBooks are devoid of stories and has a few poems. The pictures in the books appear artificial as if the artist is not used to depicting these situation. The books focus more on moral studies. and healthy habits, which is not the issue, but they do not liven up the books. In the last decade, the books were showing a progressive mindset towards pedagogy, which has now been reversed. IT can be said in a line, that the Hindi language has become that of moral science.

English

Misprints, language mistakes in abundance, Shallow and Preachy

The English textbooks had all the shortcomings and the biases and the misprints and the carelessness that the other textbooks had. Class I book had no page numbers and while some chapters were missing, others were repeated. The previous textbooks incorporated instructions for teachers. This was important because it helped the teacher who herself may not be so conversant with English. The earlier textbooks also incorporated grammar, which is necessary when one is trying to learn a language that is not one's mother tongue. The ongoing is being done by Ramesh Asher and others .

Mathematics

Books fail to encourage and instill a mathematical orientation; Focus on Vedic Maths.

Ravi Kant who examined these textbooks stated that the new books fail to develop the skills and methods of learning mathematics. This is because of the participation by the children in developing and understanding concepts in the teaching learning exchange is missing. This has been done superficially in the few examples that have been included in the text. In many places in the chapter the concepts have been introduced followed by a few exercises that need to be performed by the students. In the textbooks of class 1V and V the format is of that of examples followed by series of questions.

The NCF 2005 had recommended that teaching mathematics should help children develop analytical skills and understand concepts; these were incidentally their key objectives too. However, these books are a departure from these objectives and exhibit a lack of taking on these challenges.

For instance concepts need to assist the pupil in both visualizing and presenting mathematical processes, however, this too has been mostly neglected and not addressed.

These books even dwell in Vedic mathematics, which is well known is nothing to do with the Vedas, instead was developed in the fifties as methods at best as short cuts to solving mathematical problems but not instilling conceptual clarity. This has not been explained in the books.

We are,

Kavita Srivastava, Anant Bhatnagar, Dr. Rajeev Gupta, Nikhil De, Shanker Singh, Pramod Pathak, Hari om, Komal Srivastava, Anil, Mamta Jaitly, Raja Ram Bhadu, Shiv, Vishwambhar, Devyani, Ravi kant, Kamal, Virendra, Dr. Lad Kumari Jain, Nishat Hussein, Nisha Sidhu, Renuka Pamercha, Pragya, Mihir, Suman, Rajendra Saiwal, Sheela, Ramesh Asher, Kusum Saiwal, Satyadev Bareth.

Contact: Kavita Srivastava: 9351562965, 8302562965, 9887158183

kavisriv@gmail.com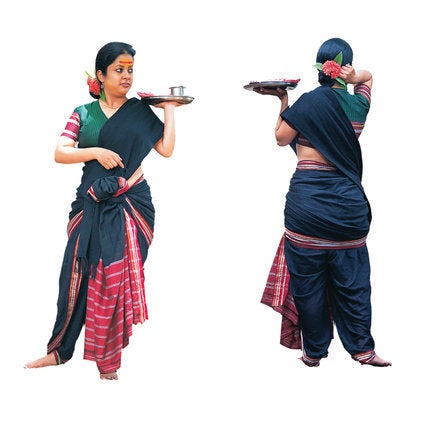 14 Styles Of Draping Saris From All Over India
Popular in the Community