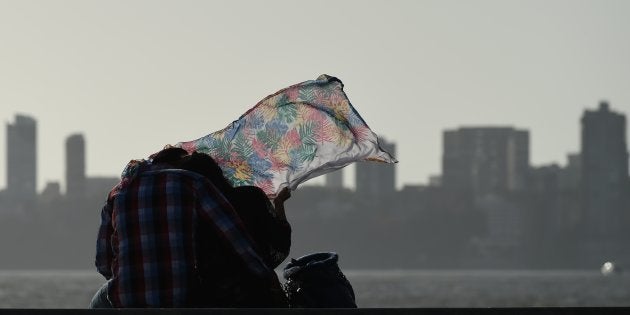 According to data scientist Seth Stephens-Davidowitz, Google's search engine is where people of this digital age come to take their masks off. Stephens-Davidowitz studied a staggering amount of Google data for his book Everybody Lies and found mind-boggling patterns in racism, sexual preferences and porn consumption in America. During his research, he stumbled upon what he calls a "surprising" India-related finding.
"The most striking factor about India and sex was the popularity of adult breastfeeding," Stephens-Davidowitz tells HuffPost India. A staggering number of Google searches that begin with 'my husband wants...' end with 'me to breastfeed him', he says. To check the veracity of this claim, when we typed 'my husband wants me' on Google, the first suggestion that surfaced is, indeed, 'to breastfeed' him.

If the more conservative among us find this search trend perplexing, the ones that follow -- as shown in the screenshot above -- are nothing short of disturbing.

Stephens-Davidowitz told Voxthat search for porn featuring adult breastfeeding was the highest in India. And wait for this one: the number of searches on how to feed a baby were almost equal to the number of searches on how to breastfeed an adult man.
Yes, go on, have a hearty laugh and remember to hold your stomach while you're at it.
However, India is not alone in this adult-men-demanding-to-be-breastfed conundrum. In 2014, Time magazine reported that 'my husband wants me to breastfeed him' is more frequently searched the world over than 'my husband wants to separate' and 'my husband wants a baby' combined. The magazine spoke to several medical professionals and relationship experts who confirmed that women have indeed told them that their husbands and adult male partners have often demanded to be breastfed.
"Every breastfeeding mother I ever knew said their husband asked to drink it," Dr Wendy Walsh, a relationship expert told Time. The mother of three -- who had breastfed all her children till they were three years old -- also told the magazine that her own partner had sometimes expressed the desire to be nursed by her.
Writing for the New York Times in 2014, Stephens-Davidowitz said that this desire to be breastfed was rare among American men -- at least Google search seemed to indicate so. Even if they were interested, Americans weren't Googling about the same as people in India were.
However, adult lactation has been a popular kink in Japan and China as well. In China, police busted a prostitution ring in 2014, where adult men paid hefty amounts of money to be nursed by young mothers. And not only that, Daily Mail reported in 2013 that adults drinking breast milk was a raging business in China with hundreds of women and agencies providing these 'services'. Several people claimed that they wanted breast milk for the nutritional value.
'Adult (clients) can drink it directly through breastfeeding, or they can always drink it from a breast pump if they feel embarrassed," AFP quoted Lin Jun, owner of a company called Xinxinyu that offers the service.
In Japan, too, athletes pay through their noses to drink 'fresh breast milk' served at bars set up exclusively for the purpose.
Last year, while crunching India-specific viewership and search data, Pornhub found that Indians don't forget their roots even in the virtual aisles of pornography. Indians not only prefer to watch porn that looks Indian; 'bhabhis' and 'wives' are the most searched-for protagonists across cities. Go figure.
Earlier this year, it was reported that thanks to a drop in data prices, porn viewing on smartphones has shot up by at least 75 percent.
A heteronormative reading of the variations of the search terms mentioned by Stephens-Davidowitz's confirmed that Indian women are indeed perplexed about husbands demanding breast milk and breastfeeding. Speaking to Time magazine, a Mumbai-based nutritional consultant said, "This is completely new to me, I don't see that as a common phenomenon in India. But we're from a very conservative culture and women perhaps would not approach professionals to discuss about this. That could be why they're maybe looking for it on the internet."