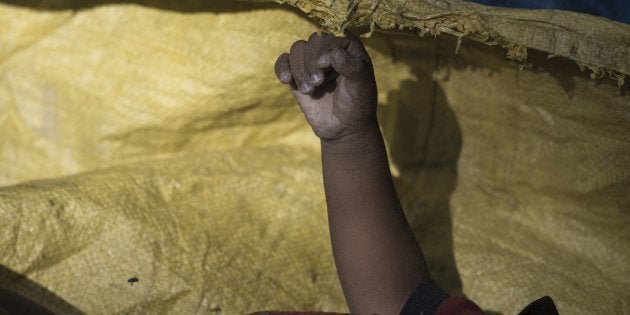 Activists alleged that PDS outlets in Jharkhand's Simdega district refused to give ration to a family, since their ration cards had gotten cancelled for not being linked to Aadhaar. Eleven-year-old Santoshi Kumari allegedly died of starvation on 28 September, after going without food for eight days. The upcoming Supreme Court judgement on the Aadhaar could help prevent such tragedies from occurring again, if the court deems the Aadhaar unconstitutional.
In an exclusive report, Scrollfound out that in Simdega's Karimati village, the local dealer had been refusing to give ration to the Kumari's family, saying that their ration card wasn't linked to Aadhaar and hence was no longer valid. The family does not have Aadhaar cards. Non-profit organisations Right to Food Campaign and NREGA Watch discovered that the PDS outlet had taken off the name of Koyli Devi, the child's mother, along with those of 10 other families as their cards were not linked. Activists confirmed with Jaldega block office that Koyli Devi's card had indeed been cancelled. The activists placed a request for a new card explaining the circumstances, but the card arrived two weeks after Santoshi's death.
In February this year, the Centre made it mandatory to have Aadhaar numbers to access subsidised ration under the Public Distribution System (PDS). The victim's mother said that since school was shut for Durga Puja holidays, Satoshi didn't have access to the mid-day meals she usually had. The girl's father is not sound of mind and her mother and sister makes no more than Rs 80-90 a day cutting grass for others, reports Scroll.
Government officials, however, have argued that Santoshi died of malaria, not starvation.
Not just subsidised ration, the February 28 notification from the government also made it mandatory for children to have Aadhaar cards for access to mid-day meals in government schools. In August this year, Hindustan Times reported that only 42% children in the state have enrolled for Aadhaar. It also said that according to a notification from the Union ministry to Rajasthan government, the deadline for enrolling into Aadhaar was 31 August, 2017. Hindustan Times reported that 37 lakh students in 49,000 government schools in the state ran the risk of being denied mid-day meals if they did not get enrolled under the Aadhaar scheme within the stipulated deadline.
Popular in the Community