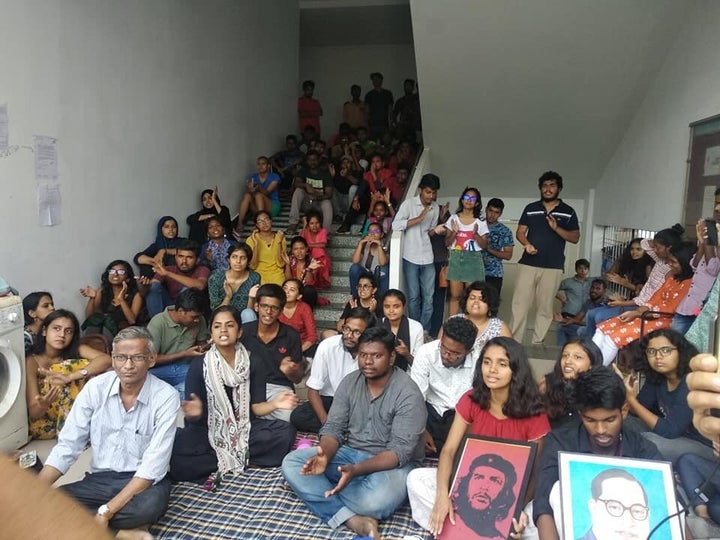 In an open letter from the National Alliance of People's Movements (NAPM), addressed to the administrative heads of both TISS Mumbai and Hyderabad, the activists also demanded that TISS "take necessary steps to ensure that Dalit, Adivasi and other students from marginalized and Bahujan backgrounds have access to hostels and other amenities".
TISS closed down its campus on Monday to end an eight-day long protest by its students, who have been demanding lower hostel fees and a new set of hostel management rules. Currently, the students are asked to pay a hostel fee of Rs 8,600 per month to a private service provider. Also, as per the agreement reached between the private party and TISS administration, students are expected to pay a six month advance of Rs 51,600 towards the hostel fee. Protesting students had been pointing out that Dalit and Adivasi students have been struggling to pay the steep fees.
After the institute ordered sine die, most students were forced to vacate the campus in the middle of their academic session. However, a few students who have been on a hunger strike for the past three days are staying put outside the institute.
The letter also asks TISS to, "ensure proper medical support to students who have been on hunger strike…" Condemning the administration's decision to let the Telangana police evict protesting students, the letter says, "Campus issues need to be resolved amicably by the administration, faculty and students and nothing can justify calling in the police to deal with peaceful protests… We earnestly appeal to administration, faculty and students to engage in another round of constructive dialogue and amicably resolve the matter".
Referring to recurring protests in various TISS campuses, including the one in Mumbai in February 2018 and Guwahati in March this year, the activists say, "It is a very unfortunate state of affairs that students have to repeatedly keep protesting for their legitimate demands…".
The letter also condemns the TISS administration's reluctance to address concerns of safety raised by female students.
"We are informed that the administration has denied responsibility for their living conditions, stating that the campus is 'non-residential' from the current academic year. Furthermore, the only 'solution' that the private hostel owner now offers to the girl students is a suggestion to 'return back by 9:30 pm'," the letter reads. The TISS campus is currently located in a secluded rural area which is part of Ranga Reddy district.
The TISS administration had earlier offered an interim financial support of Rs 15,000 to 26 out of 36 Dalit and Adivasi students who are eligible for Post Matric Scholarships, to pay the private party who owns the hostel. Calling this a "piecemeal" solution, the activists demanded "a more structured and sustainable solution to the issue" to support both the present and subsequent batches of students.
The TISS administration has stopped all communication with students and faculty members after it issued the order on Monday, protesters alleged.