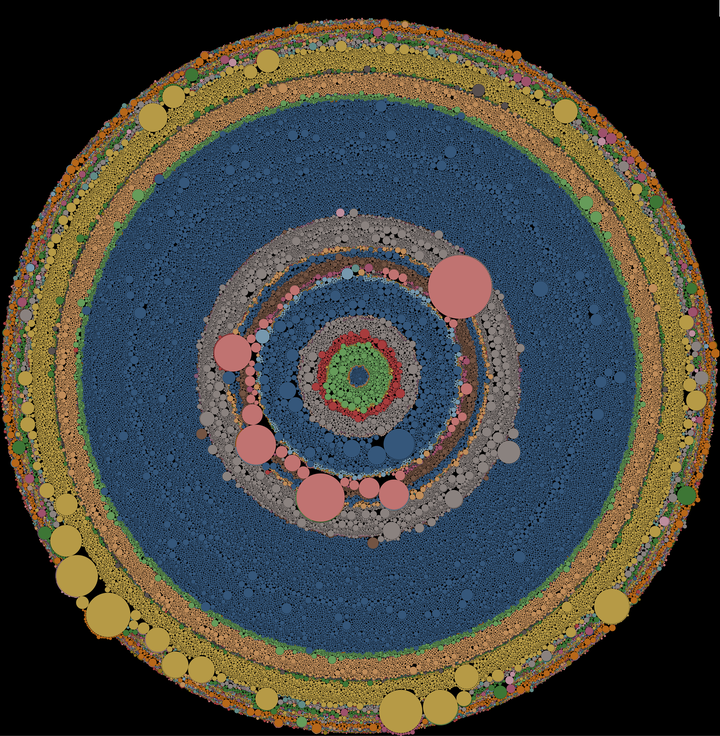 BENGALURU, Karnataka—In the run-up to the Lok Sabha elections in 2019, Facebook, Google, and Twitter all rolled out ad transparency programs to allow researchers to study ads placed by political parties. Although this was a good start, most of these tools were hard to use, and offered limited information.
Now, two researchers — Manuel Beltrán in The Hague, and Bengaluru-based Nayantara Ranganathan, who are investigating new forms of propaganda in social media and elections — have created a simple tool called ad.watch that presents researchers with a much simpler and more detailed way to find information about political advertising on Facebook around the world. Ad.watch shows data from 34 countries, including India, at present with the small team working to add more.
The tool allows anyone with an internet connection to get accurate answers for some fairly standard questions that have proved hard to answer, and also provides fascinating insights into the online strategies adopted by India's political parties. The tool even has interactive maps that breakdown estimated spending by state and region.
For instance, it may not come as a surprise that the largest number of political ads on Facebook were targeted at Uttar Pradesh residents, however, there were more advertisements targeting Assam residents (which sends only 14 lawmakers to the Lok Sabha) than Maharashtra residents (which sends 48).
The Bharatiya Janata Party (BJP) predictably outspent all its rivals by a massive margin, spending nearly Rs 3.3 crores on Facebook advertisements compared to the Congress's Rs 2.4 lakhs. However, Congress's spending appears better targeted: the party ratcheted up close to 180 million impressions on its ad spend, compared to the BJP's 200 million impressions gained at a much higher cost.
The tool even has interactive maps that breakdown spending by state and region. So we can see that the BJP concentrated its ad spend on the Hindi heartland stretching from Rajasthan and Haryana in the West to Bihar in the East, along with a special focus on West Bengal, but steered clear spending in Punjab — where the party is in alliance with the faltering Akali Dal.
In the south, the party steered clear of Telangana, Andhra Pradesh, and Tamil Nadu, but Kerala was an exception in the south, with the party devoting resources in the aftermath of the Sabarimala temple entry controversy.
The Congress ad-map, shows a major focus on Uttar Pradesh (where the party hoped to make and impression), and Madhya Pradesh and Rajasthan (where the party has state governments). But the party surprisingly placed almost ten times as many advertisements in Tamil Nadu than the BJP did — despite neither party really having a chance in a state long dominated by its two state parties.
"Facebook has released two transparency tools for political advertising, apart from a transparency report: the Ad Library Explorer and the Ad Library API. Both these tools defeat any meaningful access or understanding of political ads," said Ranganathan, explaining the rationale behind Ad.watch.
"We started by trying to understand the violations of electoral law on social media during the Lok Sabha elections. In the larger context of ad.watch, this was an important start, Lok Sabha being the largest electoral exercise in the history of democracy, and the one in which social media had more importance than ever before," said Beltrán.
Ad.watch also lets you compare advertising across the world and see what trends can be spotted in this manner. Predictably, the big-spenders are mostly US-centric — the Bharatiya Janata Party (BJP) is a huge advertiser in India but it's advertising is ten times less than that of Bernie Sanders, and almost a hundred times behind Donald Trump.
Ad transparency is critical for free and fair elections
Social media has changed the way elections are fought, with shadow campaigns on Facebook and giant advertising spends on Google and other online platforms becoming the norm. Looking back at the 2019 general elections in India, parties that won the elections (such as the BJP nationally, or the YSRCP in Andhra Pradesh) were also the parties that spent the most online.
Getting this information through the official tools is a time consuming process, and collating data is left to the people using Facebook's library. What this means is that if you're a reporter trying to gather information, a researcher or just a concerned citizen trying to learn about political advertising, then ad transparency tools are fairly opaque.
While Ad.watch cannot capture proxy spending by entities that do not register themselves as political parties but buy advertisements anyway, the tool is a welcome step towards greater transparency.
"If it so happens that misinformation, polarising content or ads catering to you based on your personal data are ones that garner the most engagement, then that is potentially what is incentivised," said Ranganathan. "Without transparency around how and why ads are delivered where they end up, we cannot understand how the new means of political advertising impacts our personal-political lives."
This isn't a problem that's restricted to India either. As reported in the New York Times, Facebook's ad transparency tool doesn't work as advertised. When Facebook launched the ad library, the goal was to make it easy for researchers and journalists to analyse advertisements. However, studies by Mozilla and the French government showed that the ad library is "effectively useless," writes the NYT's Matthew Rosenberg.
Providing access to tens of millions of ads through an A.P.I. is not a simple proposition, but it is also not an engineering feat for a company like Facebook. With 2.4 billion users, Facebook routinely rolls out complicated new features and products at scales that few tech firms could hope to manage.

"This is not like a problem that technology hasn't solved and they're really trying to do their best," said Laura Edelson, a researcher at New York University. "No, that's not what is going on. These are fixable problems."
Speaking to Politico, former Dutch politician Marietje Schaake said that nobody is doing enough to solve this issue because the problem is so vast. During the elections for the European Parliament in May, Politico noted, Facebook did not detail any steps taken to stop foreign meddling in elections despite accusations form the European Commission that Russia had launched a coordinated disinformation campaign.
Worse still, some tools to analyse Facebook ads already existed, but the company shut off access to them, noted Gizmodo:
Tools—functioning tools—to glean rich data about these ads already existed, built by Mozilla and ProPublica among others. Facebook made the intentional move to shut them out in January, claiming the code changes that locked out these tools were part of "a routine update and applied to ad blocking and ad scraping plug-ins, which can expose people's information to bad actors in ways they did not expect."
Writing to HuffPost India, PEN American Center, a nonprofit organisation headquartered in New York working on issues of free expression stated that the ad library has failed to serve its basic purpose.
"It's disheartening to hear that Facebook's Ad Library has been hobbled by technical limitations and errors. While we commended Facebook in March for establishing the database, we noted back then that the company needed to take additional steps to ensure the Ad Library was both comprehensive and effective," said Summer Lopez, senior director of Free Expression Programs, PEN America.
"Unfortunately, it seems the Library has instead failed to serve even its basic purpose as a research tool. Facebook has become one of the most important social forums of the 21st century. This means that people deserve to know what ads are appearing on the platform, whom these ads are targeting, and where they appear."
"Realising how inaccessible Facebook's tools were, unaccountable Facebook was being, we decided to try and collect data in other countries," said Beltran. "The amount of data we collected was huge, and we started to find 'questionable' (to say the least) behaviours and interesting stories emerging from our findings. We soon realised we needed to open these datasets to other journalists and society at large to investigate. "
However, as with most researchers, Beltrán and Ranganathan quickly ran into roadblocks, as getting the data required to build the tool was proving difficult. "We collected the data through months of working our way through the Facebook Ad API for political advertisement," he said. "First we had to map all the major political actors in the 34 countries, find their FB pages and whether they publish Ads."
"Then we started collecting the data, this involved plenty of technical obstacles and we had to design creative ways to circumvent limitations such as rate limits and segregation of the FB API. The project involved a lot of manual collection going around the framework FB created, that strongly blocks efforts for systematic collection."